3 Ways To Start A Compassionate Self-Care Practice From A Body Positivity Champion
Contributing Wellness & Beauty Editor
By Lindsay Kellner
Contributing Wellness & Beauty Editor
Lindsay is a freelance writer and certified yoga instructor based in Brooklyn, NY. She holds a journalism and psychology degree from New York University. Kellner is the co-author of "The Spirit Almanac: A Modern Guide to Ancient Self Care," with mbg Sustainability Editor Emma Loewe.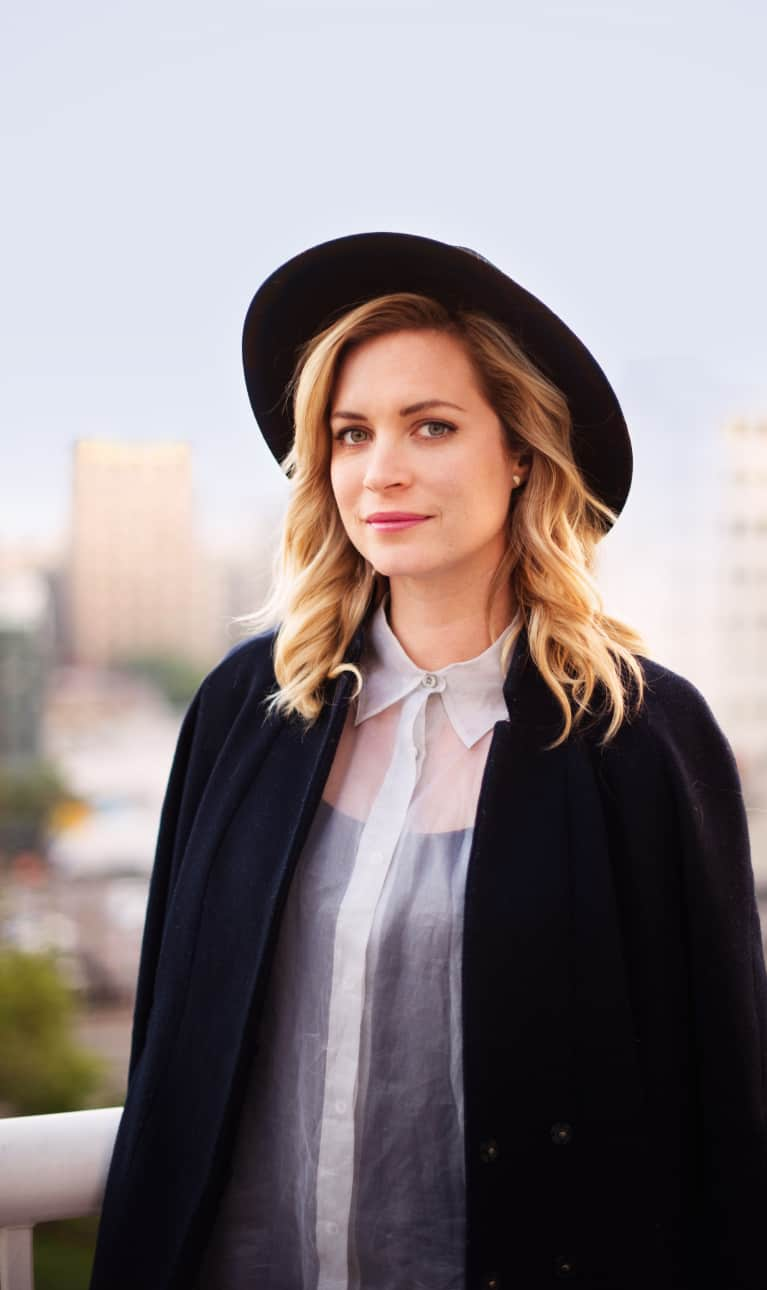 Darling magazine became the first national print publication to feature unretouched photographs of women back in 2012.
"We were having a conversation in a staff meeting with a retoucher who wanted to take away a few of the model's 'flaws': her pimple, a stray hair, a scar, things like that to make the photo look better," said CEO and editor in chief Sarah Dubbeldam. "If not one of us in this room is perfect, why are we taking these 'flaws' off of other women who are real women?" Good question.
Dubbeldam built her brand and, interestingly, her own personal practice around the idea that modern women need to work against the mainstream to retrain our brains on beauty. "If you're chasing your tail to figure out what's perfect, it's an endless rat race. We'll never feel good about ourselves that way," she said. As such, she shifted the way she thought about exercise, mental well-being, and showing up—all in the name of changing the way we perceive women.
The revolution starts with the self. Here, Dubbeldam shares the three practices that have been essential to helping her see her own beauty:
1. Choose exercise that connects you to your breath.
"I love Pilates because there's a focus on the breath. There's not a goal to form the body onto anything else but your own breath. It's very slow, methodical, core-strengthening core, and posture-focused. Through Pilates, I've learned the way you breathe is linked to confidence and mental clarity. Instead of thinking, 'I have to go exercise because I have to continue to be skinny or sculpted,' it becomes a nurturing practice. This helps empower me to do good in the world instead of forming my body into something society thinks it should be. I meditate on loving my body. I breathe and I say I'm thankful for my legs so I can do the work that I do."
2. Make noncomparison an active practice.
"Women have a comparison problem. We see so many unattainable standards and a barrage of messages all day long with Instagram—and inevitably, many of us ask ourselves, 'How do I measure up to her?' For me, noncomparison is a practice I do when I enter a room or if I'm seeing images of women and have any thoughts of jealousy or comparison—more money, more fun, more successful—I stop myself in that moment. I remind myself that as women, we should be sisters. How would I think about these women as sisters? Especially in today's culture, we are so unified. What can I do to make it feel like we are on the same team? Instead of thinking she's prettier, more successful, or whatever—she should be celebrated."
3. Find 15 minutes for self-reflection every day.
"Taking time for self-reflection, for knowing yourself and knowing who you are is a game-changer. Lately, I'm into personality tests and the Myers-Briggs ideograms. They teach you your basic core desires and basic fears as a person. You can learn a lot about your motivations, why you get stuck, or why you can't move past certain habits. It also helps you figure out what will help—journaling, meditation, prayer—the activities that speak to the spiritual side of yourself. Taking time to ask your soul, 'How are you doing?' I do this every morning or every evening, just for 15 minutes. I'm always changing, and this practice helps me know myself and like myself."
Get inspired to start (and keep) good habits: Julia Cameron shares the 10 lessons she learned by writing every single morning for 25 years.