The Skin Care Routine That Helped Clear My Adult Acne
mbg Contributor
By Amy Chang
mbg Contributor
Amy Chang is a writer and beauty blogger currently living in Los Angeles, California. She received her bachelor's in communications from New York University, and is the founder of beauty and wellness blog, BOND EN AVANT.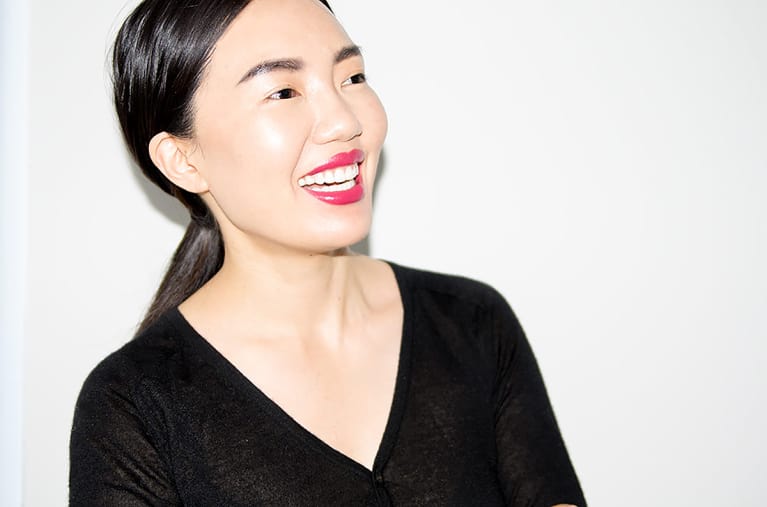 Our editors have independently chosen the products listed on this page. If you purchase something mentioned in this article, we may
earn a small commission
.
If you get a pimple or two, is your first reaction to reach for something drying? It was always mine. But somehow, every time I approached treating my adult acne this way, all it did was make things worse. Much worse. I couldn't understand why these prescriptions and products marketed as "acne treatments" weren't working and were actually exacerbating the situation. I figured maybe I hadn't found the right one. So, one after the other, I tried them all, desperately hoping one would work. Finally, after almost a decade of riding the acne roller coaster, I discovered how to clear up my adult acne. The first and most important step was realizing my acne was not a result of excess oil but rather dry skin, inflammation, and a disrupted skin barrier.
The importance of a strong skin barrier.
The Acne Answer: A Step-by-Step Guide to Clear, Healthy Skin, written by organic skin care founder and chemist Marie Veronique, was actually instrumental in bringing this understanding to light. In her book, Marie breaks down the importance of strengthening the skin's barrier and rebalancing its microbiome, which many acne sufferers have severely—and unknowingly—disrupted due to prescription topicals, preservatives (i.e., parabens, phthalates) that can have microbiome and endocrine-disrupting capabilities, and overcleansing or overexfoliating the skin.
"With the skin microbiome," she explained to me in our interview, "if you use a topical antibiotic for instance, clindamycin, it will kill all of the bacteria on your skin, disrupting the balance. It may work for a while, but once you stop, the bacteria can come back with a vengeance and can be very difficult to treat. We have been taught that when you start getting a breakout, you must use oil-free products, that you want to cleanse to get rid of the bacteria, but all you're doing is drying out the skin, stripping it of the oils that are actually going to help keep your skin microbiome in balance and creating dry skin, which may invite more pathogenic bacteria to overcolonize. What started out as a little problem can quickly become a large problem."
What finally worked to heal my cystic acne.
Upon learning this from Marie, I decided to make an effort to avoid harmful synthetic preservatives and began employing a skin care routine aimed at strengthening my skin's barrier and rebalancing its microbiome. Within weeks, my skin drastically improved. Below are the changes that finally cleared up my acne:
I often just splash with water in the morning to provide a nice environment for the microbiomes, which Marie recommends, but when I want a cleanser, I reach for something gentle without exfoliating, brightening, or stimulating ingredients. Era Organics Cleanse + Restore Natural Cleanser is one of my favorites. It has a 5.5 pH, which is optimal to keep skin balanced and contains soothing aloe and Manuka honey. In the evenings, I like using Marie Veronique + Kristina Holey Pure E.O. Free Cleansing Oil. It contains pre- and probiotics, which when applied topically, have been found to kill bad bacteria, reduce inflammation, and even replace healthy bacteria.
Focus on reducing inflammation.
Once I began seeing my breakouts as inflammation in need of soothing, not something to overstrip and dry out, my skin was finally able to heal. Rose water, blue tansy oil, and shea butter are the healing anti-inflammatory ingredients I turned to:
Rose water is my daily go-to product for its abilities to speed wound healing. Tammy Fender Bulgarian Rose Water is my current fave because it does not contain water as a filler, like other rose mists do, just pure rose water. This makes it more expensive but means you're getting a truly effective and pure product. It also contains a small amount of citric acid to promote cell turnover.
When my skin had a severely compromised barrier—which feels constantly dry, tight, and irritated—I saw great results turning to high-quality shea butter. It's incredibly rich in regenerative vitamin A and vitamin K and healing vitamin E and has strong anti-inflammatory abilities. I'm a big fan of Eu'Genia's Unscented Shea Butter, which comes in 100 percent pure shea butter form, or of mixing it with healing oils like baobab and moringa.
Gentle physical exfoliation.
It seems counterintuitive, but opting for physical exfoliation instead of chemical exfoliation (i.e., retinol, acids), which I often find sensitizing, helped balance my skin. The Tammy Fender Epi-Peel has been widely praised in the beauty blogger community for some time now. And when I finally tried it, I instantly discovered why; it's incredibly effective and GENTLE! The mask uses gentle kaolin clay to draw out impurities, tiny tapioca starch granules for exfoliation, and pairs them both with hydrating shea butter and beeswax to simultaneously nourish skin. Another gentle physical exfoliator option is Avalon Organics' Brilliant Balance Enzyme Scrub, which contains calming ingredients like lavender and cucumber, as well as probiotics, to buff away dead skin and dirt while nourishing new skin.
For more tips on treating acne, check out this healing mask technique and a selection of the best gentle exfoliators on the market.