The Crystal Rituals That Will Amplify Your Astrological Potential This May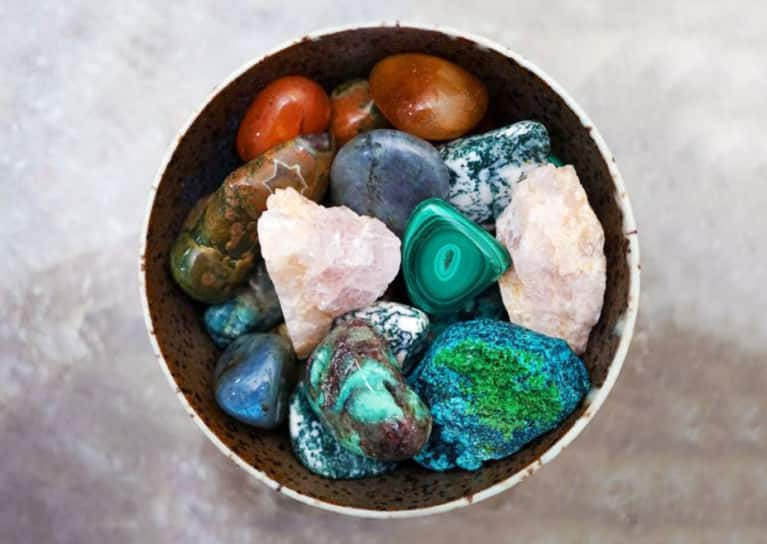 Our editors have independently chosen the products listed on this page. If you purchase something mentioned in this article, we may
earn a small commission
.
In this series, Heather Askinosie, the holistic healer behind Energy Muse, shares her advice on how to harness the power of crystals to fulfill your astrological destiny. She'll work off monthly forecasts from the AstroTwins, forming one heck of a spiritual duo. Get ready to cleanse that celestite and hold tight to that tourmaline because you're about to see crystals in a whole new way.
The AstroTwins just waved goodbye to a manic April and hello to a mindful May. Now that April, and all of its retrograde madness, has passed, we are going to need some serious self-love to recuperate. So if last month left you feeling exhausted (you're not alone!), it's important to take time to nurture yourself this month. Rejuvenate the soul by getting back to nature, spending less time on your electronics, and looking beyond the gloom-and-doom on the news.
Full Moon in Scorpio (May 10)
May 10 is the year's only full moon in Scorpio, and it will certainly put the spotlight on our most intimate relationships, including the one we have with ourself. Wear some malachite, the stone of transformation, to help you to shift and grow today. Get below the surface. Only then will you be able to create a better life. Use this as an opportunity to illuminate your soul-searching self with the emotional energy of the moon, and release all self-imposed limitations. Ask yourself questions—and answer them honestly.
Saturn and Uranus are in harmony (May 19)
On May 19, the Saturn-Uranus trine (an astrological event where two planets are 120 degrees apart and therefore are thought to encourage each other's energy) calls for "sustainable change," according to the AstroTwins. Saturn is the rule maker, and Uranus is the rule breaker. To make sure your actions are aligned with your highest vision, tap into the energy of stromatolite, one of Earth's first living organisms. As you feel stromatolite fusing with your grounded sensibility, you may come to understand the basics of life. If issues like anxiety, fear, and doubt are clogging your mind, it's time to work with this touchstone to clear your head, feel peaceful, and reclaim a positive perspective.
As Saturn syncs up with progressive Uranus in single-minded Aires, there is a great possibility to have a personal breakthrough. To make something good even better, place a piece of amethyst cacoxenite on your nightstand. This rare and powerful crystal composed of seven different mineral specimens—amethyst, quartz rutile, smoky quartz, lepidocrocite, cacoxenite, and sometimes hematite—helps you to focus on the positives in your life while letting go of what no longer serves you. It takes you on a fast track to your soul, which after a month of retrogrades, is a much-needed journey for us all!
Start of Gemini season (May 20)
As the sun moves out of Taurus and into curious Gemini on May 20, we are reminded that there are many (equally valid) viewpoints in the world. Although sometimes we may wish others had the same opinions as we do, the reality is that they often don't. Celebrate the fact that polite discussion can reveal a perspective we hadn't yet considered. Hold on to lepidolite, the crystal named after the Greek word for "scale," to balance your emotions and keep your composure during the transition.
Lepidolite helps remind us to think and breathe before speaking. Instead of writing others off at the first disagreement, try to hold this to be considerate of their views and explore a variety of new topics and interests you may have in common. It's through our diversity and differences that we evolve and grow, after all.
The New Moon on the 25th brings clarifying, ah-ha moments to the forefront. Carry a piece of nuummite—an ancient magical stone that helps bring luck, synchronistic events, and positive energy into your life. It's crucial to be receptive to any ideas that start near this date, as they have the potential to turn into something tangible by the Gemini full moon on December 3. Nuummite can help you reap the benefits of cosmic blessings through staying energetically open.