What Happened When I Tried A Chilly Cryotherapy Facial
mbg Associate Movement & Wellness Editor
By Ray Bass, NASM-CPT
mbg Associate Movement & Wellness Editor
Ray Bass is the associate movement and wellness editor at mindbodygreen and a NASM-Certified Personal Trainer. She holds a degree in creative writing from the University of Pennsylvania, with honors in nonfiction.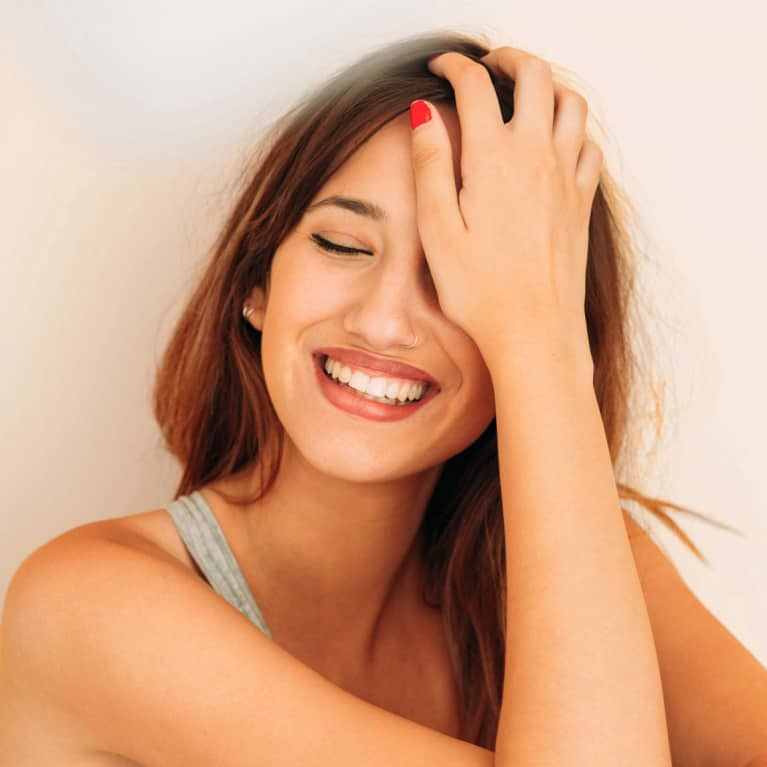 When it comes to facials, and skin care in general, I'm not usually one to experiment. Aside from a few spa treatments I've experienced over the years, the closest I get to a facial most days is looking in the mirror and constantly touching my skin. (I know, I'm working on it.) So when mbg's beauty editor asked me to try a cryotherapy facial, I was both intrigued and hesitant.
Assuming you don't know much about cryotherapy facials, it's safe to say I knew less.
I thought I was going to freeze my ass off because what I do know about cryotherapy is that it's quite cold. Would a facial be as cold as those cryotherapy sessions you see intense fitness people doing on Instagram?
To give a little context: I have moderate skin—not too dry or oily—but I have always been acne-prone. One too many cocktails or processed snacks, and my skin is quick to react. Too many hours between my workout and my shower, and I can count on little bumps showing up that night. Not to mention I break out at the first sight of harsh products (fragrances, funky chemicals, etc.). I actually had a blemish on my chin going into this facial. Perfect timing, right? I was broken out, and I was willing.
How does "cryotherapy" play into a facial, exactly?
Cryotherapy, or the practice of using cold temperatures to improve our health in various ways, has been around for a long time but has made a resurgence in the last few years as the wellness world continues to look for the best, most efficient way to recover from workouts, help heal injuries, look younger, and lose weight. A typical cryotherapy session happens inside a tall, steel chamber. You step inside for two to three minutes—mostly naked—sometimes at temperatures as low as -200 degrees Fahrenheit. To me, that sounds beyond daunting; I'm pretty certain I'll never step into one of those metallic vessels. But the facial seemed different. How cold could a facial get, really? I had nothing to lose, so I booked an appointment.
Cryotherapy facials claim to stimulate collagen, minimize the appearance of your pores, and give an overall look of cleaner, plumper, and younger skin. I was ready.
I was nervous I'd be uncomfortably cold—thankfully, that's not what happened.
After a brief stint in the waiting area, I was escorted to one of the treatment rooms by my facialist, Elena, who was wonderful. She walked me through every step of the facial, explaining the sensation I would feel so I knew what to expect, which was great given that the facial had multiple steps and sensations.
The CryoFacial includes deep cleansing with microdermabrasion, Cryotherapy, and healing red or blue LED light, and that's what Elena did. She cleansed my face, did a round of microdermabrasion, swept the crystals off my face—then it was time for the cryo portion.
It was definitely cold, but I did not turn into an ice pop as I'd feared. The cold air was refreshing, and with every passing second, I felt my skin calm down. If you've ever jumped in a perfectly chilled pool on a hot day, you've experienced the feeling I'm talking about. I immediately relaxed. After 10 or so minutes under the air, Elena turned on a red light machine, which eventually turned to blue light. The red light is supposed to calm your skin and stimulates collagen growth, while the blue light is said to kill bacteria on the skin that can cause acne. Finally, Elena applied some hydrating gel and under-eye serum to my face and handed me a mirror.
The results continued to show up, even days after the session.
I was impressed. My skin looked even-toned and hydrated, and I'm pleased to report that the red traffic light I had on my chin was already on its way out. It blended back into my skin, shrunk in size, and, was no longer painful to touch. I left the facial looking rejuvenated, not like my skin had been rubbed raw. Most of the time, I leave facials with spots of red, irritated skin or a lot of inflammation from aggressive extractions. No pain, no soreness, no trace left behind.
In the days following, the results became more apparent. Two days out, I saw many of my small bumps dissipate. Three days out, my skin feels glowy and supple—and I'm pretty sure it's getting softer each day. Was this an immediate cure for my acne? No. But it was the most inflammation-fighting treatment I've had, and for that, I'll definitely be back.