8 Creative Things You Can Do With Your Friends Online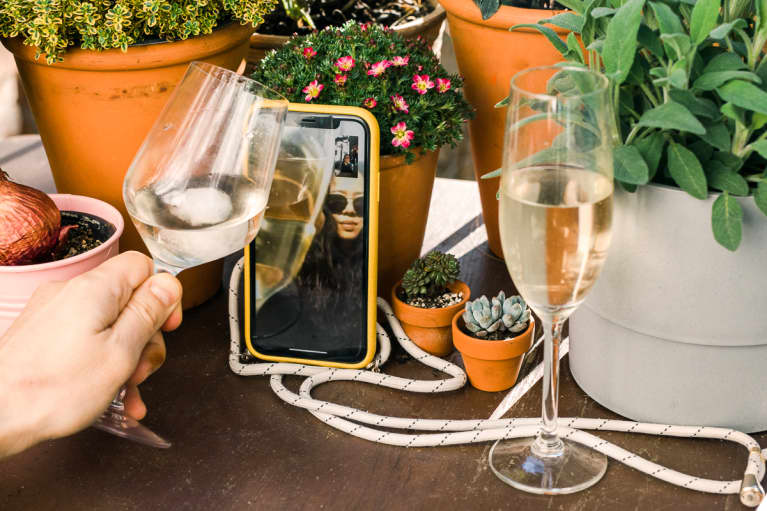 Our editors have independently chosen the products listed on this page. If you purchase something mentioned in this article, we may
earn a small commission
.
Friendships are critical for our well-being, but in a time of social distancing, maintaining those connections can be challenging. There's only so much you can say on phone calls or FaceTime right now, and unfortunately, conversations often lead to the coronavirus. If your social life feels stale, it's time to shake things up.
These eight creative virtual gatherings may require a bit of planning but will hopefully brighten your day and make you feel more connected to your friends:
After staring at your computer all day, reading can be a nice break for the eyes. Form a group of friends who are fellow book lovers, choose a date that works best for all of you, and get started.
If you and your friends have a hard time being decisive, you can follow along with a celebrity's book club, like actress Reese Witherspoon or Today show host Jenna Bush Hager, or see what mbg staffers are reading right now.
If you don't have the time to read, audiobooks are as entertaining and can be listened to while working out, going on a walk, or making meals.
If you and your friends miss singing your hearts out in a rented-out room with disco lights, recreate the feeling at home. Ask everyone to prepare their go-to karaoke songs beforehand and send out a Zoom link. Before you all meet, put on something shiny, grab your microphone (aka hairbrush), and get ready to put on a show.
3.
Happy hour with a twist.
If you're already attending virtual happy hours with friends, add this fun spin. At the beginning of each week, assign one person as your resident bartender. When happy hour rolls around, the "bartender" will read off the ingredients for their favorite cocktail or mocktail and teach everyone how to make it. It may not taste as great as your go-to restaurant or bar, but trust us, it's more fun than drinking alone.
If you need inspiration, these are a few of our favorites:
There are plenty of virtual board games available on your phone (like Scrabble or Clue) and online (try Jackbox digital games or Cards Against Humanity online). You can also go old-school with games like Truth or Dare, Mafia or Werewolf, Never Have I Ever, and other party classics. Here are some instructions for how to set up a trivia night or scavenger hunt remotely with your friends.
Directions for virtual trivia nights with friends:
Appoint someone as the host—they're responsible for preparing the themes and questions ahead of time.
Divide up into teams. If team members don't live together, each team should set up a group text in advance for discussing answers. (Alternatively, a team can set up another video call on a separate device and have the two calls happening simultaneously. Just make sure to mute the main Zoom call while discussing answers so others won't hear.)
Each team should get about 30 seconds to deliberate on each question. No Googling the answers.
After time is up, message or text your answers to the host.
Directions for a virtual scavenger hunt:
Appoint someone as the host—they're responsible for making the list of items.
Add a few obscure items to make it more challenging.
Share the list with everyone, set a timer, and whoever comes back with the most items on the list is the winner.
You can also try a themed show-and-tell: Before each meetup, have someone name a type of item that everyone needs to come to the meetup with. Some examples: something from your childhood, something you made during quarantine, your secret good luck charm, the oldest piece of clothing that you refuse to throw away. Get creative with it and let the storytelling commence!
Remember summer camp when the only way to get in touch with friends and family was through letters? Let's bring that back.
The anticipation of waiting in between mail deliveries is more rewarding than the instant gratification of text messages. Plus, letters tend to be more sentimental and can be stored as a keepsake. One day you can reflect on these memories and maybe even share them with your kids.
Some days it's hard to motivate yourself to work out, especially if you're used to a friend holding you accountable. Instead of falling back on your exercise regimen, you and your workout buddy can schedule a set time to do your virtual fitness classes together. Use your computer to stream the class, and FaceTime on your phone to encourage each other through it.
If you're feeling cooped up, stressed, or sad, plan a virtual dance party with your friends to cheer you up. If you want to dance freely and uninhibitedly, create a shared Spotify playlist and ask everyone to add their favorite songs. Play the music and just move.
If structure is more your speed, follow along to a dance class. The synchronicity of group dance has been proven to release endorphins, which can lower cortisol levels and cause you to feel even more connected to your friends.