A Happiness Expert's Top 4 Tips For Building A Fulfilling Community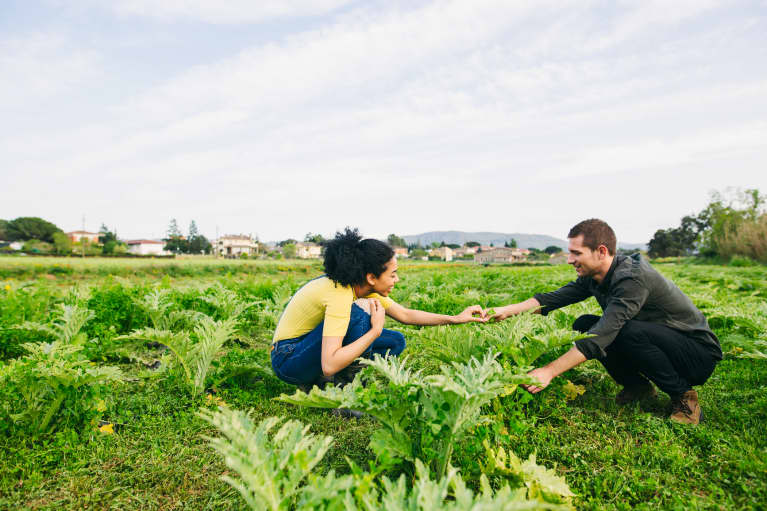 Our editors have independently chosen the products listed on this page. If you purchase something mentioned in this article, we may
earn a small commission
.
Meik Wiking, the CEO of Copenhagen-based Happiness Research Institute and author of the book that helped fuel last year's hygge obsession, is back with a new Danish concept we should all get behind: lykke, or "true, lasting fulfillment." The Danes believe that when it comes to finding lykke, celebrating community is key. Here, Wiking lists his favorite ways to foster community in your own backyard.
1. Establish a book-lending cupboard.
A simple way to start the conversation in your community is to establish a mini-library built on the "take-one-leave-one" principle. The library doesn't have to be anything fancy. In my stairway in Copenhagen, I've just put books on top of the rack of letterboxes. It makes the stairway more homey, it's fun to watch which books get picked up, and it encourages interaction between the neighbors. The current collection in my stairway includes titles like A Concise History of Architecture, The Great Gatsby, and Introduction to Statistics. For some reason, the first two seem to be the most popular.
There is a bench in my courtyard right outside my kitchen window where I often sit and read. From the bench, you can see a tall chestnut tree and hear the wind in the leaves. The bench also functions as a semiprivate space—I can be by myself, but I am still close enough to the public space that people will say hello and ask about the book I'm reading. You won't ever get to know your neighbors if you never see them.
Spaces like this—front gardens and porches—are called soft edges, and studies show that streets with soft edges feel safer and people tend to stay in them longer. Just being out in front of your house gives a welcoming vibe that encourages interaction. Few people would dare come into your kitchen to say hello, but if you are in your front garden, people may get to know you and you them. Because of my outdoor reading spot, I've learned that upstairs from me live Peter and his daughter Katrine, and farther up lives Majed, who has a fruit store (with delicious peaches). Interestingly, noise from neighbors ceases to be annoying once you get to know their names and stories.
3. Build a community garden.
Your home may not offer any soft edges, but there might be a strip of land in your neighborhood that can be used to create a small community garden—a time-tested way not only to grow a bunch of fresh veggies but also to cultivate a sense of community and for you to put down roots. Tending to your tomatoes is not only relaxing and meditative, but it brings people in the local neighborhood together and fosters the development of community spirit. In other words, it's a delicious way of creating a village atmosphere in a big city.
In addition, while more research is still needed, studies suggest that gardening has great benefits for our mental health. There is no magic bullet that cures depression, but sometimes the garden can function as the midpoint between the bed and the outside world, taking us—literally—into the light. A few years ago, the Happiness Research Institute was working for a city in Denmark, developing a strategy to improve quality of life for its citizens, and suggested they established community gardens, as one of the main challenges faced by the city was loneliness in the community.
We liked the idea so much, we wanted to build one ourselves. So we did. At the time, our office was just across from a church that had spare land, so we bought a truckload of dirt, invited the neighbors, spent one Sunday afternoon building 20 raised plant beds, and topped it off with a barbecue.
4. Start a tool-sharing program.
The average power drill is used for only a few minutes per year, so there is no need for all of us to have one at home. Power drills, hammers, four different kinds of screwdriver—they all take up space, not to mention leaf-blowers and snowblowers. A tool-sharing program is also a good excuse to get to know your neighbors.
In short, sharing your tools with neighbors leads to more resources, more community spirit, and less clutter for everyone. You can ask what tools people might be interested in borrowing and lending or create a "tool library" board. Put up a board with some tools on it, for example a hammer and screwdriver, and draw around them. Put in a few nails so that the hammer can hang on the board. Also draw the shapes of the tools that are missing so that your neighbors can contribute their excess tools.
For more insight into how our community can help us find bliss, check this out.
Based on an excerpt from the book, The Little Book of Lykke. Copyright © 2017 by Meik Wiking. Reprinted by permission of William Morrow, an imprint of HarperCollins Publishers.