I Got Diagnosed With Stage 4 Cancer: Here's The First Thing I Did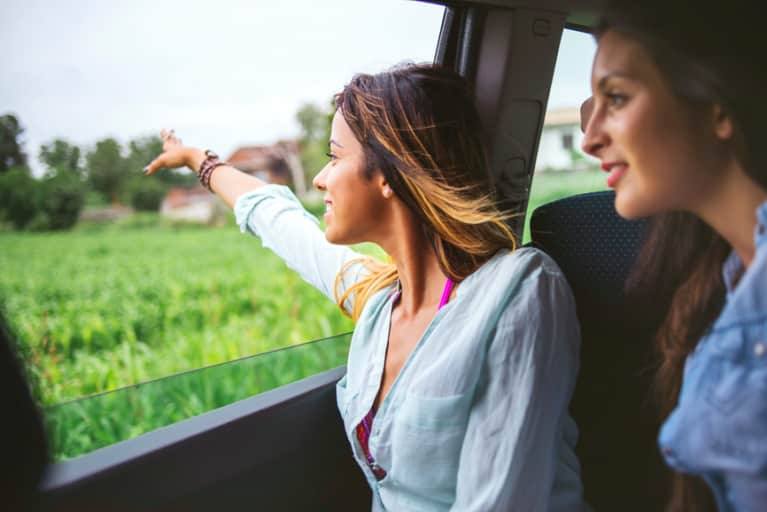 I'd have a very different "story" if it weren't for the tremendous amounts of support I received throughout my cancer journey—which consisted of two years of treatment, one clinical trial, three surgeries, and a total change in lifestyle. Initially, I didn't tell people about my cancer diagnosis, but once I did, I was showered with unbelievable amounts of support of all kinds. Support I didn't even know I needed. I truly believe everyone needs a good support system when dealing with a seemingly hopeless situation—even if they don't think so at the time.
Having a support system made me feel loved and blessed, fulfilled and strong. I probably took a different approach than most in assembling my support team, but my tumors were growing at a rate of 30 percent a month, so I had to be efficient. I pushed emotion aside as best I could and went straight into business mode. I strategically put a team of warriors (a.k.a. supporters) together to help me win my fight against terminal cancer, and here's how I did it:
1. Calling all people with special talents!
The first thing I did was send a mass email out to anyone I'd ever met who had a specific talent I thought could help me fight my disease. I sent it to people like: a childhood friend who was an oncology nurse, a former colleague that was a bio-chemist and worked on clinical trials, holistic friends that could put together a dietary plan for me, a plumber ex-boyfriend that could install water filters throughout my home (filtered water is vital to our health), and so on. To give someone the opportunity to use their talent or expertise in a way that can help you is a gift—especially to the person who wants to help but doesn't know how.
2. Those who pray together, stay together.
After I sent out the mass email, my next step was to find a good church (like a lot of people, it takes a traumatic situation to turn to God or inward to deepen one's beliefs). On my search, I not only found a church home, I inherited an amazing global church family. They embraced me, prayed with me, and told me miraculous healing stories that gave me hope. Whatever your beliefs, I recommend reaching out to your spiritual community for the kind of support only they know how to give.
3. There's nothing like family.
My immediate family was especially supportive, since they'd gone through my dad's battle with the same type of cancer 13 years prior. They believed in me, respected my choices, and weren't afraid to jump in to help without me having to ask. My mom left her home to be with me for as long as I needed her, even during her own battle with terminal cancer. My sister scheduled and took me to every doctor's appointment so that I could focus on other important things (life still happens even with cancer!).
4. Employers can be like family, too.
My work family was just that: family. They were immediately part of my support system from the moment I told them about my diagnosis. They provided me with doctor referrals and invaluable guidance about life, finances, and insurance. They afforded me a flexible work schedule and gave me an iPad so that I could work in between appointments and not use up vacation or sick days. They participated in my charity events and generously donated to cancer research on my behalf. They constantly checked in on me while respecting my need for normalcy. If I'd never told my employer about my diagnosis, they would never have known to rally around me like they did.
5. Friends are the angels in our lives.
True friends are right beside you when you need them, no matter what. They listen to your fears and know how to lift you up with the right words. They possess the wonderful talent of knowing what you need even before you knew you needed it. And, most importantly, they stick around when things get tough. My friends stayed at home with me when I was too scared to be alone and at the hospital with me to be sure I got the best care possible. They sent me care packages and encouraging words, and they prayed for me, cooked for me, researched for me—the list goes on. Angels indeed.
The largest number of people in my support system were the folks that have walked, run, and stair-climbed with me in charity events that benefitted the very cause that ailed me. Family, friends, colleagues, acquaintances, and people I didn't even know have joined my team in support of me. As a cancer patient, having hundreds of people by my side and raising money to help find the next treatment that could prolong my life, is a feeling hard to describe. It was like they were saying, "While we can't understand what you're going through, we are here for you."
7. Pruning promotes growth.
The FINAL step in assembling my support system was ridding, or pruning, myself of all the negative people, relationships, and things in my life. Instead, I devoted more time to those people and things that made me happy, and it grew my support system immensely. Everyone likes to be around a happy person!
I've had an incredibly blessed cancer journey, for which I hugely credit my amazing support system. I hope this inspires you to create one of your own.