These 5 Olympians Are Begging Congress To Do Something About Global Warming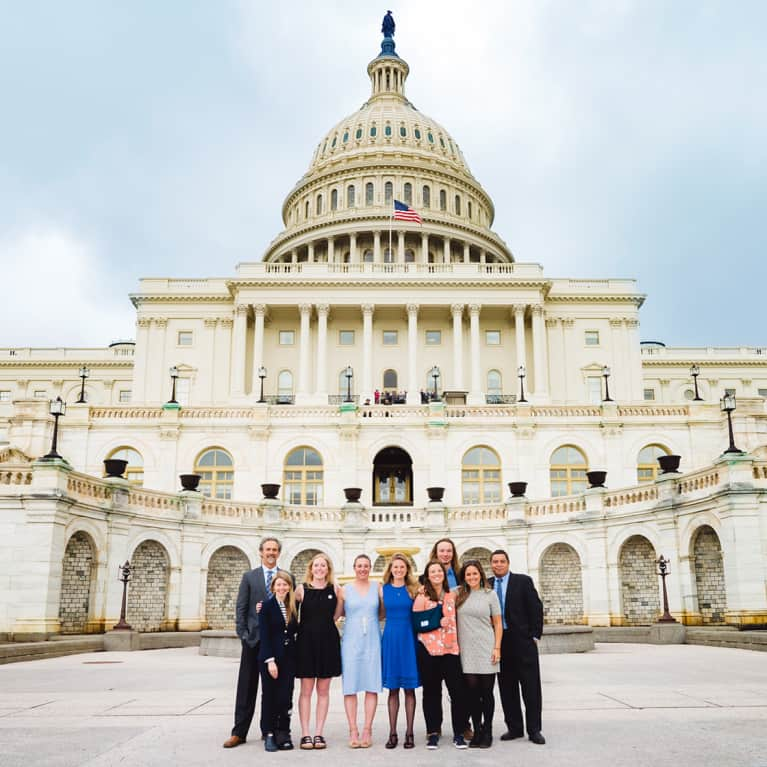 Five athletes who have represented the USA in the Winter Olympic Games are begging the government to take stronger action on climate change.
Snowboarder Arielle Gold, skiers David Wise, Jessie Diggins, Stacey Cook, and biathlete Maddie Phaneuf, spoke with Congress last week about the impact of warming temperatures on the winter sports industry.
"It's unlikely that city will ever be able to host the Winter Olympics again," Gold said of Sochi, Russia, the site of the 2014 Olympics. Gold went on to explain that she was injured there because above-average temperatures made it difficult for athletes to practice on the halfpipe before competition day, when it was topped with fake snow and sprayed with "blue chemicals." Sochi was the warmest city to host the Winter Olympics on record, but athletes say that rising temperatures worldwide continue to imperil their sport.
"From glacial recession in Europe to snow falling at only the highest elevations in New Zealand, many of our training venues worldwide have disappeared," Cook then announced. "And here in the U.S., where I train in California, the droughts have shuttered ski resorts and mountain towns as early as January." Research by the National Oceanic and Atmospheric Administration lends credibility to her claim: In the United States, December through February temperatures have increased an average of 0.55 degrees Fahrenheit per decade since 1970, bringing with them unpredictable hot spells and storm patterns.
Warmer temperatures mean man-made snow, which is more dangerous to race on. Many of the athletes voiced concerns that the winter sports industry as we know it will cease to exist for generations not far in the future. Beyond recreation, these sports also have huge dollar-and-cents value. Protect Our Winters, an environmental advocacy group, accompanied the athletes and presented sobering facts about the economics of the industry: Low snow years have caused the loss of 17,400 jobs and decreased the estimated value to the economy by over $1 billion since 2001.
Here's hoping that stories and statistics like these inspire legislative change. "We're your canaries in the coal mine. We see [climate change] happening all over the world, and it affects everyone at every level. I see man-made snow everywhere we go—nobody can count on natural snow anymore. It's a sign we really need to do something," gold-metal skier Diggins implored Congress. "Climate change is taking away a very healthy, incredibly fun, family-oriented sport that I love."
Check out what Protect Our Winters and other major environmental groups have to say to anyone who wants to get involved in protecting our climate for future generations here. This congressional visit mirrors the lawsuit that 21 American teenagers are currently waging against the government to take more action against greenhouse gases. Check out those details here.