These New Art Exhibitions Want To Help You To Act On Climate Change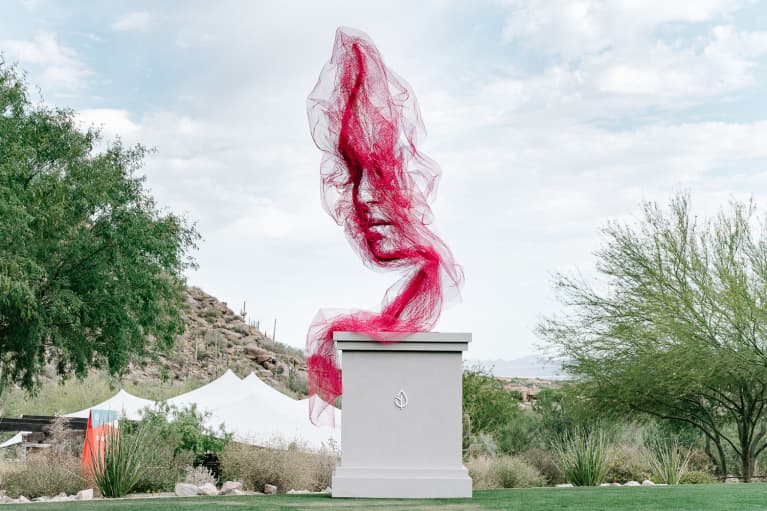 This year, the most-photographed part of mbg's annual revitalize event wasn't the food, pool, or gifting suite. Instead, phones were always poised to snap a shot of "Quietude," Benjamin Shine's sculpture of a face that took on different hues depending on the time of day and quality of light. It was a beautiful piece made even more share-worthy by the fact that it was made out of recycled plastic netting that would otherwise have been wasted.
Why art can inspire environmental action.
By definition, art is something that is meant to be appreciated for its beauty or emotional power. Visual art can evoke feelings that are quick, intense, and sometimes hard to explain. It can also express ideas that may be too complicated or abstract for other mediums. Climate change is one of the most complex problems of our time, in part because it's so difficult to communicate. As writers, activists, and educators struggle to sum it up using the written word, artists like Shine are finding engaging ways to portray it visually.
According to Susan Clayton, M.S., Ph.D., a professor who has studied the psychological processes keeping people from taking environmental action, many of us find it difficult to grasp the threat of climate change until we see or feel it firsthand. We're predisposed to think that it's not an urgent problem since it's not something we feel urgently. "It is hard to visualize abstract and long-term challenges," Clayton said an article for mbg, "and in some ways this requires us to suppress our more instinctual inclinations." Art is one thing that can make the issue feel more relevant by placing it in the here and now.
Museums and public art installations do this on a large scale. "The arts and culture represent one of the few areas in our society where people can come together to share an experience even if they see the world in radically different ways," artist Olafur Eliasson writes for the World Economic Forum of art's power to change the world.
The environmental art scene has heated up (no pun intended) since mbg first reported on its rise in 2017. Here's a peek into some of its latest exhibitions:
I had the pleasure of touring Arcadia Earth—an immersive pop-up climate change museum—before its official opening in Manhattan, where it will live through the fall. Each room of the space tackles a specific issue, be it single-use plastics in the ocean or the environmental toll of meat production, and brings it to life in a surprising and thought-provoking way. Walls covered in 44,000 plastic bags and giant jellyfish made out of beach trash provide the shock value, and resources that appear via augmented reality tablets present a way forward. For example, in the room on overfishing, you can click through to the Monterey Bay Aquarium's database on the most sustainable fish to consume.
My favorite part of the pop-up isn't visible at first glance: It's the fact that the displays are made from natural, reusable, and recycled materials like old books, wood chips, and industrial waste. "It was really hard to make this all sustainable," Valentino Vettori, the artist behind the space, told me. "It would have been easy to just buy a ton of plastic." The effort was well worth it, and it brings this educational space decked out for the Instagram age to the next level.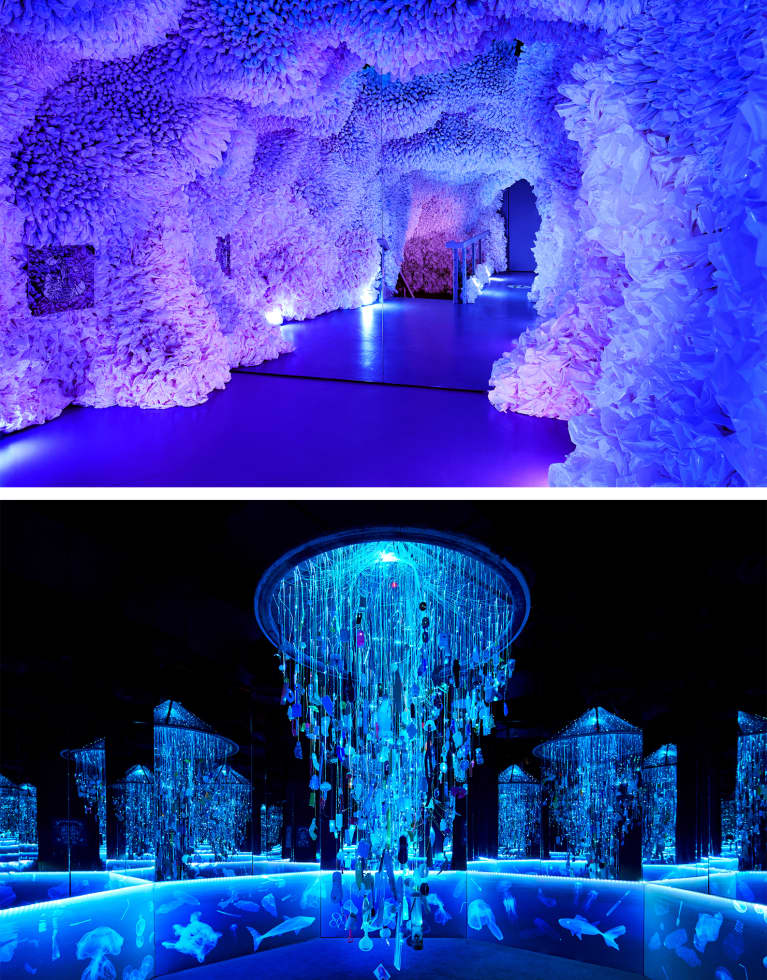 While the first museum in the U.S. dedicated solely to climate change hasn't opened its doors just yet, the Climate Museum has put on a handful of public exhibitions and events in NYC this year. From storefronts covered in paintings of the disappearing Antarctic ice sheet to traffic signals that read "Climate Change At Work," each display was meant to engage New Yorkers in a more public dialogue about climate change. "It's starting to be recognized that museums have a real role to play here," museum founder Miranda Massie told me of the need for spaces like these. "Museums are a public trust, and this is the crisis of our age. We have to be in there."
3. Art + Climate = Change 2019
This spring and early summer, this festival in Melbourne, Australia, called on local artists to explore climate change through 30 exhibitions. Complete with biodegradable and edible event spaces, keynote speakers sharing ideas on art and activism, and rooftop sculpture gardens, it was a place where people of all walks of life could gather, converse, learn, and, hopefully, be inspired to make a change.

This month, youth activists will gather in Washington, D.C., to share photography and stories from their recent trip to the Arctic Refuge with The North Face. This exhibition is meant to show how climate change is affecting the region and how young people do have the power to protect the Arctic and places like it from development. It's an encouraging sign that the next generation is ready to step up to the plate and brands are ready to put dollars behind supporting art that furthers the climate discussion.