Donating On A Budget: 5 Clever Ways To Give $$$ Without Going Broke
mbg Financial Contributor
By Brianna Firestone
mbg Financial Contributor
Brianna Firestone is a Financial Education Instructor certified by the National Financial Educators Council, and the founder of The School of Betty. Her expert advice has been featured in Money.com, Real Simple, and Business Insider. Firestone received her bachelor's in theatre from Stephens College and lives in Denver, Colorado.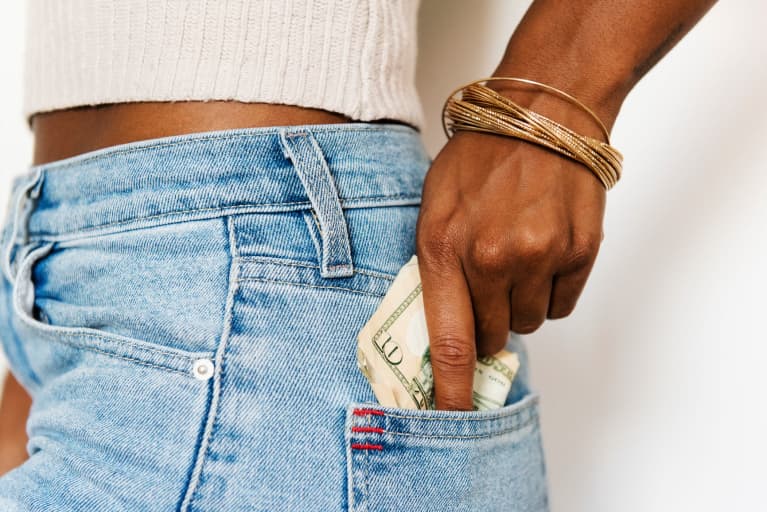 How do I donate money on a budget?
These days most stores have some sort of rewards program. And let's be honest, they are really designed to get you to spend more. (There, I said it.) But that doesn't necessarily have to be a bad thing, especially if we can use those rewards for some good. When you cash in those points, commit to putting the amount you saved toward a charity or a good cause. An example: If you are at the pharmacy and at checkout you are informed that you have $10 in rewards, use the rewards, but then when you get home, donate that $10 to an organization. You can also apply this to any rewards you have on your credit cards: If you've got a bunch of points racking up and no plans to use them, look into your benefits program to see what might be a possibility for gifts or donations.
2. Round up at the register.
I believe that giving is an incredible way to do some good while you continue to build a positive relationship with your money. Just like paying off your debt, a small amount can make a big difference. Anytime you are at the store and are asked to "round up" or donate for a cause, say yes to the "roundup" or commit to donating $1 to $5. This simple action can have an incredibly positive impact on your money mindset and gets you in the practice of giving with ease.
Odds are, you've purchased something because the bonus gift was too good to pass up. (You know, those 3-for-1 deals?) And usually in those moments, we are purchasing more than we actually need in order to hit the promotional amount. This is a perfect time to consider gifts whether that is for a birthday, a thank you, or just because. Or if it's at the grocery store, take the extra food to a food bank. Have no shame in the regift of the free gift.
4. Give back your interest.
If you've done the work to put your savings in a high-interest savings account (BRAVA), then consider using what you gain in interest around gift-giving time. It's money you most likely won't miss, and you won't technically be dipping into your savings. Refresher: We want three to nine months of living expenses in a savings account. Anything over that, we want to take a peek at your goals to make sure your money is working for you. Sitting in a savings account is not an investment strategy. Depending on how much you have in your savings, this interest amount can be a nice hidden stash of money to help.
5. Donate your savings on deals.
We are wired to love a good deal, or at least I am. All of the award centers start dinging when we snag something for 40% off even if we were prepared to pay full price. If you want to amp up your donation game, track how much money you unexpectedly (or that was planned) saved during a period of time. This can be on gas, clothing, grocery store, etc. Any deal you snag, put what you saved in your donation bucket. You'll still get the thrill of the deal and a double feel-good when you make that donation.