Poet & Activist Cleo Wade Has The Best Tip For Cultivating Strong Friendships
mbg Sustainability Editor
By Emma Loewe
mbg Sustainability Editor
Emma Loewe is the Sustainability Editor at mindbodygreen and the author of "The Spirit Almanac: A Modern Guide To Ancient Self Care."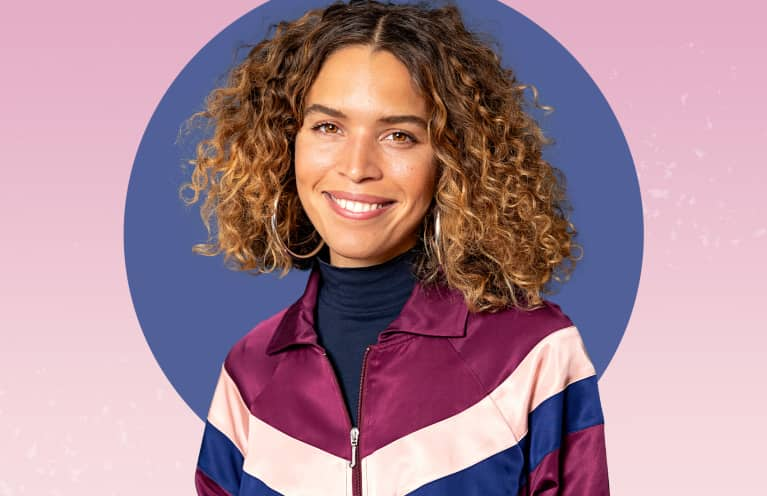 Our editors have independently chosen the products listed on this page. If you purchase something mentioned in this article, we may
earn a small commission
.
February 3, 2019 — 10:30 AM
Last year, the New York Times called poet, artist, and activist Cleo Wade "Everybody's BFF." Scrolling through Wade's Instagram account, stacked with motivational prose in her signature block font, it's certainly easy to feel like she's your friend, too. Her words are simple, but they provide that familiar pang of comfort.
Beyond being an ally to her 474,000 Instagram followers, Wade puts a lot of work into her IRL friendships too. When I caught up with Wade at an event for Aerie's #AerieREAL Spring campaign, which features a diverse array of strong spokeswomen such as Iskra Lawrence, Molly Burke, Samira Wiley, and Brenna Huckaby, the theme of supportive communities naturally came up. For this latest campaign, Aerie, a brand that stopped retouching all of its ads back in 2014, chose to work with ambassadors who stand for women's empowerment, self-love, and self-care. Surrounded by authentic images of women lifting each other up, Wade shared one of her favorite rituals to do alongside friends.
The writing ritual Wade practices with close friends.
"I'll pass around the notepad and write poetry with my friends. I'll basically force them all to write with me. I'll write a line and then they will," she said, adding that sometimes the people gathered around the table will be creative types; others couldn't be further from it.
"Sometimes my friends who are CEOs or work in finance actually write some of my favorite lines. My friend Molly, who owns a clothing line, wrote this line to finish off one of our poems recently: 'My favorite secrets are the ones that are ours.' She obviously doesn't write poetry ever, but we all have this part of us that has this ability to speak to the heart of another person."
This dinnertime tradition doubles as a way to practice her craft without the pressure of a massive audience ("It's so important to have playtime in whatever your medium is... You don't really know what it is you want to say if every time you say something, there's a goal attached").
It's also a show of the thought and intention Wade thinks fuel close relationships, romantic or otherwise.
"One of my friends recently gave me some of the best advice anyone has ever given me: She said that when it comes to friendships you have to ask yourself, 'Is this someone who I'm invested in for a lifetime? If so, what does a lifetime investment look like?' ... Just like people enter into a marriage contract, you enter into a friendship knowing it's going to be hard and frustrating and you're both going to be ever-changing, but you commit nonetheless."
Wade's writing habits and reading list.
When she's not gathering with friends or speaking for campaigns she believes in (it's her second year with Aerie, a brand that she says has diversity and inclusivity ingrained into everything it does), Wade says she's a creature of routine.
She did 90 percent of the writing for her first book, Heart Talk: Poetic Wisdom for a Better Life, at a desk in her East Village apartment, surrounded by a constant supply of weak matcha for a caffeine fix, a bowl of salty jalapeño potato chips for a pop of energy, a sage stick to clear the energy around her, and the work of some people she has never met but in whose words and art she finds companionship: Angela Davis, Gloria Steinem, James Baldwin, Maya Angelou.
Here's to maintaining close friendships, whether they play out over a dinner table or on the page.