Clean At Sephora Goes Big & Bold With Clean Makeup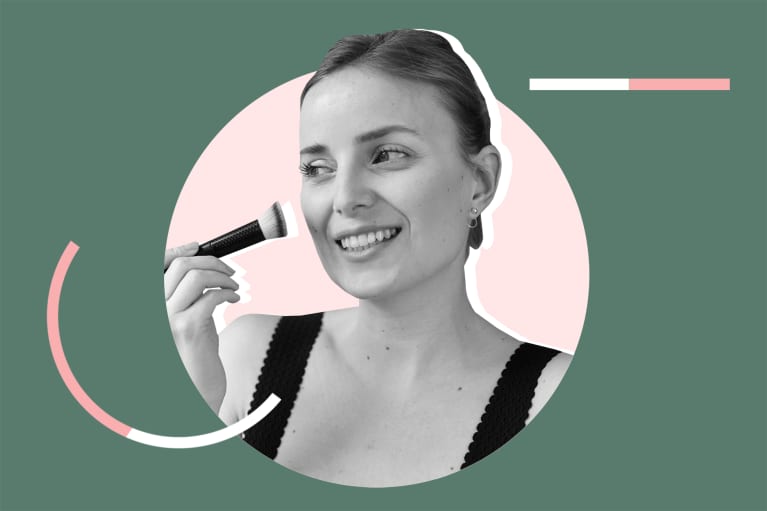 March 12, 2020 — 15:30 PM
For so long, skin care was the core of clean beauty. It's where most of the innovation was, it's where much of the attention was paid, and it's the category that, well, had the most in terms of sheer numbers. One of the reasons this was likely true was that the kind of person who was interested in the clean, natural beauty space was also the kind of person who was more interested in skin itself—and less about covering it up.
But as the movement continues to go mainstream, a more diverse group of beauty lovers enters the clean fold. Market research shows that 59% of women in the U.S. would be interested in trying new brands if they were clean, and 66% said they'd be interested in trying a new brand if it was natural. That's a lot of clean-curious consumers to account for. And some of them are likely just as interested in a long-wear mascara as a vitamin C serum.
And so how are retailers and brands addressing this new consumer? Well, today the beauty giant Sephora announces a new campaign and strategy focused on their makeup offerings within their Clean at Sephora program—as well as growing the clean makeup selection and presence in stores.
"Clean at Sephora has been around for two years, but what we're really focused on right now is expanding more into color and making that our focus," says Cindy Deily, vice president of skin care merchandising at Sephora. (Read all about the history of Clean at Sephora here.) "What we're so excited about is that there are just a number of products now that the texture, formulas, and performance are absolutely on par with their conventional counterparts."
Why clean makeup is the industry's next big push.
"We're very much led by our client," says Alison Hahn, SVP, merchandising, color at Sephora. "And we started hearing rumblings that this is what our client wanted—plus with the success we have with clean skin care—it just became obvious that makeup is what we should pursue."
While it's still a smaller market than skin care (it will likely take a long time to close that gap), Clean at Sephora's color offerings are becoming more robust. Not only are they welcoming newer brands, like the buzzed-about Tower28 and Aether Beauty, but they're creating a platform for longtime favorite brands, like RMS and Bite Beauty, rapidly expanding the assortment of offerings. Currently they offer 172 clean makeup items from 11 brands.
"Yes, our clients dove into clean skin care first, but I believe that the demand for clean makeup has been out there for a while. There's a client out there who wants clean makeup," says Hahn. "The bottom line is that it is just harder to formulate clean makeup than it is clean skin care. Clean makeup is just complicated: It's more expensive to make because it's a newer category, it takes longer to formulate, and finally the pigment component makes it harder. But we're catching up, labs are catching up, and research and development is catching up."
Take it from the brands themselves: "All beauty consumers are starting to care about ingredients, not just the uber-natural no-makeup makeup consumer. The mainstream full glam makeup girl is now concerned about the talc in her powders, the synthetic fragrance in her full coverage foundations, the aluminum in her metallic eye shadows, the parabens and mineral oil in her lip gloss, and so much more," says Annie Lawless, founder of Lawless Beauty, a Clean at Sephora brand known for their more glamorous aesthetic. "She still wants the high-performance, full-coverage, boldly pigmented makeup she is used to while avoiding the ingredients she is now learning might be questionable."
Of course, these questionable ingredients were (and are) used in makeup for a reason: They're cheap and efficacious. "It is very hard to remove some of the chemical ingredients like carbon black, silicones, parabens, emulsifiers, and preservatives and achieve the same performance level as conventional favorites the consumer is used to," Lawless says. But as the demand grows, so does innovation: In the past year, clean makeup launches included foundations that had true coverage and staying power, eyeliners that flicked with ease, and blushes that melted into skin effortlessly.
The key to reaching clean-curious consumers? Going to them.
Perhaps the most engaging part of Sephora's new push is the retail space they're giving clean makeup brands. "As beautiful and big as our website is, the majority of our sales at Sephora are still done in stores—brick and mortar are very important to us and for our buyers' experience," says Hahn. "It's our most important place to sell product, and we wanted to make sure that we had a good presence to build awareness."
This also lets people see the products up close. Makeup can be hard to shop for online, and to really get a sense of the color and color payoff, sometimes you need to see it in person. It just makes clean makeup more accessible and inviting—for those well versed in the space and those who just want to experiment with new, fun products.
But it's not just being physically present; it's also about meeting them at various price points, needs, and wants. "People think that if you're interested in clean, you only want a no-makeup makeup 'natural look,' but when you look at people who are into wellness in general—whether it's someone who loves working out, how she eats, or what she puts on her skin—it's all types of people who are interested in those things," says Hahn.
Up-and-coming brands saw this too: "There is a tendency in the clean beauty space to promote a very sophisticated, polished brand identity; unfortunately, that can sometimes feel alienating for the consumer. I thought it was important to create beautiful products that are not only clean but also accessibly priced and, most importantly, are fun to use," says Amy Liu, founder of Tower28. Her products are not only clean but are backed by the National Eczema Association. And while the brand is "safe" to use for just about anybody, they don't play it safe with colors, textures, or the overall look. "Our packaging was designed to bring a sense of playfulness and nostalgia to beauty, and we've found that approach really resonates with our fans."
When we used to think of the cliché Sephora devotee, a makeup-obsessed fan likely came to mind. But when Sephora made their Clean at Sephora seal and program, that perception started to switch. Sure, the smoky-eye shopper is still there, but so is a natural-leaning one. And with Sephora now putting their efforts into expanding clean makeup, it seems those worlds are starting to align.