The Surprising Reason This Man Is Swimming Through Your Sewage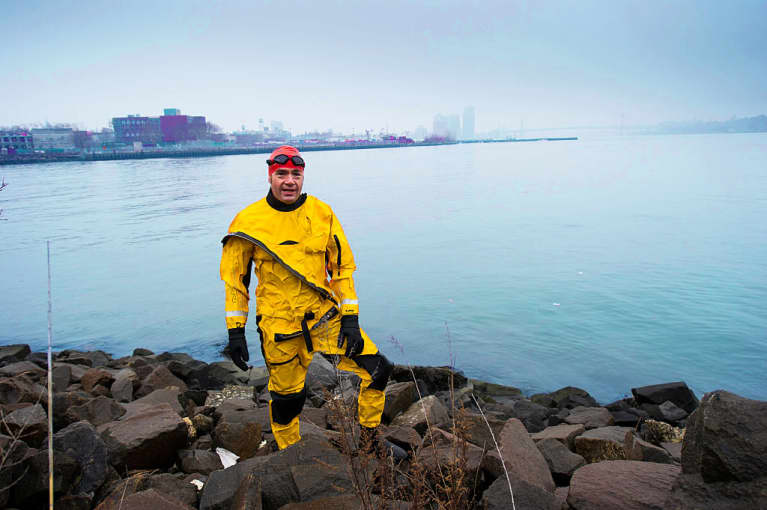 mbg is committed to sharing inspiration, tools, and resources to help you make a real difference in climate change. And as signatories of the We Are Still In pledge, we'll be taking action right there with you.
Over the course of 25 days this spring, Christopher Swain battled sludge, sewage, and storms to complete the 100-mile swim from Montauk to Manhattan. And it wasn't because he lost a bet. The 49-year-old has braved Superfund sites for years—all in the name of clean water.
Swain uses these Herculean tests of his strength, endurance, and gag reflex as his form of environmental advocacy. In traversing these polluted waters, he hopes to show people how dirty they actually are and inspire them to take action. He'll don his trash-covered wetsuit until NYC has water that's clean enough for others swim alongside him every day.
I spoke to the audacious activist about how bad our trash problem has become, what we can do to help, and the unwavering love affair with the water that keeps him going.
What inspired you to start this particular brand of activism? Why not take on a more traditional desk job in clean-water advocacy?
I don't think people should advocate for things that they don't have some personal connection to, so I don't feel comfortable speaking about waterways until I've come in contact with them directly. If you're going to be an effective advocate, you have to connect to people in a deep, personal way to be credible. When I was younger, I did more traditional advocacy, but I found that whenever I'd talk to people about my work, they'd ask, "Who are you to say anything about our sewage problem?" But if you say "Hey, I just swam through your poop. I want to talk to you about the sewage problem," they'll listen.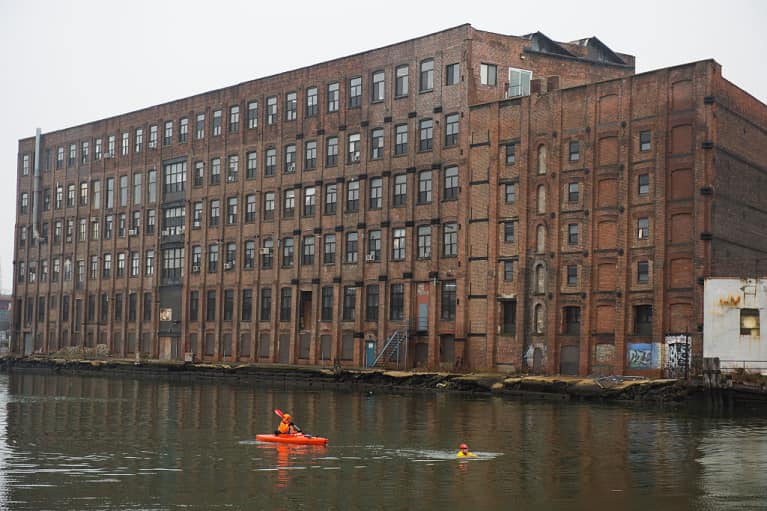 You got a lot of press after completing a swim through the Gowanus Canal in 2015. What made you want to return to NYC waters?
I was born in New York City and one of the things that defines the city is its waterways. Historically, they've been some of the dirtiest in the country. While things have definitely improved since I was born in 1968 just off the East River, there's still a long way to go. I wanted to complete this particular swim from Montauk to Manhattan to show people the interconnectivity of our waters; to remind them that Long Island Sound and East River are one.
Love can make us do things that might look crazy to other people
What is it about NYC that makes its waters so dirty compared to those surrounding other cities?
New York City's waterways have come to reflect the choices we've made as a people. You have millions of people in a small space and everything that is left on the ground can potentially end up in a nearby waterway after a rainstorm. Not to mention, our sewage has to go somewhere. In dry weather, the sewage treatment system is able to handle the load, but as soon as there's a downpour or big snowmelt, the sewage treatment plant system can get overwhelmed. At that point it unloads directly into the waterways, because it can't keep up, making the water unsafe for swimming and recreation for the next one to three days. Smaller waterways, like the Gowanus Canal, Newtown Creek, and part of Flushing Bay are particularly affected.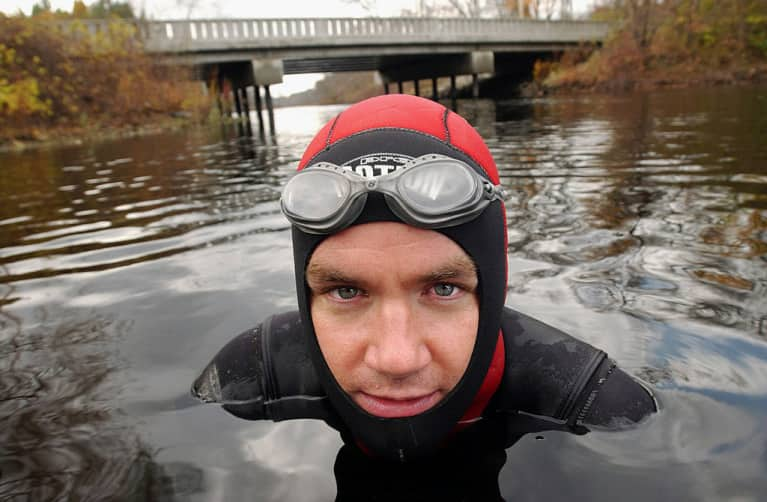 What motivates you to get out of bed every morning and complete these taxing swims?
The short answer is that I love the water. Everyone who's had a love experience—whether it's in the context of a relationship or a vocation—understands that love can make us do things that might look crazy to other people. It's not ideas that get people out of bed in the morning, it's strong feelings. I want to live in a world with clean water. I want that for my daughter; I want that for my neighbor; I want that for my fellow citizens. I want it so much that I'm willing to put my body on the line to make it happen. Literally. Over the course of my Columbia River swim in 2002 to 2003, I got seven ear infections, four respiratory infections, three overuse injuries, and had lymph nodes under my skin swell up to almost golf-ball size from exposure to raw sewage. Once my torso was covered in a red rash from exposure to the chlorine-spiked chemical cocktail being discharged from a pulp and paper mill.
Have you seen positive action taken since completing them?
In terms of the actual entities who can do something about it—the city, the state and federal government—I don't think those groups will ever admit to the influence I'm having. Shining a light on these things has inspired people start asking questions and reaching out to their local representative to see what is being done.
After my Gowanus swim, the cleanup accelerated and there was a tremendous amount of activity since then. I also did a Newtown Creek swim in 2015, which was probably the most disgusting one I've ever completed. It had rained all night so I was swimming alongside pollution, feces, oil and gas. Even though I was in a dry suit, it really made my skin crawl. It was awful, but it was also constructive. Within a few weeks, the city had set aside $30 million to address the trash problem in the creek.
Stand up, go outside, get wet, and see where that leads you.
How do you plan which swims to do, and when? What's next for you?
It's a balance of the swims that I want to do and the ones I can get funding for. I depend a lot on non-profits, for-profits, and individual donations. For example, for the Montauk to NYC swim, Brewer Marinas suppled the boat to follow me on the journey, and in return I provided a boating best-practices document for them to distribute to their customers, so it was beneficial for everyone. I can say that I'll continue to swim in New York until the water is safe for every human and creature to enjoy every day.
What can people to do improve their local water quality, whether they live in NYC or not?
The work you do in the service of protection or restoration of the waterways is not going to get you very far unless you feel strongly about it. So I would say the first step is to start finding a way to use and enjoy the water around you, whether it's kayaking, boating, creating art of the river, swimming, or fishing. If you can start feeling the ways that water nourishes you, you'll become naturally curious about what efforts are being taken to protect and restore it. So stand up, go outside, get wet, and see where that leads you.
Inspired to start showing your love for the water? Check out some more expert-approved ways to do it.