The Sweet Treat That Improved My Skin In Two Weeks
Social Media Strategist
By Kendall King
Social Media Strategist
Kendall King is mindbodygreen's Social Media Strategist. She recently graduated from Ohio State University and lives in Brooklyn, New York.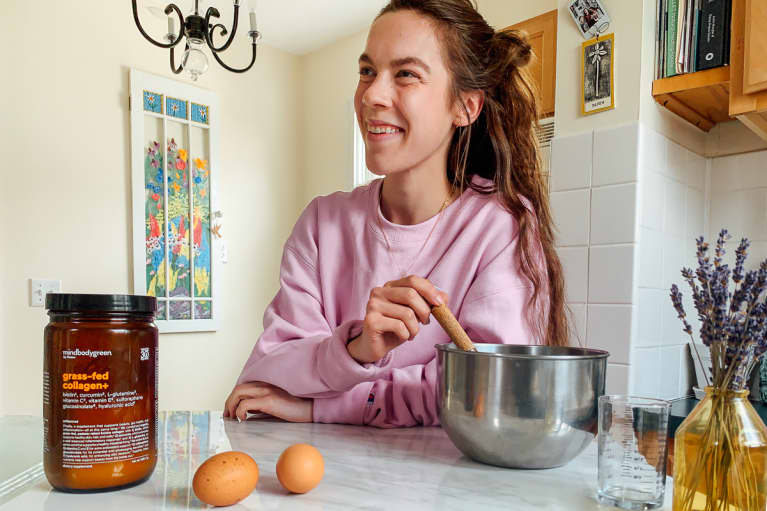 Our editors have independently chosen the products listed on this page. If you purchase something mentioned in this article, we may
earn a small commission
.
Now, I know this sounds dramatic, but believe me when I say that the thing that has kept me sane during this entire situation is baking. I'm a person who loves structure and a daily regimen. And that's the crux of baking—it's orderly, all about consistency, and follows a form. (Another reason I love baking: chocolate.) So when the stay-at-home orders began rolling out across the various states, and I was no longer able to find peace in my normal routine, I turned to the methodical structure of baking a delicious chocolate treat every Saturday morning.
And major plus? I've found a way to make my baking habit better for my overall skin, hair, and nail health.
How baking with mbg's grass-fed collagen+ is helping me and my skin right now.
It may seem counterintuitive to say that my regular sweet treats are helping my skin—refined sugars can dull the complexion, after all—but I have found a way around that. Being able to seamlessly add a high-quality collagen supplement to my baked goods has been a chocolate-flavored game-changer. Now when I'm making my favorite grain-free brownies or various other goodies, I'm not only finding much-need stress release in the tangible motions and organization of baking, but I'm also nourishing my gut, skin, and hair in the process.
.
mindbodygreen's grass-fed collagen+ in chocolate is the only chocolate collagen powder I've ever tried that isn't sugar-loaded and overly saccharine. It tastes smooth yet rich—and adds just enough of the premium cocoa flavor you're looking for. It contains only the cleanest ingredients, like organic Peruvian cocoa and coconut sugar, with no unpleasant aftertaste.
I can see firsthand how this blend of collagen, biotin, L-glutamine, hyaluronic acid, vitamin C, and vitamin E has made my naturally thin strands thicker, supported new growth after stress-related hair loss, and majorly hydrated my skin. Even my co-workers have commented on my newfound healthy glow through our weekly Zoom calls.
I definitely recommend this powder to any chocolate devotee, like myself, who wants to support their skin and hair health. I know that even when we move back to a more "normal" life, I'll continue to de-stress by turning the oven on and mixing a big bowl of ingredients that not only nourish my mental well-being but also nourish my skin and hair from the inside out.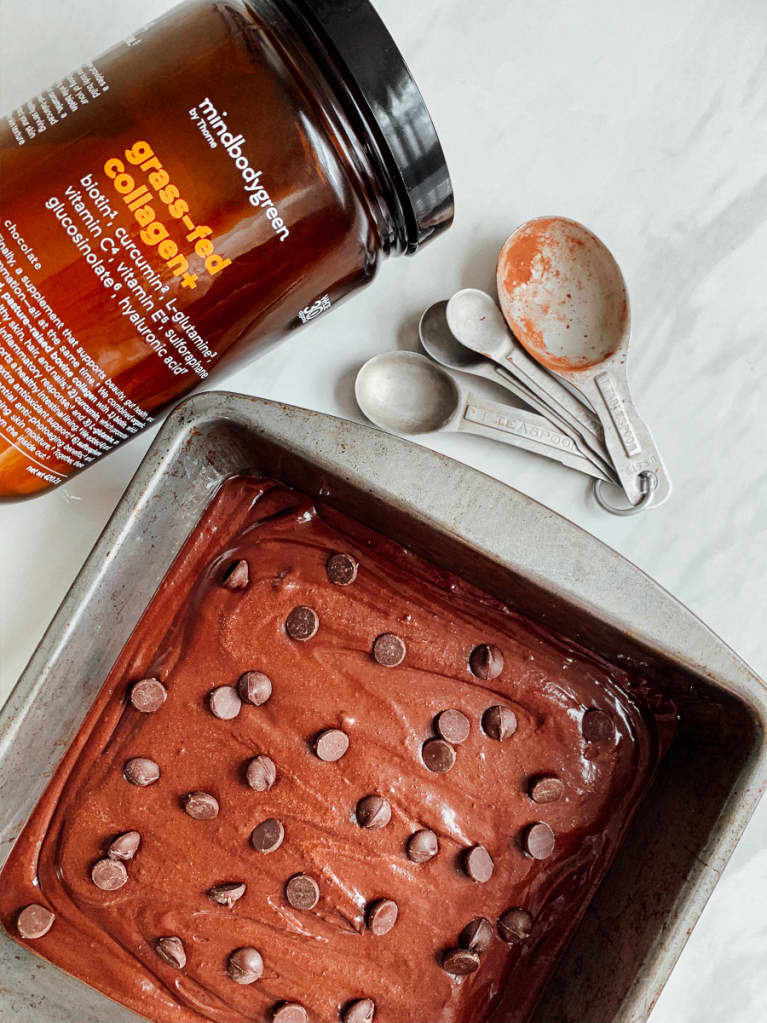 Black Bean Chocolate Collagen Brownies
Here's the recipe that I can't stop baking in quarantine, adapted from Valeria Lipovetsky's black bean brownie recipe:
1 can black beans, drained and rinsed
¼ cup maple syrup
⅓ cup coconut oil, melted
2 tbsp. mbg grass-fed collagen+ in chocolate
¼ cup monk fruit sweetener OR coconut sugar
¼ cup unsweetened cocoa powder
2 large eggs OR 2 vegan egg alternatives
1 tsp. sea salt
1 tsp. vanilla extract
¼ tsp. baking powder
Optional: lots of chocolate chips because why not! I love Lily's Dark Chocolate Baking Chips
Preheat oven to 350°F and spray an 8-by-8-inch baking pan with nonstick spray.
Add black beans, maple syrup, monk fruit, coconut oil, and vanilla extract to blender. Blend until smooth.
Next, add cocoa powder, chocolate grass-fed collagen+, sea salt, and baking powder. Blend again.
Crack the 2 eggs into blender and blend on low until eggs are evenly incorporated.
Pour mixture into greased pan and sprinkle as many chocolate chips on top as you want—there are no rules!
Bake for 25 to 30 minutes or until the brownies have slightly risen and top is beginning to crack. Let cool, and eat up.