More Oat Milk Please: Chobani Is Releasing Oat-Based Products
mbg Editorial Assistant
By Eliza Sullivan
mbg Editorial Assistant
Eliza Sullivan is an editorial assistant at mindbodygreen. She received a B.S. journalism and a B.A. in english literature from Boston University.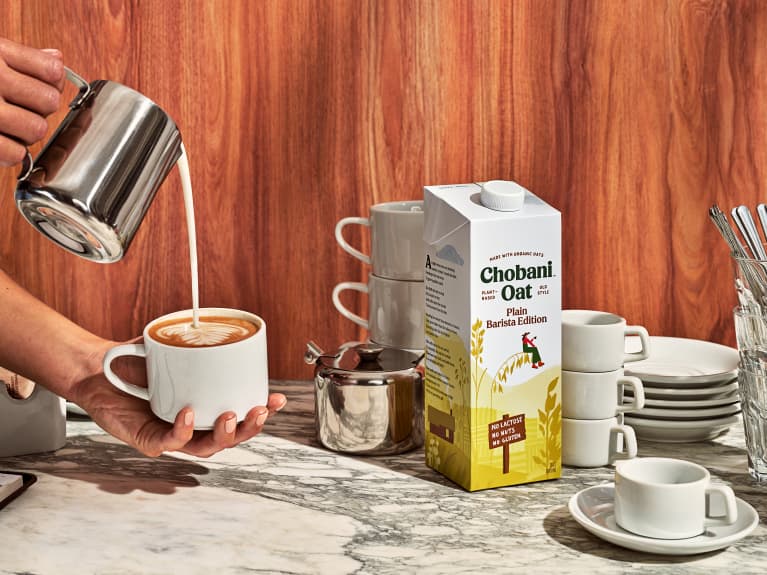 Our editors have independently chosen the products listed on this page. If you purchase something mentioned in this article, we may
earn a small commission
.
November 20, 2019 — 2:10 AM
Chobani is best known for its yogurt: creamy, dairy-filled Greek yogurt, to be exact. But with its latest product rollout, they're diving into one of our favorite plant-based alternatives: oat milk.
Announced this week, Chobani is releasing their own oat milk, the sweetheart of the nondairy beverage world, along with a whole new range of oat-based products.
Chobani spent over a year developing their new line, and for the first time are expanding their offerings beyond yogurt to oat milk (and dairy coffee creamer). "Like yogurt, oats are an ancient food with deep roots in our culture and our land. These grains deserve to be celebrated," said founder and CEO Hamdi Ulukaya.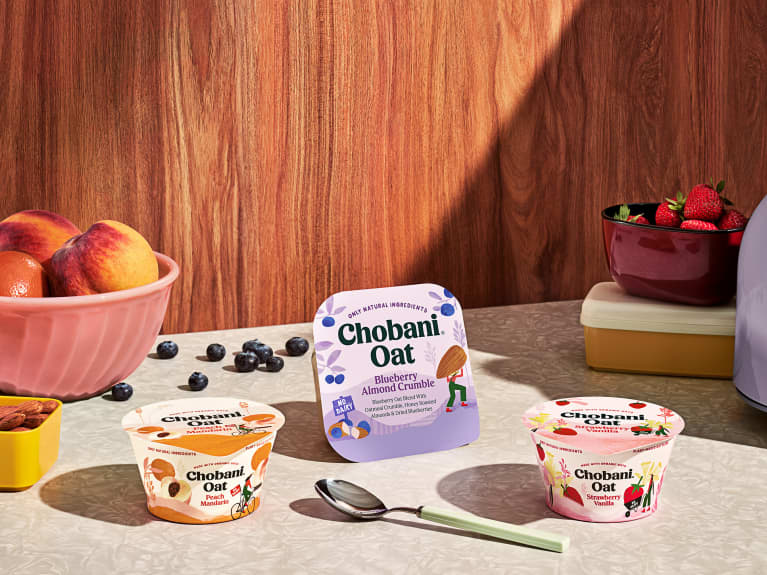 For their first venture out of the yogurt aisle, Chobani's oat milk will be offered in classic plain, extra creamy, vanilla, and chocolate beverage options. And for anyone who enjoys oat milk in their coffee or tea, there's a barista blend coming in December designed especially for steaming.
But Chobani isn't neglecting their roots with this newest release: Yogurt is also a big part of the rollout. Oat-based yogurt cups in vanilla, strawberry vanilla, blueberry pomegranate, and peach mandarin are coming to yogurt aisles nationwide. They're also running with the success of their dairy "Flip" yogurts in a variety of flavors, making oat-based breakfast even simpler than the already very simple overnight oats.
According to their website, these new products begin with non-GMO, organic, gluten-free oats harvested in Canada, which are then naturally dried and milled. "When we say better food for more people, that includes those looking for nondairy products," says the brand.
This isn't the brand's first foray into plant-based yogurt alternatives. Earlier this year, they released coconut-based yogurts and drinks. But we're especially excited to give this a try as oat products tend to offer more sustainable and mostly healthy plant-based dairy alternatives.
Can't wait for these to hit shelves in January? There are plenty of other brands offering plant-based yogurt options, and we have some favorites for you to try.