Psst... Keto Diet & Whole30 Gets Easier With Chipotle's New Menu
Contributing Food Editor
By Liz Moody
Contributing Food Editor
Liz Moody is a food editor, recipe developer and green smoothie enthusiast. She received her creative writing and psychology degree from The University of California, Berkeley. Moody is the author of two cookbooks: Healthier Together and Glow Pops and the host of the Healthier Together podcast.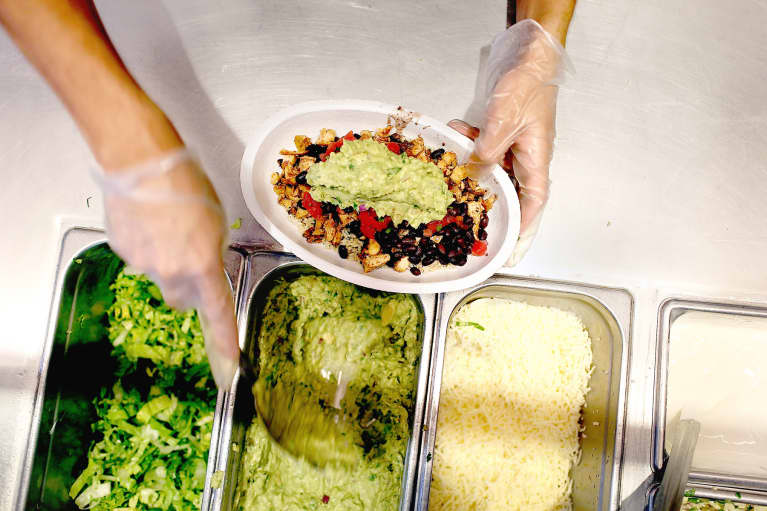 January 2, 2019 — 18:00 PM
While we're all about a healthy January reboot sans major restrictions (you can see our full plan here), it can also be a great time to try the Whole30 (one of our writers did, and she learned a ton!) or experiment with a ketogenic diet—and Chipotle, the popular grab-and-go Mexican restaurant, has your back.
In case you're unfamiliar, "a ketogenic diet is very high in fat, moderate in protein, and very low in carbohydrates," explains Vincent Pedre, M.D. "The idea behind keto is to keep your fat-accumulating hormone, insulin, low by keeping your blood sugar low. In doing so, you turn on fat-burning genes while suppressing the abdominal-fat-amassing machinery. While actual percentages vary a little, traditionally ketogenic diets reduce carbohydrates to less than 50 grams a day. That's pretty low: Something like an apple and a cup of quinoa would easily clock in at about 50 grams." (Want his full primer to the diet? Check out this piece.)
Meanwhile, the Whole30 is a 30-day elimination diet where you eschew all dairy, any added sugar, all legumes, and any alcohol. They both have the potential to massively change your relationship with food (this is the primary goal of Whole30, while keto dieters tend to be more focused on achieving a happy weight or medical-grade therapeutic benefits), but they both have one major drawback in common: It becomes much, much harder to eat out.
While we're all about rekindling your love for the kitchen, sometimes you just need grab-and-go fare when you're out and about—and that's where Chipotle comes in. They just announced the launch of a new collection of Lifestyle Bowls, designed for keto, Whole30, and paleo dieters (or anyone else to whom they appeal!). The launch includes four new bowls:
A Whole30® Salad Bowl with romaine lettuce, carnitas, fajita veggies, tomato salsa, and guacamole
A Paleo Salad Bowl with romaine lettuce, barbacoa, fajita veggies, green salsa, and guacamole
A Keto Salad Bowl with romaine lettuce, carnitas, red salsa, cheese, and guacamole
A Double Protein Bowl with white rice, black beans, chicken, steak, red salsa, romaine lettuce, and sour cream
They already have one major fan—Melissa Hartwig Urban, mbg Collective member and co-founder of the Whole30. "We are always looking for ways to make the Whole30 easier and more accessible, and travel has always been a pain point," she said. "It's not always easy to find compliant options on the road, so I was thrilled to work with Chipotle to create a tasty, satisfying salad bowl that meets our program guidelines."
While you've always been able to build your own bowls at Chipotle (indeed, many of our docs customize their meals pretty much every time they eat out), these easy, ready-made options make it that much easier—and we're all about that.