5 Ways To Use This Time To Teach Your Kids Valuable Life Lessons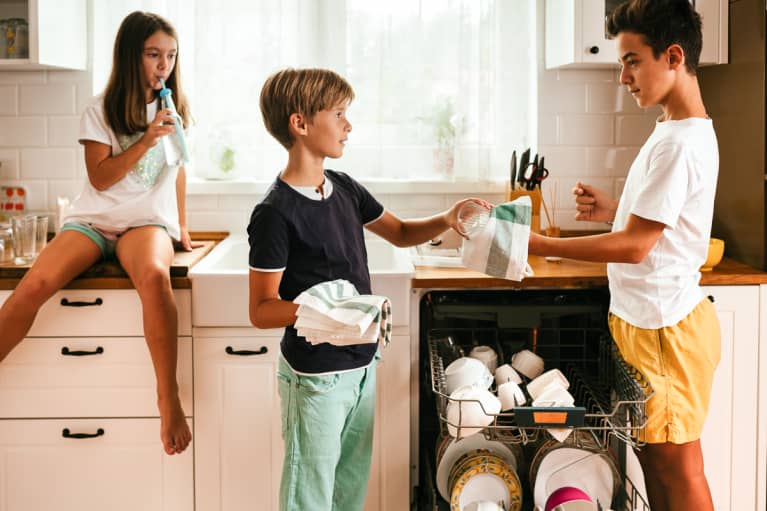 Our editors have independently chosen the products listed on this page. If you purchase something mentioned in this article, we may
earn a small commission
.
At some point, every parent worries that their child will not be able to make their own doctor's appointment, change a tire, cook for themselves, and generally manage in the world without us. We picture them living on saltine crackers, wearing the same clothes, and wandering the world unable to put in a load of laundry. Our goal as parents is to get our children ready for life.
During the coronavirus quarantine, parents are struggling to home-school on digital platforms, not to mention the efforts put in to get their children to do the actual work. But take a minute to consider this—these uncertain times can be an opportunity. As many of us are under a stay-at-home order with our families, we now have the time to help our children with life skills.
How to teach life skills right now.
Learning to do laundry, make a doctor's appointment, sew a button, or cook a meal are critical life skills that everyone needs to know how to do to function in life. The process starts early. A young child can learn how to sweep and unload the dishwasher and will grow to take more responsibilities, like washing hair by themselves or organizing their toys. Eventually, the child learns to do the laundry, prepare a meal, and manage a schedule so she can arrive for an appointment on time.
Make a list of life skills and collaborate with your child: Don't present learning life skills as a chore, but rather allow your child to know that working on this will help them become more independent and therefore earn additional privileges. Ask your child where she would like more independence and help her look at what life skills she can build that will help her demonstrate responsibility. Help her understand that the newly acquired skills are helping her learn and grow toward a more responsible and independent person.
Demonstrate and learn together: Whether your child wants to take on the learning or you are working with them, the more you hold back the lectures and make this fun, the more your child will learn. Tie the learning to what is in it for them. As they show you they know how to unclog a sink and clean a bathroom, maybe they can have more freedom and stay up later. Help them understand that before they go to college and have a lot fewer rules, they will need to know how to open an online bank account and do laundry.
Turn your child into a helper: One major life skill is to help others. Look around you and see what other people need. Ask your child to step into the shoes of members of your community. Pick something she sees as a need and then brainstorm how you can help. Is it making masks for the hospital, raking leaves for the elderly person next door, or making care packages for someone who might be alone during this difficult time?
Lean on grandparents for help: This wonderful book Grandma's In the Phone talks about how to work with grandparents virtually to teach things like sewing, crafts, woodworking, cooking, and other key life skills. Grandparents, cousins, and aunts and uncles will love the connection to your child and can teach these skills virtually.
Time management is a life skill: Managing time, making a plan, and thinking ahead are all key life skills. In this time of home schooling, many children are trying to learn this skill. Share the big picture with your child and partner with her to lay out the timeline for her activities and her free time. Ask your child to estimate how much time something will take. Ask her how she will reward herself for a job well done.
In the face of our busy lives, we often do things for our children because it is easier and faster. While we are all juggling so much right now, we also have an opportunity to use this time to develop our children and as their original teacher, help them to grow from this experience.