4 Sneaky Chemicals To Watch Out For At Home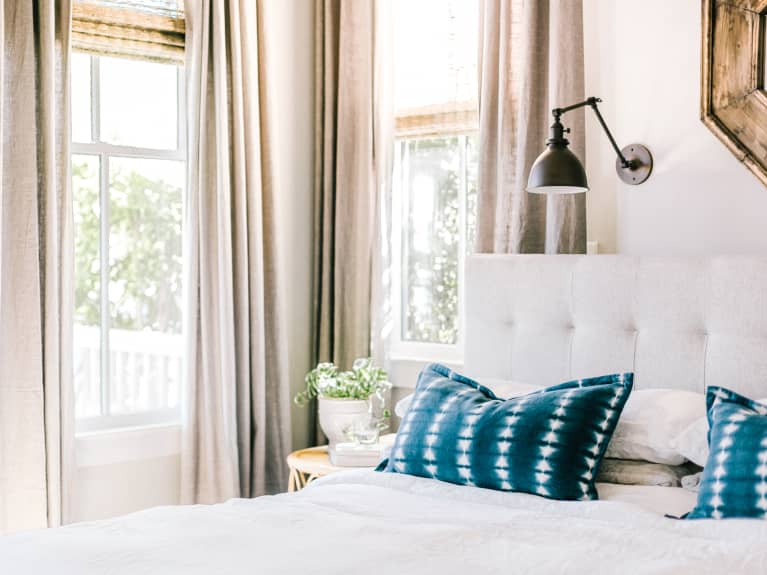 I regularly see people go to great lengths to avoid chemicals in their food and beauty products—without giving a thought to the ones in their homes' furniture and textiles.
But between halogenated flame retardants, stain-repellent chemicals, and PVC-based synthetics, there's a lot we should be looking out for in our upholstery, rugs, drapery, and home linens. While these chemicals do serve an important purpose—stain treatments help improve the longevity and durability of a product; flame retardants have been used to reduce fire risk for centuries; and other finishes such as wrinkle treatments help create products that are functional and aesthetically pleasing—scientific research is now beginning to confirm that some of them pose a threat to human health.
This article will address how to avoid the most harmful ones and seek solutions that are better for you and better for the planet. While there are no foolproof answers here, I offer a good, better, and best alternative for each issue.
How to avoid: stain-guard coatings.
These finishing chemicals often used on carpeting and other fabrics can contain perfluorocarbons (PFCs), which, according to the Environmental Working Group, are known to lead to smaller birth weight and size in newborn babies, elevated cholesterol, abnormal thyroid hormone levels, liver inflammation, and weaker immunity.
Good: Stain-resistant, olefin-based fabric made from polyethylene or polypropylene can be a good alternative if you're looking for something really durable. Trade-off: While these textiles might be better for our health in that they don't require extra chemical treatment, they may not be great for the planet as their manufacturing processes are known to emit environmentally harmful by-products. They are also plastics that are not biodegradable.
Better: The most stain-resistant natural fabric alternative is wool since it contains lanolin, an oil that repels liquids. Just like you couldn't stain a sheep with a cup of coffee (don't try it!), it's pretty hard to stain a woolen good. However, wool can be on the pricier side.
Best: The most eco-friendly fabric alternatives are GOTs-certified organic textiles. When you opt for these, you do need to develop a natural practice around removing stains—which can be difficult (especially for those of us with busy lifestyles that might incorporate children or regular red wine consumption) but doable!
How to avoid: flame retardants.
Flame retardants are top offenders to our health (and the environment) when it comes to home textiles. These finishings in furniture upholstery foam, electronics, and mattresses contain dangerous chemicals called Polybrominated diphenyl ethers, which have officially made their way into our oceans and seafood.
According to EWG, flame retardants have been connected to cancer and hormone disruption, as well as motor skills, attention, and IQ problems in children, who are the most vulnerable to their toxic effects. In the past, a lack of transparency around material ingredients has made it challenging to avoid flame retardants. However, a new California fire safety standard code, TB117-2013, requires that companies report them. Many big brands are adopting this labeling countrywide. Oeko-tex independent testing standard is now also banning flame retardants.
Note that does not ensure the absence of these flame retardants, so always double-check with the manufacturer.
Good: Fabrics that inherently repel flames (think synthetic options like polyester and nylon) are better options for your home's air quality, but they tend to have a high carbon footprint.
Better: Wool and silk textiles have natural flame retardant qualities, but they are expensive!
Best: Natural textiles treated with organic phosphorus-containing flame retardants are quickly becoming more popular and readily available, though they're still not as easy to find as other options.
How to avoid: PVC-based synthetics.
Though it might seem like the best thing for the planet, leather alternatives like pleather can be a huge source of toxins. These PVC-based synthetics, also known as polyvinyl chloride, contain compounds that give off harmful VOCs as they break down. They are often found in synthetic rugs and blackout drapery.
Good: Going with a less toxic acrylic- or polyester-based fabric is a better place to start (and an olefin-based synthetic is even better if you can find it).
Better: All wool rugs are easy to clean and highly durable, especially those that are flat woven. Good arguments have also been made for using leather at home, as long as it's ethically and sustainably sourced.
Best: Vegan leathers are being developed from new and different sources all the time. Companies like Modern Meadow use biofabrication to create a highly sustainable and nontoxic leather alternative.
How to avoid: anti-wrinkle finishes.
Natural fabrics like cotton and linen are appealing when you first buy them, but they tend to hold on to any creases and imperfections. Anti-wrinkle finishes such as urea-formaldehyde resins are sometimes added to these fabrics to improve appearance and reduce wrinkling. But these are known carcinogens that are harmful to the environment and not safe for human health.
Good: If you're determined to have the "natural" aesthetic look of a linen or cotton upholstery, consider a synthetic that has the same weave but has a stronger construction so as to not crease.
Better: Greenguard certification programs ensure that products are designed to meet strict chemical emission limits
Best: Embrace the wabi-sabi look of the unfinished home. Because who has time to iron their pillowcases all the time anyway?