Are $200 Running Shoes Better Than $35 Ones? We Tried 'Em—Here's What We Discovered
Is it worth it to splurge on running shoes? Whether you're new to running or you've aced a marathon or two, this is probably a question you've asked yourself at one point or another. After all, you could spend $200 or more for a pair of running shoes.
With an impressive list of promises like stability, support, energy return, continuous cushioning, extreme durability, engineered stretch mesh—the list goes on—the expensive running shoe often seems worth it, especially because running can be tough on joints and muscles and leads to fascia buildup.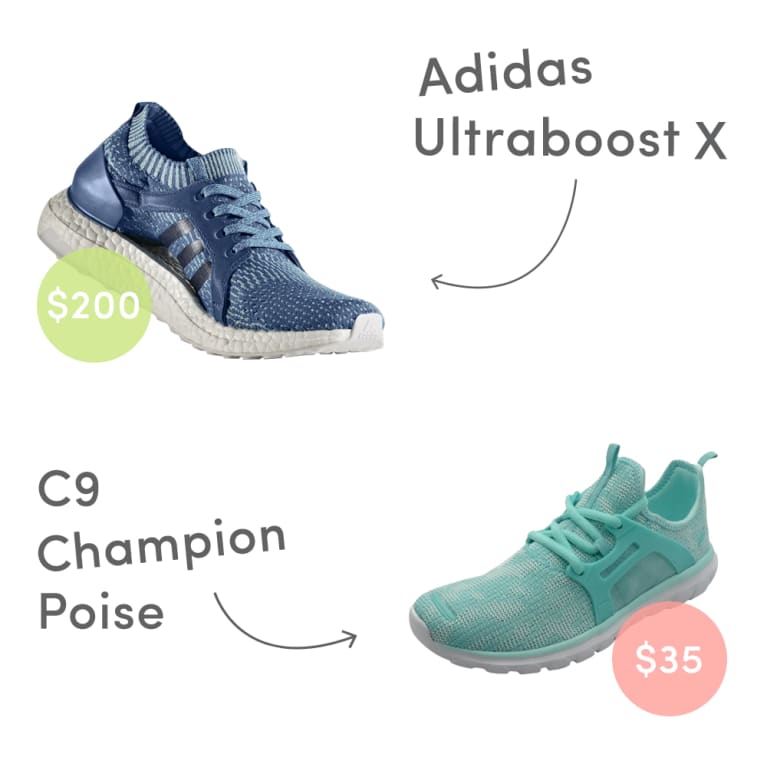 As a runner, I've often pondered this question. I run a few races a year, and I don't always feel great about forking over hundreds of dollars for my shoes every six months. So I decided to test out two different pairs: The the Adidas Ultraboost X running shoe and C9 Champion Poise performance athletic shoe. The price tags? $200 and $34.99, respectively.
Running in the Ultraboost
The Ultraboost is Adidas's most popular summer shoe and for good reason: These sneakers are ridiculously comfortable. Adidas advertises them as being specifically designed to respond to the way your foot moves with each stride, and after taking them for a few four-mile spins, I can definitively say they do just that.
My footsteps were lighter, I felt like I was running semi-barefoot (without dealing with the damaging impact of the pavement), and the parts of my body that typically start to complain as the miles go on—my hips and lower back, specifically—felt completely fine the entire time. While I try not to pay too much attention to how fast I run unless I'm training for a race, I did find that my lighter steps also translated to speedier runs, which was a nice bonus.
Running in the Poise performance athletic shoe
The first thing I noticed when I laced up these sneakers was how lightweight they were—even lighter than the Ultraboost. I know having proper support is important when running, but there was something refreshing about wearing such light shoes.
I wore the Poise shoe for a few three-mile runs, and there's no question that they weren't as supportive as the more expensive pair. I definitely felt the shock of the pavement a bit more, and the sole felt thin—but other than the fact that the fabric wasn't quite as breathable (the material is 83% polyester), which was tough in the summer heat, the overall experience of running them wasn't very different.
And truth be told, I found the experience of walking in them more enjoyable than I did the Ultraboost. So if you're looking for a great walking shoe, I highly recommend this one.
Are expensive running shoes worth the investment?
More expensive shoes like the Ultraboost come with higher-tech cushioning and tend to have better breathability, which are key qualities when you're running 10 or more miles per week. While the less expensive pair worked out just fine for a few runs, I have a hunch that they would wear down quickly if you were logging massive miles in them.
That being said, if you're someone who only runs the recommended amount of running to reap the health benefits—no more than five or six miles per week—a less expensive pair of shoes likely won't be a problem for you.
When it comes to picking out shoes, listening to your body is key. If a shoe doesn't feel right, it probably isn't.
Want to revamp your athleisure wardrobe? Check out the summer travel staples we can't get enough of, and read up on the vibrating, form-correcting yoga pants everyone is talking about.