Everyone's Favorite CBD Maker Just Launched A Line Of Topicals
Contributing Wellness & Beauty Editor
By Lindsay Kellner
Contributing Wellness & Beauty Editor
Lindsay is a freelance writer and certified yoga instructor based in Brooklyn, NY. She holds a journalism and psychology degree from New York University. Kellner is the co-author of "The Spirit Almanac: A Modern Guide to Ancient Self Care," with mbg Sustainability Editor Emma Loewe.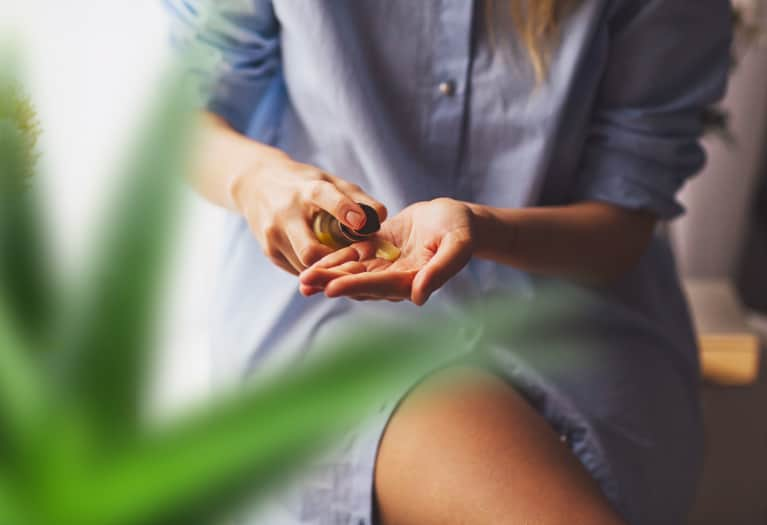 Our editors have independently chosen the products listed on this page. If you purchase something mentioned in this article, we may
earn a small commission
.
As we continue to understand and digest the healing powers of plants as functional foods, CBD oil is gaining a huge and loyal following in the wellness world. As a supplement, people suffering from anxiety can't get enough of its relaxing and calming properties, niche brands are getting creative with CBD-infused chocolate supplements, and it's even been dubbed a superfood by those who've experienced its benefits.
The natural evolution of a strong food trend, at least in 2017, is to "go topical." Probiotics and collagen are prime examples of supplements with health benefits so strong they are included in natural beauty products to great effect. CBD is no different, and CW Charlotte's Web by the Stanley Brothers, one of the leading CBD supplement and lifestyle brands on the market, just launched a line of hemp-infused products.
Some wonder, will the products get me high? To be clear, these products don't contain THC, the psychoactive compound in marijuana. So no, you won't trip after trying these out. Instead of simply straight CBD (a plant-based, non-psychoactive compound derived from the cannabis plant called cannabidiol), the CW products contain a larger range of phytocannabinoids like CBD, but slightly different for a wider spectrum of healing properties.
The new range includes a hemp-infused cream and balm, both of which have unscented and "soothing scent" options. The cream is the color of hollandaise sauce and is thick but remarkably ungreasy. It's worth noting that the unscented formula does have a scent—it's quite earthy with hints of hemp. The "soothing scent" is medicinal a la Vick's vapor rub, but the cinnamon oils give add a warming element. Out of all four topicals, the best product in the line is the soothing scent hemp infused cream—it smells great and imparts a warming sensation, which felt great on our tired hands.
Want more CBD? Try this insanely delicious CBD-infused, calming hot chocolate recipe and thank us later.