This Aussie Chef & TV Star Says This Surprising Thing Is Wrecking Your Digestion
Contributing Food Editor
By Liz Moody
Contributing Food Editor
Liz Moody is a food editor, recipe developer and green smoothie enthusiast. She received her creative writing and psychology degree from The University of California, Berkeley. Moody is the author of two cookbooks: Healthier Together and Glow Pops and the host of the Healthier Together podcast.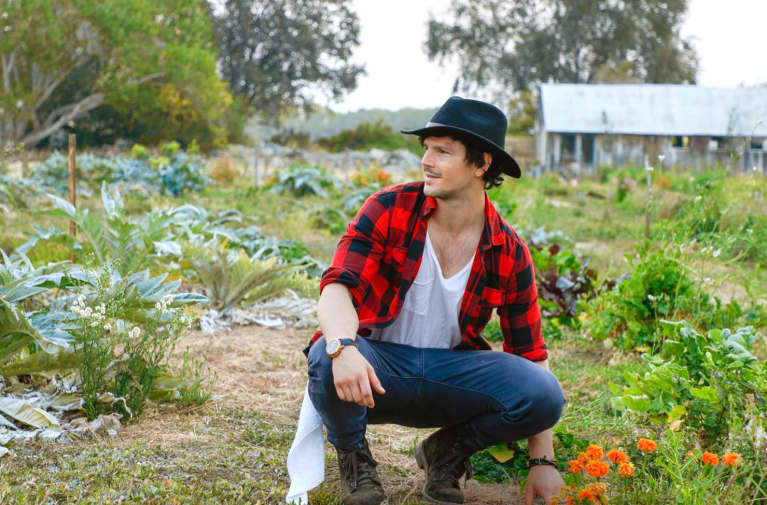 Dan Churchill wants to change the world. The Aussie chef, TV star, and newly minted cafe founder (of Charley St, which has some of the best breakfasts in NYC—but we'll get to that) has infectious energy when he talks about food as a medium to build community and create lasting positive impact, embodying mbg's You. We. All. principles in a physical space. Together with partners Kale Evans, Aaron Cook, and Kieren Dwyer, Churchill is devoted to not only sourcing from local farms but showcasing the stories behind the ingredients that make up the bulk of Charley St's menu. In their studio kitchen, they're already hard at work spotlighting stories of food in the community. They've also partnered with Still Sparkling to provide on-tap still and sparkling water—and for every 10,000 bottles of water they save, they'll build a well in a Third World country.
Perhaps most importantly, though, is the notion of community that provides a backbone for the cozy Lower East Side space. There are avocados papering the bathroom walls, and succulents and bright colors everywhere, all choices Churchill says are designed to cultivate an air of positivity. "A calm and happy environment likely means you're taking your time to fully appreciate and enjoy your food, chewing slowly and taking in the textures and flavors," he told mbg over breakfast during opening month. In fact, he believes happiness while eating is one of the biggest missing factors in healthy digestion.
It all comes down to serotonin. He explains: "Serotonin is well-known as the 'happy hormone' that stimulates the brain. However, most of it—80 to 90 percent—is actually produced in the gut. Responsible for keeping a positive mood balance, serotonin assists the good bacteria in digesting dietary fiber and blocks any harmful microbes developing an ecosystem in the gut. Eating provides a moment to maximize digestive patterns, which, if done in a happy state of mind, are going to be much more efficient. This is one reason that the gut is known to be our second brain."
Churchill believes that every time we eat on the run or eat by ourselves (often in front of a screen), we're missing an opportunity to slow down, relax, and, in turn, digest our food better. "A calm and happy environment likely means you're taking your time to fully appreciate and enjoy your food, chewing slowly and taking in the textures and flavors, which in turn allows for better digestion," he says.
Creating a community-oriented space isn't the only part of the puzzle, clearly. The Charley St menu is also intentionally gut-healthy, filled with ingredients like miso, pickled vegetables, garlic, and yogurt that allow the good bacteria in the gut to thrive. "Our goal is to make sure your stomach is happy and to ensure that the food you're eating is nourishing the rest of your day," Churchill says.
Want to try the Charley St philosopy yourself? Make this healthy hash, which is designed to be good for your gut. "Sweet potato is a gut-friendly food rich in nutrients like vitamin B6 and magnesium, which help keep your digestive system happy," Churchill says. "It also contains bromelain, which is an anti-inflammatory and digestive enzyme." And who knows? Maybe you'll feel a little happier after eating it, too.
½ cup dry quinoa
1 cup filtered water
1 cup fresh arugula
2 tablespoons olive oil, divided, plus more for drizzling
1 cup sweet potato, shredded
1 handful Brussels sprouts, halved
¼ cup onions, cut into thin rounds
Fine-grain sea salt
Black pepper
Preheat oven to 400°F.
Start by cooking your quinoa in 1 cup of water in a pot with the lid on, simmering for 10 to 12 minutes or until just tender and water is absorbed.
Let steam with the lid on for 5 minutes.
In the meantime, toss the sweet potato and Brussels sprouts in 1 tablespoon of olive oil, a generous amount of fine-grain sea salt, and pepper. Spread out in a single layer on two separate trays (one for sweet potato, one for Brussels).
Bake the Brussels sprouts for about 25 minutes, or until browned, and the sweet potato for about 15 minutes (or until well-caramelized and crispy).
While the vegetables are baking, heat a large skillet over medium-high. Add 1 tablespoon of olive oil. When it's shimmering, add the onions and cook, stirring frequently, until browned, about 5 minutes. Reduce the heat to medium-low and let caramelize until the Brussels are done, or for as long as you can.
Assemble the bowl: Lay the quinoa in the base, and top with arugula, roasted veggies, and onions. Drizzle with extra olive oil and a sprinkle of sea salt.