The Skin Care Supplement To Support Skin Hydration Come Fall & Winter*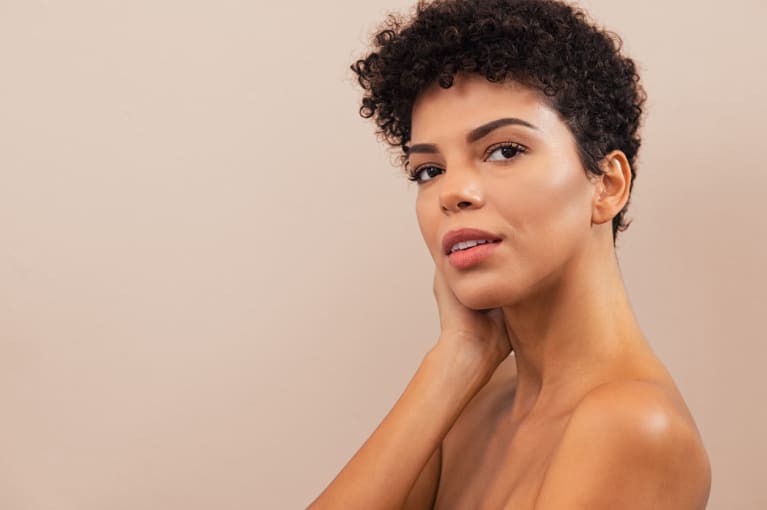 Get ready: Dry-skin weather is upon us. Temperature dips, brisk winds, and lower humidity levels translate to skin that is more irritated, dehydrated, red, and even flaky. Come this time of year, often people start swapping in heavier creams in place of shine-controlling lotions, water-drenched sleep masks in place of oil-zapping charcoal ones, hydrating essences in place of astringent toners—OK, you get the picture.
And while these swaps are valid, and needed for many, one way you can smooth out this seasonal transition is making sure your skin's barrier stays hydrated and strong. Essentially, if you support your lipid layer from the inside, you'll be better able to deal with changes in your external environment. (Read: You may not even need to overhaul your entire skin care routine.)
OK, enough of the why—let's get to the how.
How to support your skin barrier with a supplement. 
Your skin is made of many structural components that perform various functions: Collagen keeps things plump and in place. Elastin keeps your skin supple and resilient. Hyaluronic acid helps attract and retain moisture.
Ceramides are part of your lipid barrier that helps seal it all together. Essentially they are polar lips that create a line between what is inside versus what is outside. This is vital, obviously, because without your skin barrier function strong, water literally evaporates out of your skin. This is more notable in the fall and winter when the weather is more arid and there isn't water in the air to pull into our skin.) And on the flip side, environmental aggressors can seep in, causing irritation and inflammation. This is why sensitive skin flare-ups are more common this time of year.
mindbodygreen's nr+ contains phytoceramides that are clinically proven to help hydrate skin and support moisture levels.* In one study, participants with clinically dry skin who took a phytoceramide-rich wheat extract oil for three months saw up to a 35% improvement in skin hydration.* And you might not even have to wait that long for results; in a study of Ceramosides™, a specific brand of phytoceramides, participants saw improved skin hydration after just 15 days.*
Transitioning your skin from summer to fall and winter doesn't need to be a struggle. In fact, helping your body retain moisture levels—through promoting the skin's lipid barrier—can help smooth over your skin in these tricky few months where your skin is getting used to the new environment. The best part? It may mean you don't need to oh-so-dramatically overhaul your morning and nighttime routines.