This Trendy New Gluten-Free Flour Might Be The Secret To Fluffy, Healthy Pancakes & Cookies (Hooray!)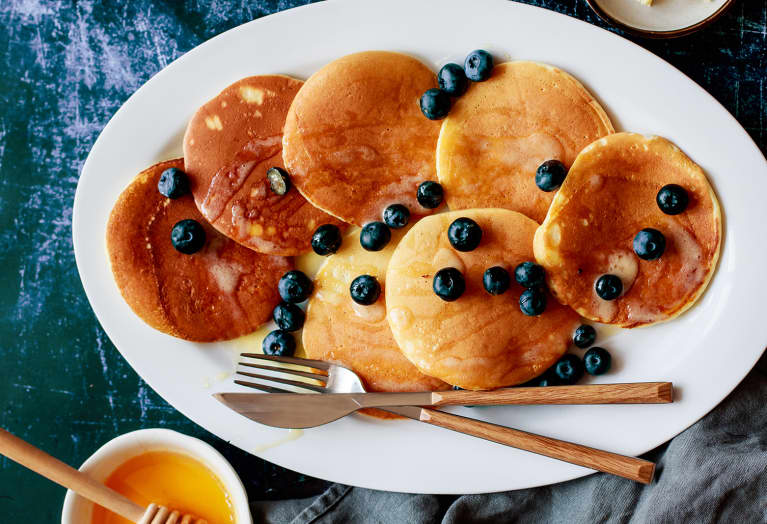 If you're avoiding gluten or have allergies, you're likely well aware of how hard it is to find or make baked goods that have a good mouthfeel and texture. Baking usually requires mixing several kinds of flours and perhaps a few additional ingredients that are hard to spell and impossible to find at stores. Gluten-free flours are usually nut-based (which isn't great if you also have a nut allergy), and they're often grainy and don't make great cakes or breads. Getting store-bought baked goods can feel almost impossible without a degree in food science, if you want to know what you are eating. Baking is a risky game, too—one bad move and you might end up with chocolate flatbread.
You've probably heard of tapioca flour before, which is actually made from starch extracted from the cassava root. But tapioca flour only acts as a filler in gluten-free baking. Cassava flour is a whole food that retains all of its fiber and can actually be used as a base (versus just filler) in all of your baked goods. Cassava is a root vegetable, similar to yams or taro. In addition to being gluten- (and grain-) free it's also nut-free, which is great news for all people dealing with multiple allergies and/or sensitivities. While many other gluten-free flours need a lot of other ingredients—especially eggs—to achieve a good consistency, cassava flour can be used by itself. This also means that a lot of recipes using cassava can be made vegan.
You also don't need to add any potentially irritating fillers, like xanthan gum, when baking with cassava flour—it can be substituted 1:1 for wheat flour in almost any recipe. It's powdery and has a fairly neutral taste, with just a slight hint of nuttiness. One cup has 53 grams of fiber, 8 grams of protein, and 38 percent of your daily recommend vitamin C (although because vitamin C is heat-sensitive, a lot of that is likely destroyed when cooking). Cassava flour does absorb more liquid than all-purpose flour, which means that, for some recipes, you might need slightly less of it. Try to experiment with some recipes that are familiar to you to get a feel for using the flour.
The biggest advantage, though? Cassava gives a super-fluffy, airy result, which is hard to come by in gluten-free flours, particularly single-ingredient ones without fillers.
There are a few downsides of cassava.
Cassava root should not be eaten raw—it contains some naturally occurring cyanide compounds that are broken down when the root is cooked or fermented. The commercially available flours will not have any traces of cyanide, because it is eliminated during the production process, but just a heads-up lest you're feeling crafty and want to make cassava flour on your own.
It's important to get high-quality cassava products. With growing demand, there are cheaper alternatives emerging, and they often have a more sour flavor, and some can contain mold. I use Mikey's or Otto's and recommend them to my clients as well.
The biggest downside to cassava might be how high-carb and lacking in other nutrients it is—while I think it's worth it because of how fluffy it makes foods, if my clients are concerned about this, I suggest mixing veggies or fruit into your homemade breads and cakes and topping them with nuts and seeds. That way, you get all the fluffy results but still have that boosted nutrient profile.
These pancakes encompass why I think cassava will be everyone's new staple—they're so fluffy, you won't believe they're gluten-free.
Easy Breezy Breakfast Pancakes
Makes 6 to 8 pancakes
Ingredients
3 medium eggs, preferably pastured
¼ cup avocado oil, plus more for greasing
¼ cup dairy-free milk of choice
1 tablespoon maple syrup
¾ cup cassava flour
½ teaspoon baking soda
¼ teaspoon fine-grain sea salt
¼ teaspoon cinnamon
In a large mixing bowl, whisk eggs until they're well-beaten.
Mix in the avocado oil, milk, and maple syrup, stirring until homogeneous.
Add the cassava, baking soda, salt, and cinnamon. Mix until a batter forms.
Use a bit of avocado oil to grease a large skillet over medium heat. When the oil shimmers, add a sand-dollar-size circle of pancake batter. Cook for 1 to 2 minutes per side, or until golden brown.