Cara Delevingne Is Helping The Planet With Eco-Resolutions
mbg Editorial Assistant
By Christina Coughlin
mbg Editorial Assistant
Christina Coughlin is an editorial assistant at mindbodygreen. She graduated from Georgetown University in 2019 with a degree in psychology and music.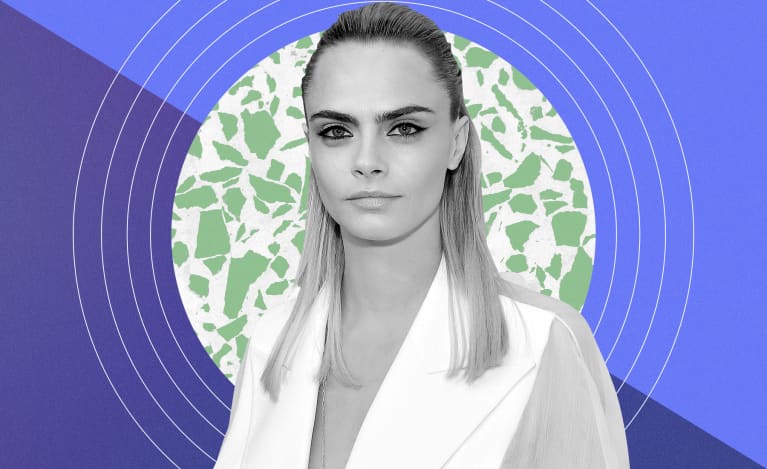 February 7, 2020 — 18:56 PM
Celebrities, they're just like us—they care about the environment too. With her latest initiative, Cara Delevingne is encouraging people around the world, other celebs included, to create eco-resolutions.
What is an eco-resolution?
The Advaya Initiative, an activist organization that focuses on mental health, the environment, and the economy, partnered with Delevingne in 2019 to create a campaign inspiring others to help the environment in any way possible. Initially, their primary focus was encouraging resolutions from individuals wanting to protect the environment. The resolutions were meant to turn commitments into action.
According to their new launch, this year's focus is on "mobilizing people to engage with some of our planet's messiest problems through learning, sharing and transformational action."
Celebrity eco-resolutions.
The campaign launch video, released this week, features a variety of celebrities explaining their eco-resolutions to help the environment.
Some celebrities are focusing on dietary changes to protect the planet, like Jack Black who's cutting all red meat, or Kim Kardashian, who plans to go entirely plant-based. Others are using their work to make a difference. For example, Jaden Smith pledged to partner with companies building sustainable housing for people in need, and model Karlie Kloss will continue working with sustainable companies. Both Reese Witherspoon and singer Rita Ora have committed to swap plastic water bottles for reusable ones.
As for leader of the charge Delevingne, she says, "I've made the resolution to create positive changes in my daily life, to cut my consumption, to limit catastrophic climate change, and to support my mental health."
10 challenge areas for 10 months.
As a part of the initiative, the organization plans to take a deeper dive into one key area per month—everything from feminism to fashion.
For February, they'll prioritize food and farming, uploading various resources to their website to help educate and advise consumers on ways to "make informed decisions, inspire action, and support deeper systems change."
At the end of each month, the most effective projects and pledges will be celebrated with the people in the community who are leading this eco-revolution.
We want to encourage you to create an eco-resolution of your own, outside or inside the home. Becoming educated is step one. After you've found a mission, such as saving the bees, focusing on consumer waste, or cutting your carbon emissions, choose an actionable way to make a difference in that sector. Small steps from many people can lead to big changes.
If you're looking for some inspiration, these four simple tips can help you live a more eco-friendly life.