A 15-Minute Guided Meditation To Help You Unwind & Sleep Great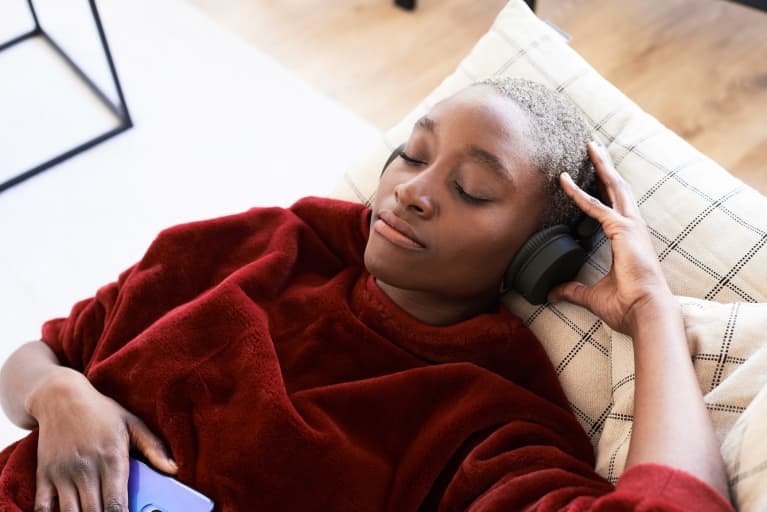 Last updated on May 28, 2020
Everyone has struggled to fall asleep at one point or another. Perhaps it was a stressful day or there's an upcoming obligation on the horizon occupying your thoughts. Maybe you just woke up in the middle of the night and now you can't fall back asleep. Whatever it is, a guided meditation can help bring you back to center, directing your attention toward your intention—which in this case, is getting a good night's sleep.
Guided meditations can focus on any number of things, from de-stressing to empowering yourself. Of all the forms of meditation, guided ones are a great idea if you're new to meditation or just like to be walked through your practice.
So for a go-to evening meditation to help you settle in, I came up with this quick, 15-minute meditation, perfect for unwinding at the end of the day.
The meditation couples a heart-based intention with a breathing technique to relax your nervous system. In addition to that, we'll check in with our bodies and minds, reflecting on the completed day—and letting anything negative go, like existing grudges or something upsetting that happened.
We'll also work with a variation of the Serenity Prayer: "I have made peace with the things I cannot change; I have made peace with the thing that I cannot change. I have the courage to change the things that I can; I have the courage to change the things that I can. And I have the wisdom to know the difference; I have the wisdom to know the difference."
As we go through the meditation, don't worry if your attention slips away. Come back to your intention, the sound of my voice, and continue on. You can expect your mind to wander here and there during meditation—it is a practice, after all.
A guided meditation to help get to sleep.
Pure wisdom is one of the fundamental and innate qualities of our hearts and souls. This meditation allows us to tap into that wisdom, letting the rest go as we ease into a night of restorative sleep. Come back to this meditation any time you're struggling to settle in, and you'll be catching zzz's in no time.