I'm A Cancer Survivor: Here Are The 4 Things I Do To Stay Well Every Single Day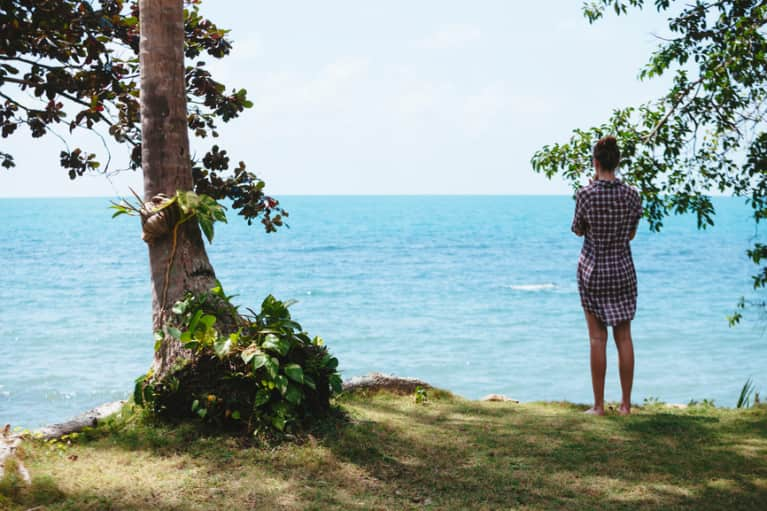 As a breast cancer survivor turned health coach and natural food chef, healthy eating and living are integral to my everyday life. I get this question all the time: "Mia, what do you eat in a day?" So, here's a typical day for me. Sure, I will splurge now and then on the occasional cheeseburger, but I try as a habit to make every day count. Each meal is an opportunity to flood my body and my cells with great nutrients and antioxidants, and eating powerful foods has made me feel like I have an intrinsic, important role in my own fight against cancer.
I LOVE spending my time reading medical studies from the National Institutes of Health and different scientific journals; it's important for me to be up-to-date on the new strides science is making when it comes to nutrition. I like to believe that the answers for disease are right in front of us and I know that plants are one of our most valuable, magical assets. Therefore, I try to consume as much plant food as I can.
My mornings start with ACV and coffee.
Upon waking I will have a mug of warm water with raw organic apple cider vinegar (ACV) and a scoop of domestically grown and ground turmeric and black pepper. This rehydrates my body after a long night's sleep and flushes my cells with amazing nutrients and antioxidants. The apple cider vinegar will also give me a fantastic metabolic boost to start the day. Next, I'll have a cup of organic coffee with a little bit of coconut oil or cashew milk.
In general, I recommend drinking about a tablespoon of ACV in a glass of water once or twice a day at the start of a meal. This will help you break down carbohydrates and sugar and ACV contains active enzymes and probiotics that help support the gut for a healthy microbiome. Personally, I've found that it helps me feel invigorated and it has also helped me (and many of my clients!) lose weight.
Next, I turn to magnesium oil and movement.
I typically rub magnesium oil on my legs and arms and jump on the rebounder for about 15 to 25 minutes. Magnesium is an essential mineral found in all of our organs and studies have shown that transdermal magnesium is just as effective as taking oral supplements. Magnesium is essential for muscle and heart regulation, reduces stress, helps with migraine headaches, and has also been shown to help with diabetes.
I usually wait an hour or so, listening to my body, and if I feel hungry I will make either a vegetable omelet or a green smoothie with kale, pineapple, coconut water, cilantro, hemp seeds, and spirulina. This is a fabulous way to get all my greens, some cancer-fighting sulfur compounds, the detoxing elements of cilantro, and healthy clean plant protein from the hemp seeds. Hemp is also packed with omega-3s, which are great for youthful skin!
For me, lunch is all about the greens.
In between breakfast and lunch, I drink a large green juice with very little sugar. One of my favorites is celery, lemon, ginger, kale, and cucumber to keep my pH alkaline and my cells strong and resistant. If I'm hungry I will enjoy a nice cup of dandelion tea to support my liver. Lunch is a great opportunity to get all those raw veggies in. I will have an enormous green salad with organic produce only and either a half of an avocado and a few tablespoons of pumpkin seeds or a small piece of wild-caught salmon or organic sardines. I dress my salad very lightly with one of my amazing homemade vinaigrettes.
4 tablespoons olive oil
1 teaspoon garlic powder
4 teaspoons Dijon mustard
2 teaspoons maple syrup
2 tablespoons raw apple cider vinegar
1 cup fresh grapefruit juice
4 tablespoons water
sea salt to taste
black pepper to taste
Method:
Add all ingredients to a glass mason jar, shake well, and enjoy! It will keep in the fridge for about five days.
In the afternoon, I connect with the earth.
After lunch, I will spend just a few minutes outside. I try to practice earthing daily; essentially, I plant my feet on the natural bare earth or lie down with my head on the ground, which are both great ways to connect to the earth's energy. In between lunch and dinner, I will also make sure that I'm hydrating with lots of lemon water. Dinner will be light and a repeat of lunch is perfectly suitable. Oftentimes, I will make a vegan soup like butternut squash and lentil or broccoli zucchini basil—either served with a few tablespoons of pumpkin seeds and hemp seeds or organic poached chicken or fish.
I reserve time for detox, relaxation, and gratitude before bed.
Just before bed, I will dry brush with a soft-bristle brush in circular motions starting at the ankle and working toward the heart to help with blood flow and to remove dead skin cells and toxins before jumping into a hot Epsom salt bath. Next, I rub a little more magnesium oil on my feet, have another cup of homemade cardamom and lavender tea, and leave a glass of water with chlorophyll on my bedside table. This helps my body stay hydrated overnight, cleans out any heavy metals or toxins, and makes my skin look vibrant when I wake up.
The day is coming to an end, and this is the perfect time to reflect and feel the love of all of the good that exists in my life and in my heart. I will write down at least three sentiments that are meaningful and what I am grateful for in my journal. This is how I go to sleep, how I say thank you to my maker, to my planet, to my universe, to my family, and to myself.