Can You Eat Anything Healthy At the Airport? We Asked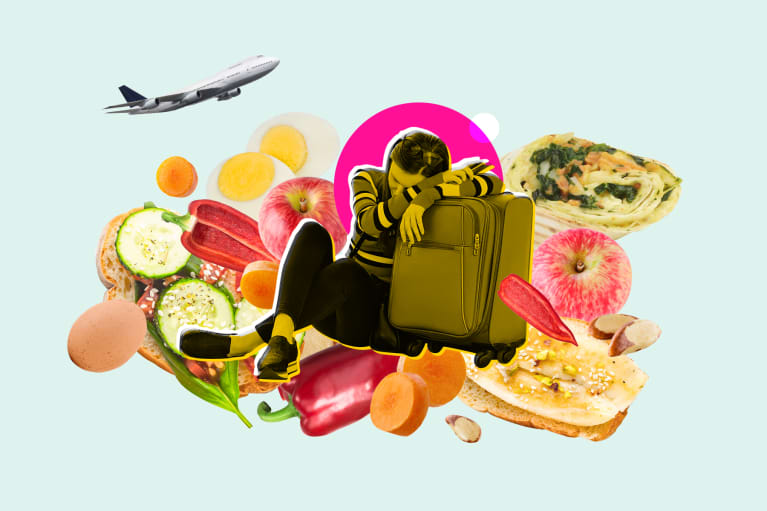 Our editors have independently chosen the products listed on this page. If you purchase something mentioned in this article, we may
earn a small commission
.
Healthy, summer, and travel can be things that often feel at odds with each other.
That doesn't need to be the case
—and in fact, making your summer travel plans align with your day-to-day wellness standards is easier than you might think. In our new series, we're exploring everything that's unhealthy about exploring, so you can have a more well-informed journey. Welcome to Healthy Summer Travel.
I have an entire section of my Instagram dedicated to flight delays—some people are just born unlucky with air travel. Because of this, I have spent a significant amount of time anxiously waiting in various terminals needlessly hoping my flight will take off soon, slowly coming to the realization that I'm going to have to have another airport breakfast, lunch, or dinner.
You would think through all of these years of practice, I'd have nailed down the whole "eating healthy at the airport" thing, but I have not. For one, options abound—but they typically leave me feeling not my best. And by the time I decide to eat a meal, I've put it off for so long that I'm famished. (Spoiler alert: Every expert I talked to told me this is a terrible habit and I should just eat when I start getting hungry, not when I'm starving.) The other is that every airport's food options are so different, so you end up feeling like you're starting at zero in every new place you go.
So that's why when we decided to start our Healthy Summer Travel series; this was the first question I wanted answered. So we reached out to some of our go-to registered nutritionists to find out how to keep to your eating habits in check.
As the most basic and general of advice, I was told it's important to rearrange your expectations. No, you're likely not going to eat as perfectly as you normally would, but there are options out there. "I often find people think if they can't eat healthy at the airport, they'll either just splurge or won't eat at all," says registered dietitian and nutritionist Maya Feller. "Both are not great choices."
Stock up on protein: A favorite of Feller's is two hard-boiled eggs. (Often you can find these prepackaged at the coffee shops). "This will keep you feeling sustained as you go about your travel," she says, which is especially important for morning travel since you'll likely be on the go for the rest of the day. Another protein option: One of these bars.
If you get a smoothie, find one with a thicker base: Many will opt for a smoothie for breakfast, as it's easy and portable while you're walking through airports. And the standard advice is to find an option low in sugar (which is good advice), but it's not the only thing to look for, says Feller. "If you can, try to order a smoothie with a yogurt or nut-milk base as it will be more filling," she says.
Hit up Starbucks: Luckily these are almost everywhere and offer a healthy breakfast setup, according to Brigitte Zeitlin, MPH, R.D., and owner of BZ Nutrition. "Order their plain oatmeal, ask for the nut medley and fresh blueberry options together," she says. "That will keep you pretty satisfied."
Make an open-face sandwich: Often, sandwiches are the only options you can find for a proper lunch. If this is all you have, simply remove the top layer of bread, says Feller. As for what type? That will largely depend on whether you eat meat or not, but if you do: Opt for whole chicken or turkey breast, as deli meat is highly processed and full of sodium.
Salads *might* not be the answer: When people think of healthy lunches at airports, they typically think of grabbing a salad, but according to Feller, "Most options I see are nothing more than a bed of lettuce and a few other things—that is likely not going to fill you up for a full day of travel." If the salad is well rounded (meaning: has a balance of filling veggies, proteins, and fats), it's a great option, but don't just grab a premade option because it sounds healthy.
Find the perishables: Whole fruits and vegetables are your best bets. Obviously, this is easier said than done, but as Feller notes, the chain CIBO Express Gourmet Market has made huge strides here. They are found in larger, metropolitan airports like New York, Minneapolis, Chicago, and Houston, which happen to be big hubs for layovers, in case you need to pick up something between travel. Of course, a cheaper way is to bring your own, says Zeitlin, just go for those that travel well (i.e., apple versus a peach, and bell peppers versus broccoli).
Unsalted and unsweetened nut mixes: "I tell people to limit their salt intake while flying as it makes our bodies retain water, which can be uncomfortable while you are traveling," says Feller. Another thing to look out for: Nut mixes that include sweetened raisins or chocolates, as you're just mindlessly increasing your sugar intake.
Skip any chip: These are just going to be too salty, but we understand if you crave that savory crunch (it's my go-to). Instead, Zeitlin recommends roasted chickpeas, which "will give you the crunch you're looking for and hit that savory mark while also adding in some real protein and fiber that the chips just can't give you."
Sit-down, not takeout: If you have time—and the option—the sit-down restaurants are going to have better, less sodium-filled meals, says Zeitlin. Plus, mentally, it will make your meal seem more substantial since you're not just mindlessly eating while scrolling on your social media feed at your gate.
Start with a vegetable appetizer: If you need to have dinner at an airport, start with a vegetable app for the table. "It's an easy way to fit those nutrients in and help fill you up before the meal, so you can perhaps split your main dish with your traveling partner," says Feller.
If you must get fast food, make it a wrap with extra veggies: Zeitlin would pick a grilled chicken sandwich, wrapped in lettuce with extra tomatoes for fiber. "All fast food will be high in salt, so always order a water as well to balance that out," she says.