Can't Breastfeed? Here's Exactly What To Do To Support Your Baby's Health
Family Medicine Doctor
By Eva Zasloff, M.D.
Family Medicine Doctor
Eva Zasloff, M.D., is a family doctor and the founder of Tova Health. She received her bachelor's degree from Barnard College, Columbia University and received her medical degree from the University of Pennsylvania.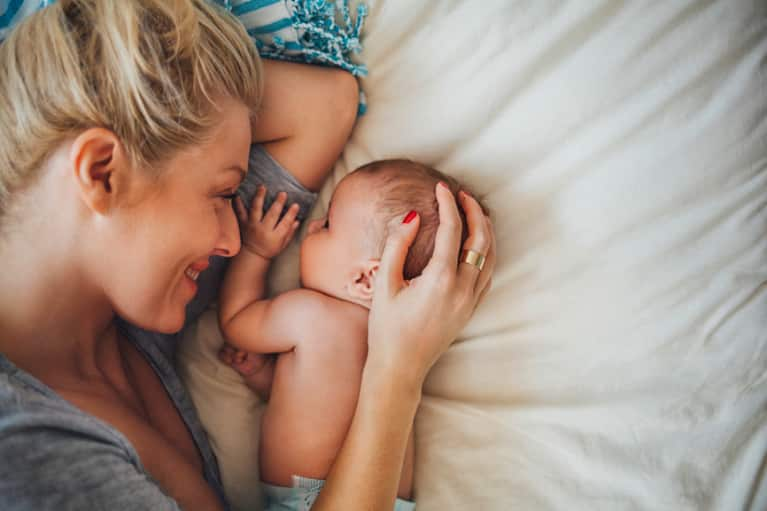 Breastfeeding is wonderful on so many levels. And as a big advocate and breastfeeding supporter, I spend a lot of my time and energy focusing on the wonders and benefits that it provides. But as many of us know, it can be very challenging. If you are having concerns, talk about them with your providers and meet with a lactation consultant. Sometimes, these issues can be resolved with appropriate support and guidance. In some cases, though, breastfeeding just isn't possible.
I spend my days working with newborns and postpartum families, and I am always struck by everyone's stories. Often during the birthing process or the postpartum/newborn time something just doesn't go as planned—from unplanned C-sections, prolonged labor, and breastfeeding issues to postpartum depression. Acceptance and being able to pivot the plan is such a huge part of growing into parenthood, even though it's sometimes so hard or seemingly impossible. When you experience something like this it can take time to heal, so be nice to yourself. There are occasions when breastfeeding is not possible. If you can, try to see these challenges as exercises in letting go of expectations, and realize that many parents are struggling in one way or another during this time. In addition, you can take actions to support your baby's health by trying some of the following:
1. Don't take an all-or-nothing approach.
Breastfeeding isn't always a black-and-white issue, and each family's circumstance is unique. That's why I tell my patients that if there is a way to have the baby feed from the breast—even if most of the calories are coming from another source—go for it! And likewise, if there's a problem with the baby's latch, but mom is able to produce some milk, feeds with pumped breast milk is a good option. Again, this topic is complicated! So talking about the different options with your doctor, midwife, or lactation specialist is a good idea.
If you've tried all of these combinations and it's truly not working OR if your circumstances don't allow for this, remember that the most important thing is to make sure you're taking care of yourself (which is incredibly challenging during this time) and that your baby is being loved and provided for. If feeding can happen on the breast, that's great, but if not, it's OK too.
2. Explore donor breast milk banks.
Many cities now have standardized donor breast-milk banks. See if there's one where you live. Sometimes doctors have to write a prescription for this, and sometimes it can be very expensive, but it's a great option for many families.
3. Provide extra microbiome support.
We're learning more and more about the microbiome of the newborn and how the mother "feeds" her baby a healthy microbiome through breastfeeding. But there are a lot of ways to feed your baby a healthy microbiome! Your microbiome covers all of the surfaces of your body, so the daily interactions between a parent and child are a key part of this. Kissing, snuggling, skin-to-skin, and holding the baby enrich the baby's microbiome. So eat a probiotic-rich diet. Try to minimize harsh soaps, shampoos, and skin and hair products with parabens, sulfates, and preservatives for both you and your baby.
4. Maintain physical contact during feeding.
If you can't breastfeed, make sure that you still feed your baby in your arms. A newborn's vision is quite limited, and the distance they can see is just about the distance from the breast to the mother's face. After the tremendously intense process of leaving the womb, newborns really want and need to be held and to feel physically secure. Nature, through breastfeeding, sort of forces that physical closeness to occur. So if breastfeeding is not an option, keep your baby snuggled in your arms during feedings—especially during those first few days of life. This will help the newborn feel safe and supported during this incredible time of transition and adjustment.
5. Don't forget to look for help and support.
Becoming a parent is so amazing and complicated. There are so many new roles to play, experiences to have, and all new mothers are trying to find their voice and often feel vulnerable. Share your stories with other women, and ask around to find other families with similar stories. It is such a good way to gain perspective and realize that most new families are feeling challenged in one way or another. We all have so much to teach one another. Ultimately, probably one of the most important things we can teach our children is how to be flexible and accept the things we cannot change. So be loving and kind to yourself and your baby—that is the most important nourishment of all!
Want to read more about supporting the health of your newborn? Here's how to provide a strong foundation for their microbiome.