Can Skin Bacteria Protect Us From Cancer? Science Says Yes
Contributing Health Writer
By Gretchen Lidicker, M.S.
Contributing Health Writer
Gretchen earned her master's degree in physiology with a focus on alternative medicine from Georgetown University. She is the author of "CBD Oil Everyday Secrets" and "Magnesium Everyday Secrets."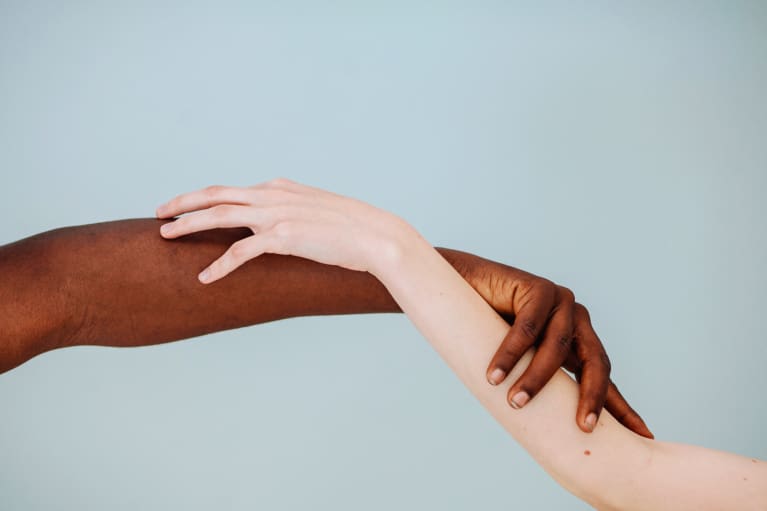 Ever feel like health news is too overwhelming, fast-paced, or hard to decipher? Us too. Here, we filter through the latest in integrative health, wellness trends, and nutrition advice, reporting on the most exciting and meaningful breakthroughs. We'll tell you exactly what you need to know—and how it might help you become a healthier and happier human.
We've known about the gut microbiome—and the major role it plays in both health and disease—for years. And now we're learning that the microbiome is more complicated than we imagined and that the term doesn't apply to just the digestive tract, either. In fact, there are specific communities of bacteria living all over the body; they're on the skin, the eyes, and yes—even the vagina.
But what do the bacteria on the skin do? Well, there's reason to believe they protect us from inflammatory skin conditions like eczema and the dangerous bacteria responsible for Staph infections. And now a new study, published in the journal Science Advances, revealed that a specific type of skin bacteria actually protects us against cancers like melanoma.
The bacteria, called Staphylococcus epidermidis, showed an ability to inhibit the growth of certain cancers producing a chemical (called 6-N-hydroxyaminopurine or 6-HAP) that targets cancer cells. 6-HAP does this by blocking DNA synthesis, which has the beneficial effects of preventing the spread of dangerous tumor cells—specifically those like melanoma, which is caused in large part by exposure to UV light.
The study found that when mice with Staphylococcus epidermidi (and therefore, 6-HAP as well) were exposed to cancer-causing UV rays, they developed significantly fewer tumors than the mice without the 6-HAP-producing bacteria. The best part? The 6-HAP doesn't seem to be damaging to healthy human cells. Trying to target and kill cancerous cells in the body without damaging the healthy ones is one of the big challenges in developing safe and effective cancer treatments.
What does this mean for us? Dr. Richard Gallo, a distinguished professor and chair of the Department of Dermatology at U.C.–San Diego School of Medicine explained to ScienceDaily that "There is increasing evidence that the skin microbiome is an important element of human health." Now the only question is: When will we be seeing Staphylococcus epidermidi-infused skin care products and sunscreens?