Ugh, Now Cauliflower Has E. Coli? What You Need To Know — And What To Eat Instead
mbg Contributor
By Caroline Muggia
mbg Contributor
Caroline Muggia is a writer, environmental advocate, and registered yoga teacher (E-RYT) with a B.A. in Environmental Studies & Psychology from Middlebury College.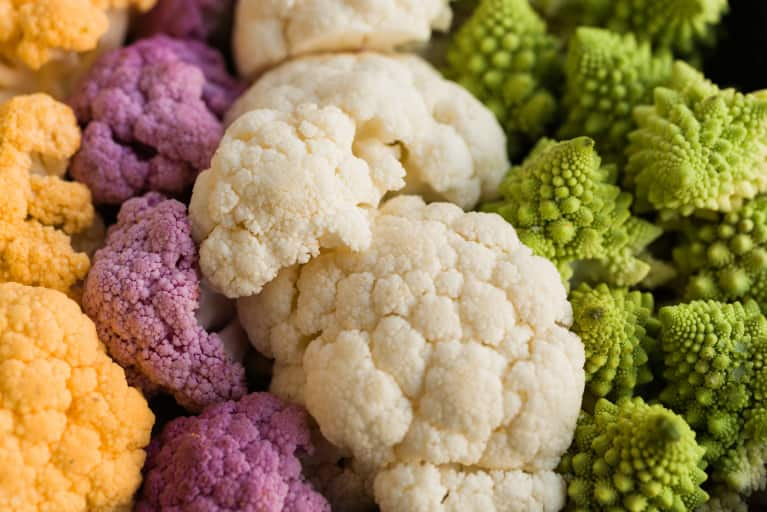 What are the symptoms of E. coli?
E. coli is not something to mess with. During the outbreak close to Thanksgiving, for example, 32 illnesses were reported across 11 states, including 13 hospitalizations, and one person developed hemolytic uremic syndrome, a type of kidney failure that can occur in young children and the elderly. Exposure to the bacteria typically causes unpleasant symptoms such as nausea, vomiting, stomach cramps, and diarrhea.
Where is this E. coli outbreak in the United States?
The cauliflower in question was distributed to Arizona, California, Illinois, Louisiana, Maryland, North Carolina, New Jersey, New York, Ohio, and Pennsylvania, as well as parts of Mexico and Canada. The red- and green-leaf lettuce was distributed in California, Colorado, Oregon, Texas, Pennsylvania, Washington, and Canada. The red-leaf lettuce was only distributed in Minnesota and Tijuana, Mexico.
Consumers should look for products with the Adam Bros. Family Farms label and consult their official statement to see if you have one of the recalled tag numbers. The statement urges consumers to return recalled products to where they purchased them or discard the produce immediately.
How do I know if my cauliflower is contaminated, and are there substitutes?
This news is especially bad, of course, because of our love for cauliflower. It's incredibly versatile (Soups! Rices! Pizza crust!), has major anti-inflammatory benefits, and is packed with nutrients that support methylation, a biochemical DNA-supporting process.
Want to get your cauliflower fix, sans E. coli? You can, of course, buy other cauliflower from E. coli–free farms, or cook your cauliflower at a temperature of 160°F to eliminate any potential bacteria surviving.
Want to avoid it entirely? Reach for other cruciferous vegetables, like kale, Brussels sprouts, or broccoli, which will pack in many of the same benefits. While it's concerning to hear about another E. coli outbreak, you could see this as an opportunity to try out those vegetables you've been wondering about. How about mixing it up with a broccoli pesto or Brussels sprouts curry?