This Beloved Parenting Brand Just Solved A Major Problem In Naturals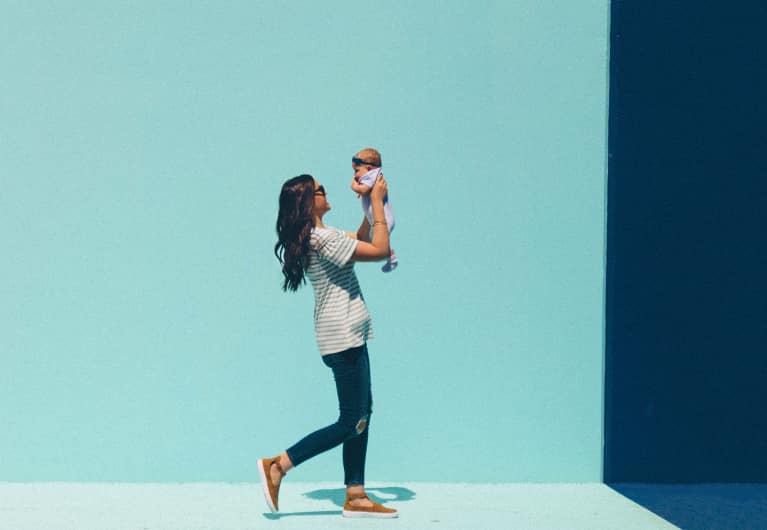 California Baby, the plant-based baby care brand that Jessica Iclisoy started from her kitchen in 1995, just made a discovery that could shake up the natural product industry. Its team of formulators figured out that extracts of basil and anise make for an effective preservative.
So why is this a big deal? Right now, the industry relies on preservatives to prevent bacterial growth in any personal care product that's formulated with water (read: a whole lot of them). But some preservatives that brands currently use can contain chemicals that have been associated with skin irritations, allergic reactions, and possible endocrine disruption.
Preservatives are often the last synthetic to be phased out of personal care products since long-lasting, plant-based ones that can be produced at scale have historically been a little bit of a unicorn in the industry. But Iclisoy, who still owns 100 percent of California Baby and has led the brand to sell $96 million worth of product in 2017, has been trying to create one for years.
Earlier this month, the brand announced that after five years and $10 million invested in research, it has finally landed on a fully plant-based preservative. Now that it has the formulation—which is certified 100 percent plant-based by the USDA—California Baby wants to share it with the rest of the industry and help consumers make more informed choices.
"With this new preservative system, I'm hoping to work with regulatory bodies to show that a 100 percent plant-based skin care product can be commercially produced," Iclisoy tells mbg. In doing so, she hopes to create a new standard that tells consumers if a product is truly natural through and through, down to its preservatives.
You can expect to see the new formulation in California Baby's Everyday Lotion by September, and from there it will start to be incorporated into the rest of the brand's 90 products (which previously used sodium benzoate as a preservative). Hopefully a similar version will grace other water-based products soon.
Want to craft a cleaner home for your kiddo? Here are the top swaps to make in your nursery.