We Tried The New (Gluten-Free!) Oat Milk — Here's Our Verdict
Contributing Food Editor
By Liz Moody
Contributing Food Editor
Liz Moody is a food editor, recipe developer and green smoothie enthusiast. She received her creative writing and psychology degree from The University of California, Berkeley. Moody is the author of two cookbooks: Healthier Together and Glow Pops and the host of the Healthier Together podcast.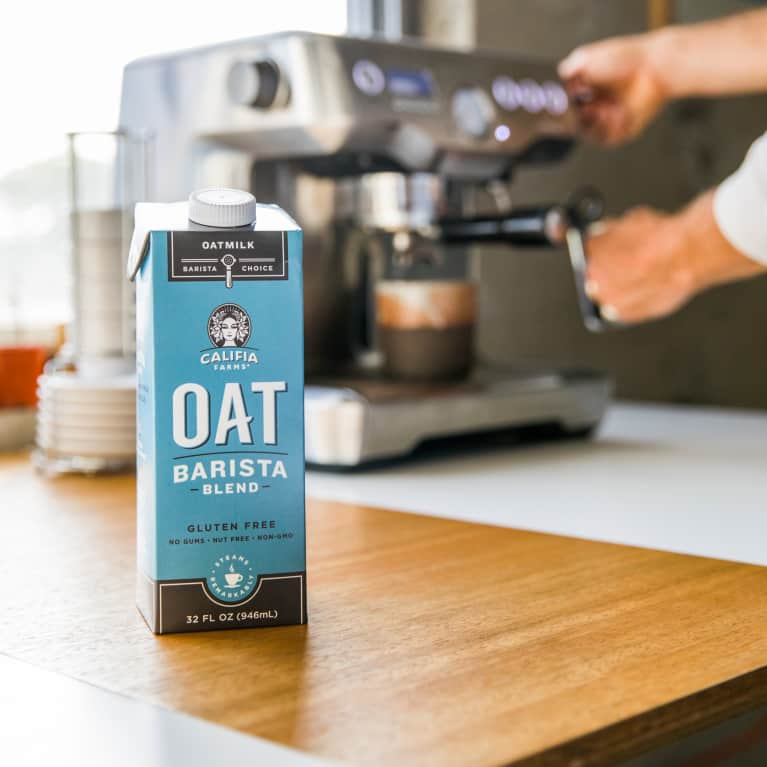 Califia Farms has long been one of our favorite alternative milk brands, with carrageenan-free, super-creamy varieties of almond, cashew, and coconut milk. Now, as the buzz about oat milk reaches a fever pitch (sales have grown by 168 percent over the past year!), they're throwing their hat into the game, with an Oat Barista Blend launching in February and an Unsweetened Oatmilk following in April.
It's made with no gums, stabilizers, or preservatives, and, unlike many oat milks, it's made with certified gluten-free oats. "In many ways, the global barista community leads cultural changes in coffee and milk consumption and were early adopters to almond milk and now oat milk," said Greg Steltenpohl, founder and CEO of Califia Farms. "Since our first production of almond milk in 2012 and carrying this success with many coconut-based offerings, Califia has been a leader in innovation by bringing diversified plant-based products to market."
We got to try a sneak preview at the Brooklyn mbg office, and suffice to say, the team was impressed. The milk was thick, creamy, and faintly sweet, despite being sweetener free ("It almost tastes a little like vanilla," one editor marveled). It was delicious on its own, but more importantly, it held its own in coffee and tea without splitting or clumping apart. It's especially impressive given the simple ingredient list: just oat milk (water, oats), sunflower oil, minerals (dipotassium phosphate, calcium carbonate, tricalcium phosphate), and sea salt.
The Oatmilk Barista Blend is also shelf-stable until opened (after that it must be refrigerated and is good for up to seven to 10 more days). The release is a sign that oat milk's popularity is going nowhere—rather, the nut-free alternative is turning from trend to staple for years to come.