Busy Philipps Did A Panchakarma Cleanse. Here's What That Means
Contributing Wellness & Beauty Editor
By Lindsay Kellner
Contributing Wellness & Beauty Editor
Lindsay is a freelance writer and certified yoga instructor based in Brooklyn, NY. She holds a journalism and psychology degree from New York University. Kellner is the co-author of "The Spirit Almanac: A Modern Guide to Ancient Self Care," with mbg Sustainability Editor Emma Loewe.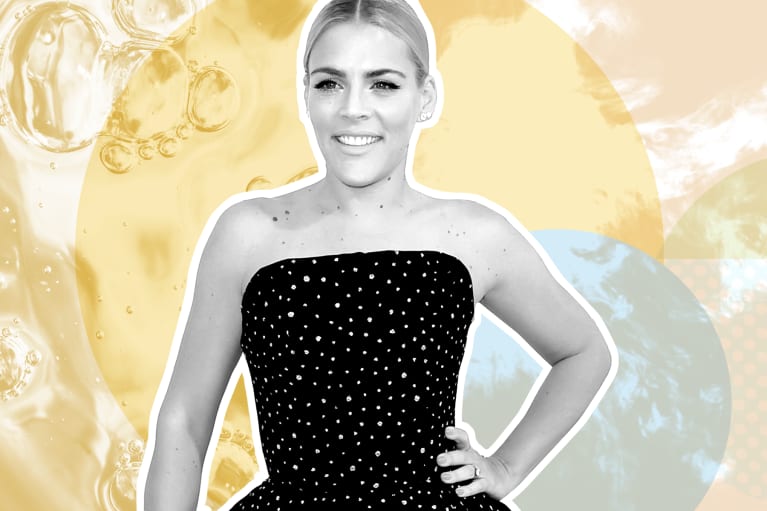 September 7, 2018 — 9:25 AM
If you're one of Busy Philipps' 1.1 million followers on Instagram, you already know she's been on a wellness journey to heal her sinuses. The actress tried conventional medicine (even surgery), a low-histamine diet (which she recently discussed with mbg), and now she's turned to ayurvedic medicine as she documents her experience doing her first Panchakarma cleanse. So what, exactly, is Busy doing?
"Before fully understanding Panchakarma, it's important to understand that ayurveda, the 'OG' healing system, takes a holistic view of toxins in the body," said Shrankhla Holecek, founder of UMA ils, who grew up in India with ayurveda and designed her company UMA Oils around it. "The toxins are both physical and emotional and are created from a wide variety of lifestyle choices, as well as environmental influences. For example, per ayurvedic protocol, eating dairy and fish together can create toxins, so can relationships at work, so can not eating with the seasons."
Panchakarma is a type of ayurvedic cleanse designed to eliminate said toxins in the body. (Ayurveda is a holistic medicine system that originated in India as many as 5,000 years ago, and informs alternative healing treatments we use still today.)
"The name 'Panchakarma' refers to five actions designed to decrease toxic buildup and bring balance to the organism by way of physical support and the administration of uniquely relevant medicines—through several applications and orifices—as well as by provoking various pathways of active purging in the context of a mono-diet fast," said Sadie Adams, owner of the buzzy Los Angeles– and New York City–based facial studio Take Care Face & Body; ayurveda expert; and Sonage ambassador. In ancient texts, the five stages include medical vomiting, enemas, bloodletting (usually by way of leeches), nasal flossing, and passing stools. Obviously things have changed since then, but there seems to be a misinterpretation about what exactly a modern Panchakarma entails.
It's true—getting massaged with copious amounts of oil and two sets of hands on the regular is part of the deal. But so is oleation, or the consumption of oil to draw toxins out of the body. Kitchari is the only thing you're permitted to eat during a traditional Panchakarma cleanse, which is an Indian dish with lentils and mung beans simmered in loads of ghee and spices. Eating this on the regular can cause more bowel movements than you're used to. Elimination is the goal. Even more intense practices like enemas with oil, coffee, and chamomile tea help move the bowels. Jala netis, or nasal cleaning with the help of a neti pot and a piece of string, also help to remove excess waste from the body, but practitioners today typically use oil. It's not all as divine as a four-handed massage, but traditional practitioners swear by these cleansing techniques for deep healing.
By traditional standards, the cleanse is supposed to last 21 days, and each week is a specific stage, but many spas like Surya in Los Angeles offer treatments in smaller time increments. And even though this treatment is thousands of years old, there seems to be a surge in people requesting a Panchakarma treatment: Jordan Younger of the Balanced Blonde shared her Panchakarma cleanse earlier this year, and now celebrities like Busy and Hannah Bronfman are buzzing about it, too.
"Panchakarma may be making its way to the mainstream for its holistic approach as well as its efficacy as a multifaceted, down-to-earth cleanse," said Adams. "People are warming up to the idea of taking care of oneself, as well as preventive medicine practices that treat the individual and focus on root causes of imbalances rather than only the symptoms, help to address bodily imbalances and chronic diseases."
And what, exactly, is Busy doing?
"Toxins are the root cause of every imbalance and disease according to ayurveda, so Panchakarma is usually the starting point for treatments for a number of complex ailments," Shrankhla said. For Busy, it meant balancing the heat and coolness (or dampness) in her body. As Busy said in her Instagram stories, the ayurvedic practitioner she worked with said that she had a lot of heat in her head and not as much "below the belt." Her treatment included massage, dripping oil on her third eye, oil enemas, yoni steams, and ginger foot baths to bring the heat from her head down through her core and into her lower body, where it was presumably lacking.
Time will tell, but so far the results are promising. On Thursday, she said she was going for her last day of oil. Her stylist, who she sees regularly, commented that she seemed "high" and said, "If I didn't know you better, I would think you're on drugs." Busy attributed it all to her Panchakarma cleanse. She confirmed on her Instagram stories that she hasn't had caffeine in over a week, skipped her workouts, and made time to relax. "I feel really good," she said. "It's working!"