The Busiest Day For Dating Apps Of The Summer, According To Data
Contributing Sex & Relationships Editor
By Kelly Gonsalves
Contributing Sex & Relationships Editor
Kelly Gonsalves is a sex educator and journalist. She received her journalism degree from Northwestern University, and her writings on sex, relationships, identity, and wellness have appeared at The Washington Post, Vice, Teen Vogue, Cosmopolitan, and elsewhere.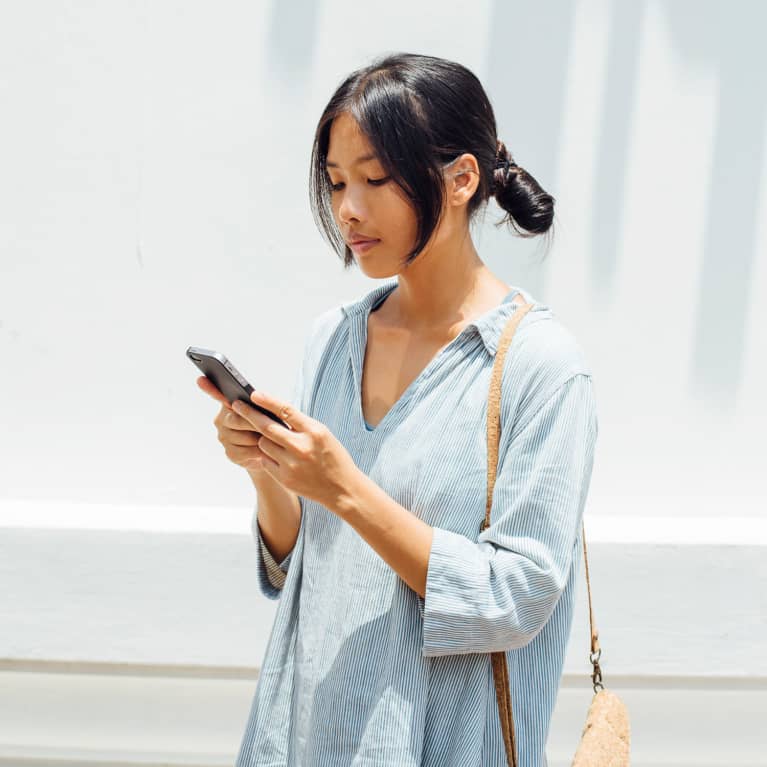 If you've been randomly feeling a little romantic antsiness lately, you're not alone: According to an analysis from the dating app Match, the busiest day on dating apps for the summer is right around the corner.
Match analyzed their 20-plus years of historical data on app activity on the regular, monitoring seasonal changes in how people swipe and comparing annual peaks in traffic. This year, they predict July 7, 2019—aka the Sunday after the Fourth of July—will be their busiest day of the summer. That's partially because it happens over a long holiday weekend, when their experts say they always see a jump in the number of people using dating apps, but it also has to do with the real start of summer finally rolling in.
According to Match, they're expecting a 20% increase in activity on July 7 in comparison to Valentine's Day.
Why everyone is in the mood for dating over the summer.
The weather is a huge part of it. Warmer days and nights make people a lot more willing to get out of the house and hang out, explains relationship and well-being coach Shula Melamed. Plus, people also just tend to have more time over the summer.
"Many industries usually experience slower sessions making it prime time for vacation, summer Fridays, and a generally lighter schedule," she tells mbg. "Better weather also equals more outdoor time and more flattering clothing. People tend to feel sexier in this climate, so it's natural romance is on the mind more presently."
Rachel DeAlto, a relationship coach and Match's chief dating expert, adds that the extra sunlight also has a direct effect on people's moods: Research shows all that summer sun can actually ease symptoms of depression by increasing your brain's production of feel-good serotonin and your body's intake of anxiety-busting vitamin D. Plus, we tend to spend more time outdoors over the summer in general, and we know being in nature even for just an extra 20 minutes can be powerful for reducing stress levels. (We also know depression, stress, and anxiety all dampen our sexual and social energy.)
Taken together, that means people tend to feel much more positive and outgoing around this time of year, which is a great recipe for romance.
"Never underestimate the power of vitamin D!" DeAlto tells mbg. "Warm weather brings out the best in people, happier moods, and more social activities—which makes for a perfect time to find love."
How to maximize your dating experience this summer.
It's so easy to get swept up in the romantic summer fever—and you should! Go forth and have fun getting to know people!
Just make sure you're being intentional as you swipe with the masses. When you're in the whirl of good warm-weather vibes and everyone's letting loose, it can be easy to just go along with the flow and ignore your better judgment.
"Be honest and upfront about what you are looking for when you meet up with your dates. If you are looking for someone to kick it with for a few months, let them know you are looking to enjoy the summer and not get into anything too serious. If you are looking for more, assess and inquire about what the other's goals are for dating," Melamed says. "Be respectful and kind—summer flings need not include rampant ghosting."
If being intentional with your dating decisions doesn't really come naturally to you, one helpful strategy is to just create a set of "nonnegotiables," DeAlto says. "What values are at the core of the person you are looking to meet?" Keeping that list of requirements at the top of your mind while swiping on the apps and going on dates can help you notice when you're getting into situations that aren't really aligned with what you're actually looking for, which is probably a lot easier to do when you're cruising on that summer energy and tend to be more down for anything.
Just remember you don't need to be lost in a summery haze to have fun—you can be mindful and totally enjoy a thrilling summer of romance.