The Busiest Day Of The Year For Dating Apps Is In January. Here's How To Stay Mindful While You Swipe
Contributing Sex & Relationships Editor
By Kelly Gonsalves
Contributing Sex & Relationships Editor
Kelly Gonsalves is a sex educator and journalist. She received her journalism degree from Northwestern University, and her writings on sex, relationships, identity, and wellness have appeared at The Washington Post, Vice, Teen Vogue, Cosmopolitan, and elsewhere.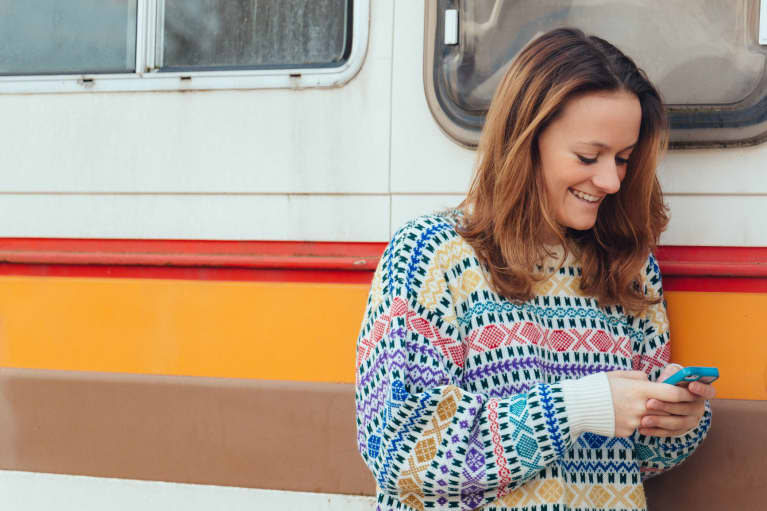 January 5, 2019 — 2:00 AM
If one of your goals for the new year is to invest a little more time in your love life, you're not alone: For many dating apps, the first Sunday of January is the busiest day of the year. This year, this so-called Dating Sunday is January 6, 2019.
Following the holiday mayhem filled to the brim with wholesome family time and aspirational planning for the year to come, dating apps tend to see an overflow of new user sign-ups, activity, and matches as people start seeking some fresh romantic energy in their lives. According to reporting from Bustle, Hinge saw a 22.5 percent surge in usage on Dating Sunday last year. In past years, OKCupid has predicted a 70 percent increase in users on Dating Sunday, Coffee Meets Bagel found a 75 percent bump in new users compared to its previous 30 days, and Tinder once saw a whopping 44 million matches made on that one single day.
If you're looking to make some new connections, this weekend is the perfect time to get online and do it. Of course, with so many people flooding the apps at once, it's more important than ever to exercise a little mindfulness as you start swiping. Below are some of our favorite tips from our relationship and mindfulness experts to help you have the most meaningful and effective experience with app dating:
Whether you're looking for your soul mate or a fun fling for the evening, make sure you're clear about what you want before you set out to swipe. "Set an intention for what you want to get out of this process," suggests Patricia Karpas, co-founder of the Meditation Studio app. "Do you want volume (a lot of dates to help you home in on what you really want), or do you want to go on as few first dates as possible and get into a serious relationship within a certain time frame? If you don't know what you want, you'll have a much harder time finding it."
Grant Langston, CEO of eHarmony, recommends using the first date as an opportunity to showcase your values, interests, and lifestyle. If you're big on wellness, mindfulness, and living healthy, skip the first-date drinks and spring for taking a walk instead.
"Much of the time you can say, 'Hey, why don't we go for a walk and talk?'" he tells mbg. "Walk to get something to eat, but the walk is really what it's about. You're moving your body and you're not facing each other, which can be a little bit awkward at first. If the date happens to go that way, it can be romantic—you can take your date's hand on a walk. I wouldn't suggest someone go to SoulCycle with me on a first date, but a walk is a nice halfway point."
"You want to be face-to-face with someone as quickly as possible. That's how you figure out physical attraction and body language," Langston explains. "You're not here for a pen pal. Once you've figured that out, just go and have that cup of coffee or go on that walk. It's important. And if you're not ready for a date yet, I don't think it's crazy to suggest a phone call. This is a specific situation, and text just doesn't cut it."
"Limit the time that you spend on any dating app," writes licensed clinical social worker and relationship therapist Rhonda Milrad. "Set clear boundaries for the amount of time you'll spend looking at profiles, corresponding, talking on the phone, and going on dates per week. Don't put yourself on too many dating sites at once. Limit it to two. You can't possibly monitor correspondence and real-life meetings on more than two dating sites at a time."
She adds, "By the same token, set a limit for how many different people you will be dating at once. It is difficult and time-consuming to manage the dating process with multiple people. Decide how many individuals you want to be engaged with at a time and stick to it. If someone great comes along, then you have to give up one connection to pick up that one."
Don't get discouraged by a handful of unsuccessful dates, says Rob Weiss, LCSW, a psychotherapist and digital-age intimacy and relationships expert.
"Many people go on a few dates that don't go well and decide they must be too fat, too unattractive, too poor, too uneducated, too old, or too whatever else it is they feel insecure about," he tells mbg. "The first few people they meet don't seem interested, so they erroneously conclude that everyone else will feel the same way. This belief is not true! There is a lid for every pot."
"It doesn't matter if you feel unattractive and that your last date apparently agreed with this assessment; someone out there is going to take one look at you and swoon. Don't cheat that person, or yourself, out of that experience just because your last few dates wilted your self-esteem."
Good luck out there, daters, and as with all parts of our lives, stay mindful during your search for whatever kind of connection you seek.