The One Exercise This Celebrity Personal Trainer Says You Should Avoid
mbg Contributor
By Krysten Peck
mbg Contributor
Krysten Peck is a freelance writer specializing in arts, wellness, brands, and visual storytelling. She received a bachelor's degree from Dickinson College.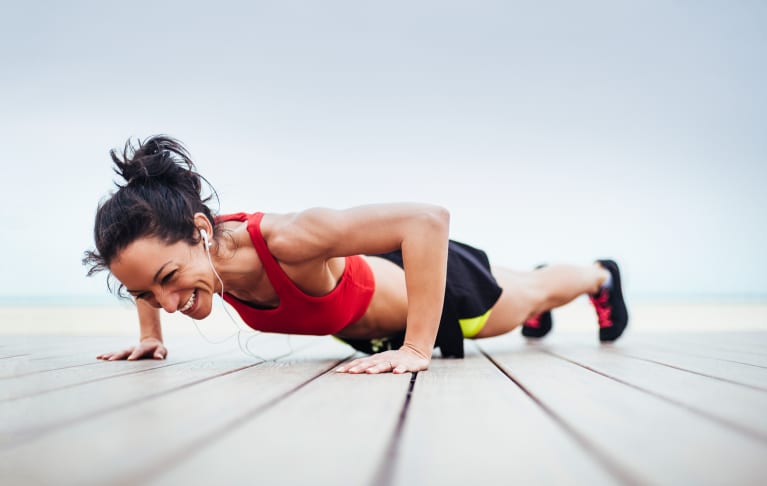 January 31, 2018 — 10:20 AM
Anyone who's ever fallen victim to the all-around intensive burpee knows the dread that accompanies the impossibly difficult workout move.
But is this classic military staple deserving of all its praise? According to celebrity trainer Patrick Murphy, the burpee might just be the worst workout move for your body and overall fitness progress.
"Burpees aren't good for the human body. You know what burpees are good for? They originated in the military as a way of dodging bullets. They're good for relocation," explains Murphy to Men's Health.
Murphy is the man responsible for whipping Zac Efron into tiptop shape for his recent Baywatch role, using a combination of bodyweight, free weight, strength training and stabilization techniques.
Part of the appeal of burpees is the tightening effect the power move has on the body after repeated habit, but even then, Murphy says the tradeoff isn't worth it—especially if you find yourself sitting and working at a desk for most of the day.
"Imagine you're doing burpees and then going to your sit-down job in an office all day. It's not good for the wrists; the spine is not in the proper position [while you do the exercise]."
The repetitive and strenuous motion of the burpee on the wrists and spine combined with the difficulty of nailing 'good form' makes it pretty vulnerable to injury—or as Murphy describes, "It's just a disaster to the body."
Murphy's advice is in line with the larger trend in fitness we've been reporting: the shift from punishing and exhaustive routines towards more restorative practices that repair strain instead of welcoming it.
Despite Murphy's star credit and personal trainer expertise, his take on burpees may be an unfavorable one—at least among some researchers. A 2012 study in the European Journal of Preventive Cardiology linked the ability to sit and rise from the floor—the basic movement of a burpee—to decreased mortality rates.
As with most lifestyle changes, adjustment and trial periods can help determine whether burpee-free is the route for you. Even so, if Murphy managed to sidestep burpees in pursuit of ultimate fitness for Efron, surely his advice is worth considering for future workout sessions at home or at the gym. At the end of the day, fitness is all about the personal.
In case you needed any more instruction to ditch the burpee, these full-body exercises are just as effective and deliver the power sans the bad form.