Burger King's New Impossible Burger May Take Some Burden Off Our Planet
mbg Contributor
By Caroline Muggia
mbg Contributor
Caroline Muggia is a writer, environmental advocate, and registered yoga teacher (E-RYT) with a B.A. in Environmental Studies & Psychology from Middlebury College.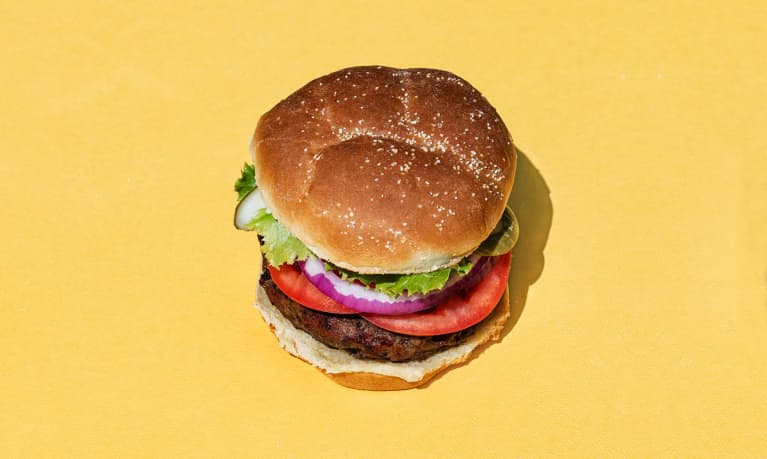 When we think of Burger King, our minds go to burgers, and while these aren't going anywhere anytime soon, they are offering their customers a meatless option. That's right, Burger King is testing out a plant-based—aka meatless—burger.
Last year we predicted that 2018 would be "the year of alternative meats," and that it was. More brands like the Beyond Burger and Impossible Burger began popping up in stores, and this only fueled the buzz. With the recent news that the fast food giant Burger King is selling the Impossible Burger, we're sure this trend isn't stopping anytime soon.
On Monday, Burger King announced it's testing meatless burgers in 59 restaurants in St. Louis, Missouri. The Impossible Burger was launched in July 2016 by Stanford biochemistry professor Patrick O. Brown with the mission of giving people an alternative to meat that actually tasted like meat.
Why? The environmental ramifications associated with producing meat are profound. We're talking 2,500 gallons of water to produce a pound of beef, not to the mention the amount of land needed to raise cattle, which often results in deforestation. According to the Impossible burger website, opting for their burger results in 96 percent less land used, 87 percent less water, and 89 percent fewer emissions.
So if you think about it, with Burger King serving 15.7 million customers a day across the globe (a lot of them probably buying burgers), the impact of an Impossible Burger could have a significantly positive effect on the state of the environment.
The good news is the Impossible Burger does really, in fact, taste like meat thanks to a plant-derived iron-rich molecule called heme. This molecule is what makes meat taste like meat, and the team at Impossible found a way to make it from the roots of soy plants.
While we can't be sure whether the condition of our planet was Burger King's motive for selling the burger, this is no doubt a huge positive that comes along with this choice. Only time will tell if Burger King's customers will go for the Impossible Burger, but we're hoping that if they do, others follow in their footsteps.