Bullying Prevention: How To Help Your Kids Help Others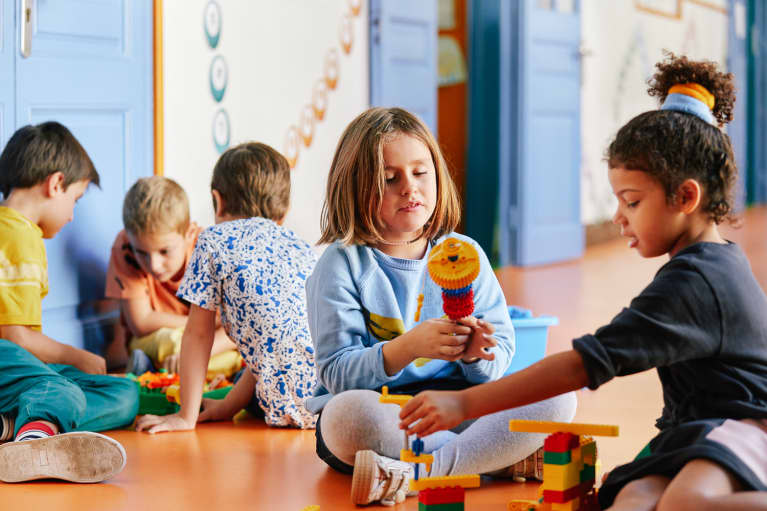 So much of the conversation around bullying is focused on what your kid should do if they themselves are bullied. Just as important, however, is how bystanders react to the situation. And with a few gentle conversations and lessons in empathy, you can raise the type of kid who advocates for others, whether that's finding an adult or inviting another child to sit with them.
Here, we spoke to experts about how to raise a kid who cares.
First, understand what bullying is—and what it isn't.
Bullying is not simply a disagreement between two kids: Bullying involves a power dynamic in which one individual has more social clout and wields it against another. If that sounds like a heady concept to understand, don't worry: "If you think you need to explain this to kids, you don't," says Aliza Pressman, Ph.D., the cofounding director and director of clinical programming for the Mount Sinai Parenting Center. "Kids are already adept at this; they know who is in control in a situation probably better than you do."
Start the conversation early. 
Don't wait for your kids to bring up questions to you, and don't pretend that bullying doesn't exist, especially when your kids are school-age. "One of the reasons bullying is able to go on undetected and fester is that no one talks about it; by having regular conversations about it, kids understand that it is OK to talk about it," says Nicole Beurkens, Ph.D., CNS, a clinical psychologist, nutritionist, and special education teacher. "When you talk about it openly, it normalizes the conversation."
Practice empathy at home.
The underlying quality in bullying prevention is empathy. And the best way to teach kids empathy is modeling the behavior at home. "Treating other people well and expressing how people should be treated can be a daily conversation and part of the fabric of any messages we send children. Regularly talk to your child about how other people feel and what being a friend means; it will ultimately make standing up to bullies and helping friends out something small rather than something monumental for children," says author and child care expert Caroline Maguire, PCC, M.Ed.
"It has to be a family value: You should teach children to think about how others feel," says Pressman, who says that she encourages parents to regularly verbalize to their children that they are thinking about how they are feeling. "When you say to someone 'I'm thinking about you and what you are feeling,' they'll more likely start to think about how the people around them are feeling."
Help your kids understand that they don't have to do it alone.
A big hindrance to standing up to bullying is the intimidation factor, which is fair. It's scary to do things on your own, no matter who you are. Say, for example, your kid talks to you about a situation at school where a kid is being singled out; try encouraging them to use their own friend group to include the kid at lunch. "There's strength in numbers," says Beurkens. "Building a community not only means less bullying for the kid in question, it means that your kid will be less likely to be bullied as well."
Bullying is a problem that needs adult intervention.
"I'm a big advocate of letting kids figure things out for themselves: You don't need to step in to solve schoolyard drama," says Pressman. "But bullying is different, and adults should be notified and intervene because there's that power dynamic there." She says this usually means notifying a teacher, who can monitor the situation and involve the parents of the children involved as needed.
Tell your kids to be safe.
Much of this article was about social or psychological bullying. But if there is ever a threat of physical danger, you should emphasize to your children that they shouldn't put themselves in harm's way but instead should find someone who can help. Maguire agrees: "Report the incident to teachers and school administrators. If immediate danger is involved, get help quickly, so they can get the person being bullied away from the situation."