Bring On The Broth — Study Finds Certain Soups Can Fight This Disease
mbg Editorial Assistant
By Jamie Schneider
mbg Editorial Assistant
Jamie Schneider is the Editorial Assistant at mindbodygreen with a B.A. in Organizational Studies and English from the University of Michigan. She's previously written for Coveteur, The Chill Times, and Wyld Skincare.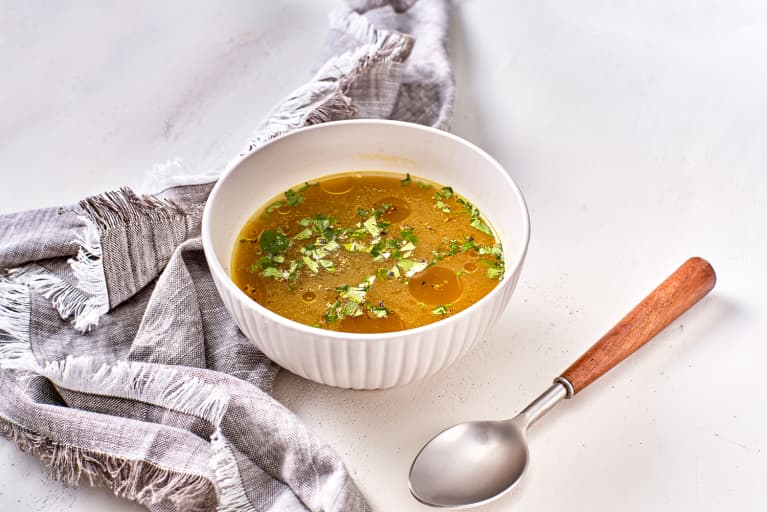 November 20, 2019 — 15:18 PM
Good news for soup lovers: The healing powers of your bowl of chicken noodle just got a little more scientific.
Researchers and schoolchildren from London have worked together to determine that certain soup broths can stop the growth of a malaria parasite called Plasmodium falciparum.
According to the study, nearly half of the world's population is at risk for malaria infection, and the disease is a leading cause of global child mortality, in particular. Previous research has found a specific herb called "Qinghao," which has been prescribed in traditional Chinese medicine for over 2,000 years to treat fevers, has a similar makeup to modern antimalarial drugs. These London scientists wanted to find out whether other traditional methods of healing could provide antimalarial properties—and more drug discoveries as a result.
Enter your grandmother's soup recipe, a remedy that's also been prescribed in many cultures for treating fevers and having super-healing properties.
What did the researchers do?
Researchers from the Imperial College of London called upon elementary school students to bring in their traditional family soup recipes—these homemade broths came from all around the world, from Europe to North Africa to the Middle East. The soups also varied in ingredients—some were vegetarian while others were chicken- or beef-based.
The scientists filtered these broths and tested them against two stages of the malaria parasite: when the parasite can infect mosquitoes, and when it can cause the disease in humans.
Of the 56 broths tested, four broths were 50% effective in blocking the parasites from maturing and infecting mosquitoes, which has the potential to block the transmission of the disease itself.
Five of the broths were also able to stop the growth of the parasite by more than 50%. The scientists found that this activity is actually comparable with the drug dihydroartemisinin—a popular drug for treating malaria in humans. The problem with drugs like dihydroartemisinin is that while it can treat infections, people have built up resistance to antimalarials.
"Malaria kills more than 400,000 people per year and infects more than 200 million, yet resistance to our front line drugs continues to emerge," explains lead researcher Jake Baum, Ph.D. That said, it's as important as ever to find new ways to combat this disease.
While each student had variations of a "healing" soup recipe, due to different family backgrounds and cultures, the researchers found no consistent patterns in which type of soup was more effective in fighting malaria.
However, the commonality that they did find was that these students' soup recipes had been passed down in their families for generations in the hopes of treating ailments like fever. Perhaps the older generations had it right all along—maybe the long-standing myth that soup heals isn't so far-fetched after all.
What's next for soup studies?
While the broths were found to be effective in fighting the malaria parasite (no matter where the soups came from), more research is needed to discover any specific active ingredients that give the soups these healing properties. The scientists expect to extract active ingredients in future studies and test their effectiveness on human cells.
Once they can identify the specific antimalarial ingredients in soup, researchers can start to develop new drugs (or, you know, a line of healing bone broths) to help malaria patients fight off the disease.
"It's really interesting to find potential routes for future drug development in something like your grandmother's soup," Baum explains. "We may have to look beyond the chemistry shelf for new drugs, and natural remedies shouldn't be off our watch list, as artemisinin shows."
It's a good thing soup season is well underway. Even if you aren't at risk for malaria, we can't ignore the fact that soup can have some serious healing properties. The only question that remains: Is there anything bone broth can't do?