Bracing For The Polar Vortex? Here's How We're Staying Warm
mbg Contributor
By Caroline Muggia
mbg Contributor
Caroline Muggia is a writer, environmental advocate, and registered yoga teacher (E-RYT) with a B.A. in Environmental Studies & Psychology from Middlebury College.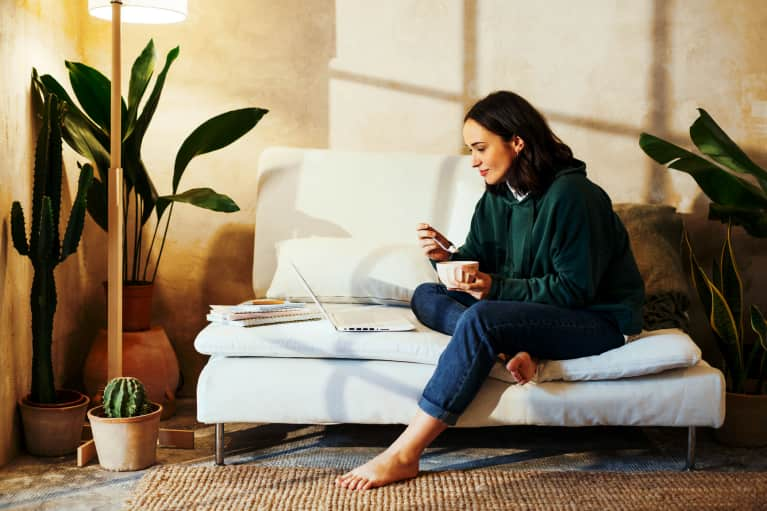 A delicious way to nourish your body, build your immune system, and warm up is to make hot soup. "When it's freezing outside, there's little better than curling up with a bowl of soup, which has the magical effect of warming you from the inside out," says mbg's food director Liz Moody. "Any soup will do, but I especially love this Garlic Mushroom recipe, which is hearty and boasts immune-boosting garlic to fight off any winter illnesses that may be going around. Bonus points if you eat it curled up on your couch in cozy socks!"
"Chilled to the bone" could take on a whole new meaning this week and sometimes it takes more than just a few minutes to shake the feeling. mbg's health editor Gretchen Lidicker recommends a warm Epsom salt bath infused with Manuka honey and eucalyptus oil. "My favorite winter ritual (by far!) is soaking in a warm Epsom salt bath. It's a great way to harness the stress-relieving powers of magnesium and stay warm when it's cold outside. I like to take things to the next level by adding one tablespoon of Manuka honey, which is great for combating itchy or inflamed winter skin, and a few drops of eucalyptus (in a carrier oil), which is famous for opening up the airways and sinus pathways."
When it's frigid all we want to do is get under the blankets and hide until it's over, but actually, moving our muscles helps build heat. "I think movement is the best way to warm up when it's cold," says mbg's associate movement and wellness editor Ray Bass. "You can go the route of a quick 15-minute HIIT workout to warm up, do an at-home bodyweight circuit (think squats, lunges), or even a vinyasa flow will get your blood pumping."
Make your home a sanctuary.
While we (hopefully) won't be standing outside in the cold, there's no way to avoid it altogether. Consider ways to make your home a cozy haven so when do you walk inside you'll have the tools to warm up fast. mbg's sustainability editor, Emma Loewe, recommends stocking up on nontoxic candles, extra blankets, and trying a breath of fire exercise to help create external and internal heat. "Some of my favorite candle scents for this time of year are Wood Cabin by Keap (earthy and intense), Daybed by Otherland (floral and romantic), Ulili by Kahina Giving Beauty (soft and soothing), and Juniper by P.F.. Candle Co (fresh and herbaceous)," says Emma. Her pro tip? "Once your candle runs out, freeze the jar so the excess wax can come off and you have yourself a pretty glass or plant pot."
With some of the coldest temperatures in recent years expected to hit the Midwest (yesterday it was -75 degrees in North Dakota) we hope these tips help you stay warm!