No, Boys Aren't Better At Math & Now We Have The Brain Scans To Prove It
mbg Editorial Assistant
By Jamie Schneider
mbg Editorial Assistant
Jamie Schneider is the Editorial Assistant at mindbodygreen with a B.A. in Organizational Studies and English from the University of Michigan. She's previously written for Coveteur, The Chill Times, and Wyld Skincare.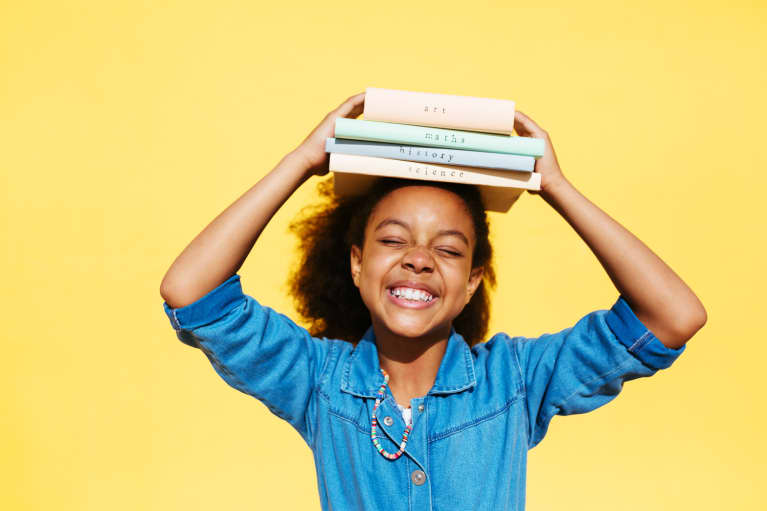 November 8, 2019 — 21:45 PM
Despite making fabulous strides toward inspiring young girls to explore the worlds of tech and engineering, the notion that boys are simply "better" at math and science remains pervasive in our culture.
However, a new study published in the journal Science of Learning opposes this idea by analyzing the brain development of young girls and boys. It's the first of its kind to provide actual brain scans that show whether there are any biological gender differences in math skills of young children. The results? Researchers found no gender differences in brain function or math ability, go figure.
How did they find these results?
During the study, lead researcher, Jessica Cantlon, Ph.D., measured the brain activity of 104 children (55 girls and 49 boys) aged 3 to 10 years old as they watched educational, math-heavy videos. They then compared those brain scans, and also compared those scans to a group of adults who watched the same clips (this helped them measure the children's brain maturity in addition to general brain function).
Cantlon and her team were able to make comparisons between the children's brain scans, and they found no differences in how the children participated in and processed math—both boys and girls were equally engaged while watching the videos. Additionally, both boys and girls had equal brain maturity when compared to the adult group.
"It's not just that boys and girls are using the math network in the same ways but that similarities were evident across the entire brain," co-lead author Alyssa Kersey, Ph.D., says in a news release. "This is an important reminder that humans are more similar to each other than we are different."
If you needed more evidence that socialization greatly influences young boys' and girls' development, consider this research another promising sign.
What could this mean for how we teach children?
While this experiment focused on early child development, the researchers hope to continue to study the children over many years and focus on a broader range of math skills, including spatial processing and memory. For now, these scans can shed light on the fact that gender has no effect on brain function. With further research, maybe science can finally overpower stereotype.
"We see that children's brains function similarly regardless of their gender so hopefully we can recalibrate expectations of what children can achieve in mathematics," Cantlon says.
Although hard data is crucial, Cantlon acknowledges that sometimes challenging our own assumptions is more powerful in driving change.
Hopefully, we'll start to see more studies like Cantlon's that emphasize just how ridiculous claims of gender differences in brain function truly are. On the bright side, whenever someone does try to make that argument, at least we now have the brain scans to counter it!