The UN Is Taking Major Steps To Save The Climate. Here's What You Need To Know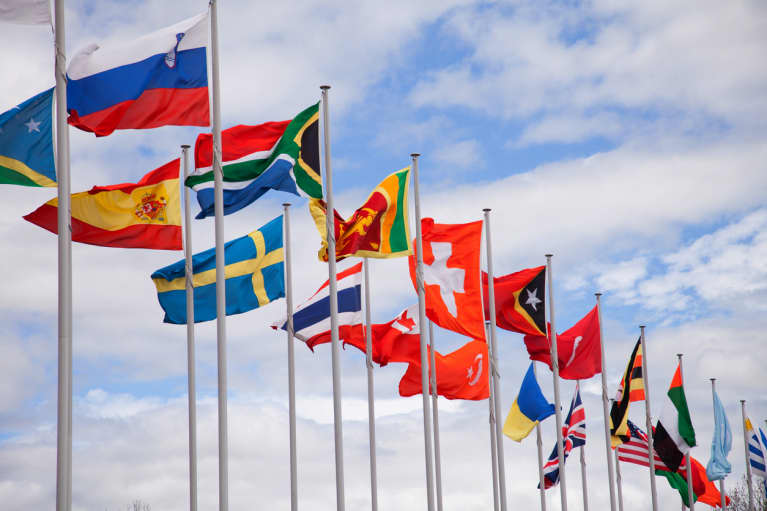 November 12, 2017 — 10:30 AM
We're about halfway through the 23rd Conference of the Parties (COP23)—an annual meeting that brings global powers together to collaborate on climate change solutions. This year's conference, held in Bonn, Germany, is all about encouraging countries to set specific plans for achieving the greenhouse gas reductions they committed to in the Paris Climate Agreement.
Guest speakers include Jerry Brown, the California governor making a statement with his progressive green policies; Thomas Pesquet, a French astronaut whose experience with the overview effect gave him a unique perspective of our planet; and Paul Polman, the CEO of Unilever, a major corporation that has recently launched some encouraging green programs in the personal care space. Twenty country leaders are also expected to attend the talks, including President Emmanuel Macron of France and German Chancellor Angela Merkel. Here's a quick overview of what's happened so far, and why you should be tuning in:
1. Fiji is leading the way.
Frank Bainimarama, the prime minister of Fiji, has emerged as the COP23 spokesperson, and the fact that his community is already feeling the effects of a warming world is fueling his fire. Of the 10 million inhabitants of the Pacific Islands, the London School of Economics estimates that up to 1.7 million could be displaced by climate change by 2050. This is the first year that a small island nation is leading the international meeting.
"Our world is in distress from extreme weather events caused by climate change: destructive hurricanes, fires, floods, droughts, melting ice, and changes to agriculture that threaten our food security," Bainimarama said during the opening ceremony. "Our collective plea for the world is to maintain the course we set in Paris."
Hints of Fiji's influence can be felt throughout the conference, as Bainimarama has chosen to run the conference in a "talanoa style," a casual, open dialogue popular in Pacific Island nations. A traditional Fijian canoe, called a drua, also looms in the CO23 meeting space as a symbol of resilience and unity. "The whole world is in the same canoe," a Fijian representative told the crowd early on.
2. Developing nations are asking for swifter action.
Think that larger, more developed countries are sending the most representatives to the conference? Think again. The three countries with the most participants this year are the Ivory Coast, Guinea, and the Republic of the Congo—with a combined 1,187 negotiators in attendance. These developing nations are ill-equipped to deal with the rising sea levels and extreme weather events associated with climate change, and they are pushing for quicker, more aggressive regulations.
3. Syria is signing on to the deal, leaving the U.S. in the dust.
At the start of this year's conference, representatives from Syria announced their intention to sign on to the Paris Climate Agreement. This makes the United States the only country that isn't on board with the global agreement. President Trump voiced plans to leave it this June, but it will take up to four years for him to do so. Representatives from the United States are still present at COP23, but they are standing firm in the statement that America will not be adopting the negotiations.
4. Corporations are helping the host country step up to the plate.
Fifty major companies, such as Adidas, Puma, and Nestlé, are starting a petition to help Germany transition off coal altogether. They hope to use their combined global turnover of 350 billion euros to convince the government to put an end to fossil fuel subsidies by 2025 and decrease greenhouse gas emissions by 95 percent by 2050.
5. Female-focused companies are being celebrated.
Patricia Espinosa, the executive secretary of U.N. Climate Change, is using the conference as an opportunity to name the winners of this year's Momentum for Change Climate Solutions Award—a prize that goes to companies that are using practical, scalable technology to solve climate change. This year, there's a lot of attention on women and girls! Here are a few female-focused initiatives that are taking home the gold:
From Waste to Wow: This women-led Italian company employs victims of violence and abuse to turn discarded clothing into new garments.
More Corals = More Fish: In Belize, women divers are coming together to protect local marine ecosystems. So far, they've saved 90,000 corals across three national parks.
Zenab for Women in Development: This nonprofit is teaching Sudanese women how to make their farming more resistant to the impacts of climate change.
There's still a lot more to come, so head over to the COP23 website to track the conference until it wraps up on Friday.