The Blue Oil That's A Secret Skin Care Superpower
Contributing Wellness & Beauty Editor
By Lindsay Kellner
Contributing Wellness & Beauty Editor
Lindsay is a freelance writer and certified yoga instructor based in Brooklyn, NY. She holds a journalism and psychology degree from New York University. Kellner is the co-author of "The Spirit Almanac: A Modern Guide to Ancient Self Care," with mbg Sustainability Editor Emma Loewe.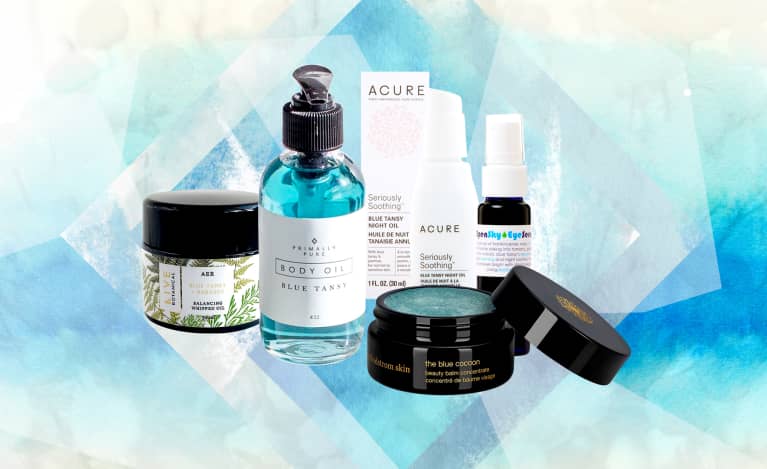 Our editors have independently chosen the products listed on this page. If you purchase something mentioned in this article, we may
earn a small commission
.
Have you noticed that your beauty routine is looking and feeling a little blue? If you haven't, keep your eyes peeled—because it's about to.
It all started years ago with May Lindstrom's iconic Blue Cocoon, the super-effective (if pricey) natural beauty balm made from only responsibly sourced ingredients—one of the first of its kind. Ironically, it's a shade of cerulean so stunning it almost looks unnatural at first glance. Years later, many more mainstream natural beauty brands have caught on to the healing effects of blue tansy, including it in products as a botanical active for its soothing scent and skin care properties. Lucky for consumers, the new guard of products is price-inclusive too.
First, what is blue tansy?
Blue tansy is a flower in the chamomile family. Its bold hue comes from oil extracted from the flower itself. As striking as pure blue tansy oil is, it's well-known and respected in the natural skin care space as a calming anti-inflammatory. "There are many aromatherapy benefits with blue tansy essential oil as it has a warm, delicious herby aroma and is really good for calming the mind and emotions and soothing anxiety or stressful thoughts," said natural beauty expert, mbg collective member, and herbalist Jessa Blades.
Blue tansy's benefits for skin.
"Topically, used in a blend, it is great for moisturizing as well as helping treat the skin due to its antibacterial, antifungal, and anti-inflammatory actions while also soothing dry, itchy, or inflamed skin," Blades said. For this reason, it's a great addition to a nighttime balm, treatment, or serum. Acure Organics' Seriously Soothing Blue Tansy Night Oil is a nontoxic, wallet-friendly option under 10 dollars. Living Libations Open Sky Eye Serum, named for its beautiful color, uses blue tansy as an anti-inflammatory, soothing solution for puffy, tired eyes. And balm-wise, if you're looking for a budget-friendly version of the infamous Blue Cocoon, try Live Botanicals' Aer Balancing Whipped Oil Serum. This goes for body care, too: Primally Pure's blue tansy body oil helps to calm skin irritation and inflammation, which may give sore muscles the extra TLC they need.
New York City–based aesthetician and mbg collective member Britta Plug, whose signature all-natural facials have a two-month waiting list, has also noticed the blue tansy trend. "I love how the blues have steadily been gaining popularity over the last few years," she said. "They tend to be very calming and anti-inflammatory, which is just what so many of my clients need. Several women I see have skin that is freaked out or broken out, often from stress, environment, or overuse of prescription topicals. The blues like blue tansy and blue yarrow are great ingredients to help guide the skin back to homeostasis," Plug said. She uses Laurel Organics' blemish treatment, which contains blue tansy, on clients recovering from inflamed skin. Other blue tansy product options that keep inflamed skin calm include Josh Rosebrook Organics Vital Balm Cream, rich with butters and active botanicals, and Ursa Major's Fantastic Face Wash, which is nondrying but still refreshing and brightening.
Not sure whether to use oil on your skin? Learn the real truth about blocked pores and clear skin.