How Meal Kits Are Starting To Cut Back On Plastic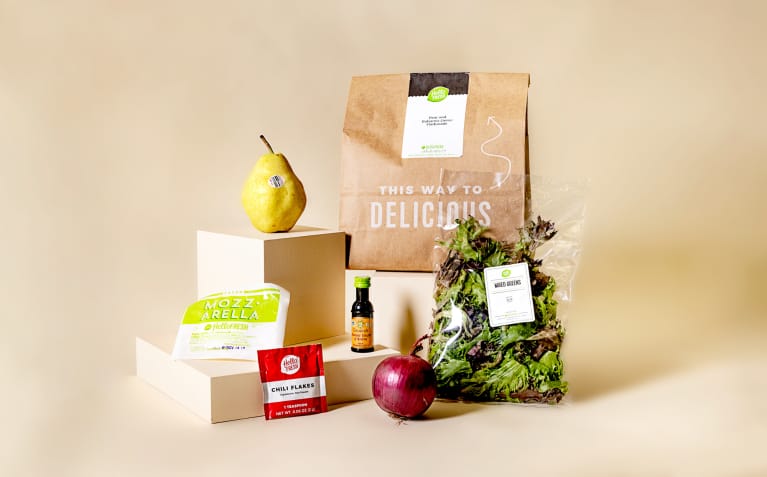 Craving a homemade meal but don't want to go through the pain of finding a recipe and standing in a grocery store checkout line? We get it—and so do meal delivery companies, which have ballooned to a $5 billion industry in the United States by appealing to eaters who want the health benefits of fresh, home-cooked meals in the time it takes to order takeout.
Thanks to big players like Blue Apron and Hello Fresh that offer perks and incentives for signing on, a quarter of adults in the United States have now prepped a meal from a kit at least once. And in an increasingly online-first grocery market (hey, Amazon), meal kit companies aren't expected to go anywhere. By 2020, they're projected to rake in over $10 billion in sales.
Their popularity speaks to the fact that, these days, we all crave convenience. But a lot of the time, convenience comes at a cost.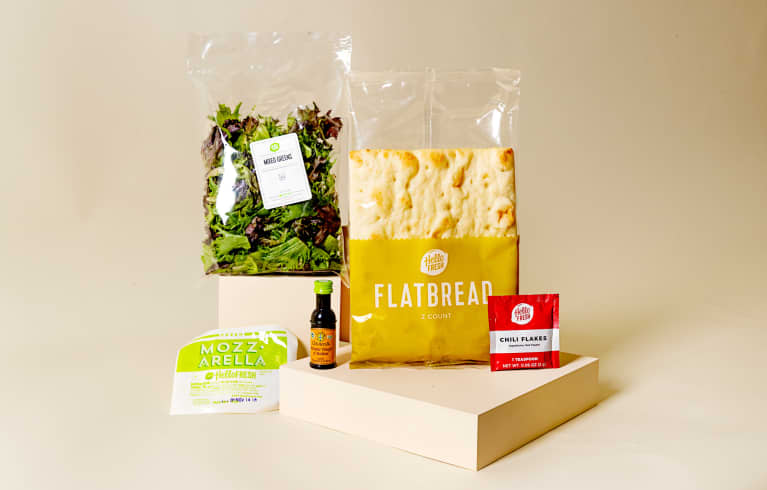 The lows: plastic, plastic, plastic.
Last week, I came home to a kitchen floor stacked high with cardboard boxes stamped in loud logos. My first foray into the popular world of meal prep kits was officially underway, and I clenched tight to my scissors in anticipation.
While there was something a little different in each kit, most of them had some form of insulation, ice packs, and paper bags filled with neatly packaged ingredients prepared within an inch of their lives. The limes had already been juiced, the onions quartered, the sweet potatoes peeled and pre-diced. Each meal left me with about 10 plastic doodads—from small cups to hold a few tablespoons of apple cider vinegar to soft baggies that housed three cloves of garlic. It was hard not to wonder why all of this stuff needs to be wrapped in the first place?
I reached out to Purple Carrot, a vegan meal delivery service, for some answers. "Ingredients that tend to bruise and/or damage more easily will be removed from the bag in an effort to maintain quality and freshness," the team explained of what drives the decision to put an item in plastic or not. "The size of the ingredients is also taken into account (i.e., a head of cauliflower wouldn't fit in the bag, which is why it's placed outside.)"
Hannah de Boer, the co-founder of NYC-based meal delivery kit Meisterdish, told me that food safety regulations and price also play a role. "Some of the challenges are due to regulations associated with packing fresh food and the higher costs of sustainable materials."
However—and this is something I would have never had guessed—part of it goes back to consumer preference. "The bigger challenge is customer perception of food quality and freshness associated with packaging. For example, see-through plastic bags are sealed and clear, which is very appealing to the customer for their transparency. Waxed bags, on the other hand, are not perceived to have the same freshness or hygiene," she said. It reminded me of the public's embrace of plastic produce bags in the grocery store. While we don't technically need these as long as we're washing our food when we get home, we use them because we think they protect an ingredient's quality and freshness.
The highs: innovative packaging.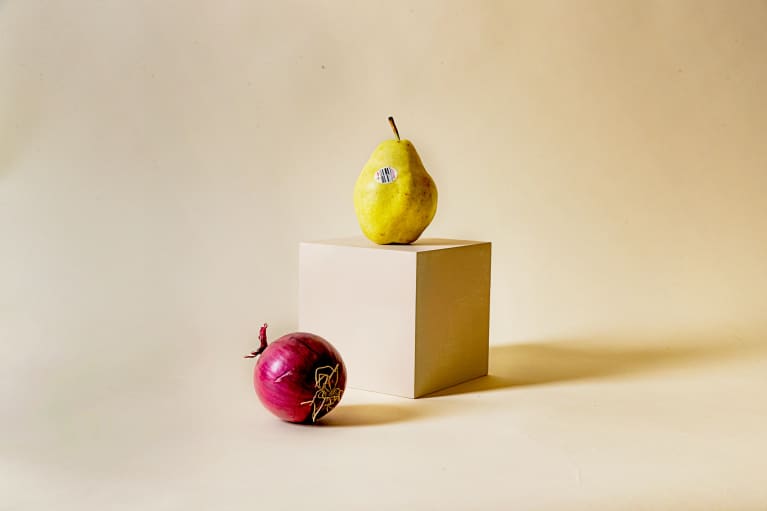 Once I looked past the plastic mountain on my counter (and set aside the soft plastics to recycle at a drop-off facility), I noticed some glimmers of hope in my empty boxes.
"The meal kit industry as a whole is constantly exploring how to reduce packaging waste," Purple Carrot told me, pointing to their recyclable ice packs as an example of innovation. "If [customers] choose to dispose of them, they cut the pack, dispose of contents in the trash, and recycle the film anywhere #4 plastic is accepted." The company also uses a recyclable paper insulation and places everything in a cardboard box that comes from 95 percent recycled material.
Sun Basket and HelloFresh are two other services continuing to make their packaging easier to sustainably dispose of. Sun Basket's ice packs are filled with a gel that's made of a mix of cotton and water—meaning you can theoretically add them to your home compost or garden and the water should evaporate leaving nothing but the compostable cotton behind. The company has announced plans to become the first zero-waste meal kit, and its insulation is paper-based. Hello Fresh, which recently acquired Green Chef, estimates that it will be able to reduce 15,000 tons of landfill waste every year by making its insulation fully recyclable. (The company is starting to use ClimaCell, a paper-based material that acts more like a Styrofoam.)
The future of food-in-a-box.
With all of the packaging involved, it's easy to forget that meal kits are actually founded on some pretty eco-friendly principles. For one, many of them provide plant-rich recipes that are delicious enough to get people excited about the prospects of eating more veggies, even those who are used to meat being the focal point of every meal—and we all know by now that swapping meat for plants is a proven way to majorly reduce your personal environmental impact.
Plus, meal kits portion ingredients beforehand, which reduces food waste. Considering 20 percent of the food we buy in the United States never gets eaten, it's helpful to have smaller portions of products we tend to buy too much of (like herbs). You can be sure that these companies are doing everything they can to reduce the amount of food waste left in their facilities too, since their profit margins depend on using up every last thing.
"We have active programs at every distribution center to compost or otherwise direct food waste in a more sustainable direction. We think about data, supply and demand, and food waste in a very different way and are constantly optimizing the business as it relates to food waste," says Jeff Yorzyk, associate director of sustainability at HelloFresh.
There's potential for the market to grow in ways that will make grocery stores less wasteful, too. "Many customers do not understand the incredibly high amounts of fresh foods that grocery stores waste," explains de Boer of Meisterdish. She says that the green salad section, vegetables, and fruits are the areas with the highest waste—up to 50 percent in some cases, but 10 to 20 percent on average. Meisterdish is hoping to one day team up with grocery stores to help them use this leftover inventory to make made-to-order meal kits that can be sold at deli counters.
We're excited to see this type of out-of-the-box thinking come to life.