TOMS Founder On Conscious Consumerism & How To Start A Mission-Driven Company
Our editors have independently chosen the products listed on this page. If you purchase something mentioned in this article, we may
earn a small commission
.
This isn't your typical interview. It was conducted by Hannah Alper, the 14-year-old activist who picked the brains of her icons for her new book, Momentus: Small Acts, Big Change, which aims to empower people of all ages to be the change they want to see in the world. Here, she gleans insights from the entrepreneur behind one of the largest charitable movements in the world.
The inspiration for TOMS came to Blake Mycoskie while vacationing in Argentina in 2006. He noticed that many children he saw there didn't have shoes, which sparked his idea to create a business with a simple concept: buy a new pair of shoes and give one new pair of shoes. (Fun fact: There isn't a guy named Tom who has anything to do with TOMS. TOMS comes from the word "tomorrow" and the idea that we can create a better tomorrow together.) Ten years later, TOMS has given 70 million pairs to kids in need and partners with over 100 organizations to make a difference in 93 countries.
TOMS began with a small idea that grew to big change. I've been wearing TOMS and following Blake on social media for as long as I can remember and was excited to talk to him from his home in Los Angeles.
Blake named Yvon Chouinard (founder of Patagonia), Howard Schultz (of Starbucks), and Richard Branson (of Virgin Group) as role models. He said that from each of their stories he took away something that inspired him. They all contributed to Blake's mindset of creating a business that has social impact and of not being afraid to take risks.
When Blake came up with the One for One model, he told me that people said things such as "That seems like a really risky idea" or "I don't know if that'll work." Reading books by and about his role models gave Blake the confidence to be bold and creative.
"I'm really thankful that I was able to read some of these books and do some of this work early on because that's what gave me the confidence," he said.
"A big idea like TOMS starts as kind of a small hunch or intuition, and I think that happens when you're in situations where you're relaxed. For me, it happens a lot when I'm in nature. I was very relaxed. I was enjoying myself. I was curious. All those things led to me being kind of open enough to have an idea like TOMS, and also open enough to kind of experiment with it and see what it could be."
Blake added that getting out of the office and into a new environment is important. Being somewhere different allows you to tap into creativity. Being out there in the world and really seeing, listening, and hearing about other people's lives will uncover issues that you didn't realize mattered to you.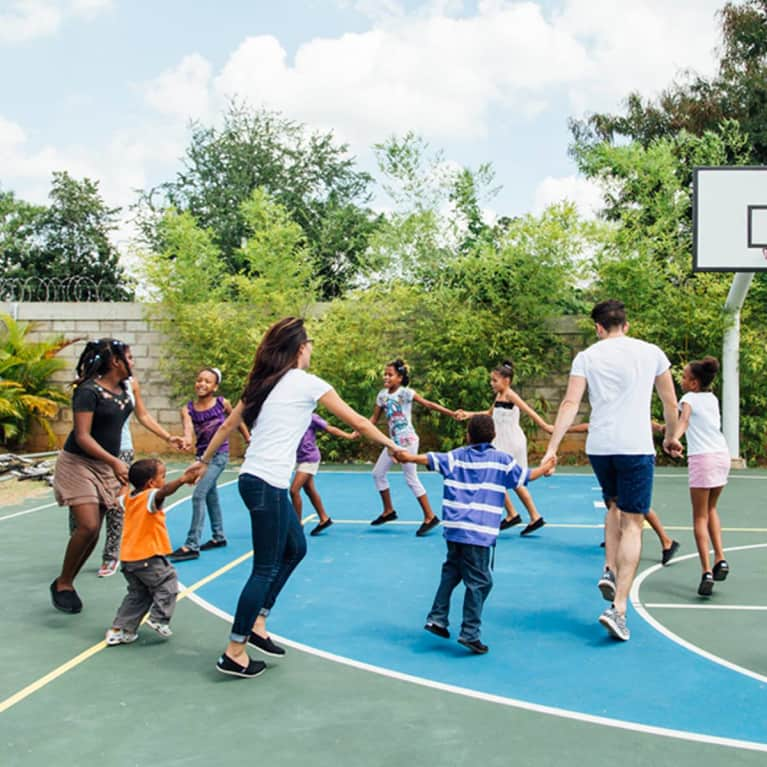 Blake said something really important during our conversation: "How you spend your money is how you show your values, and if you're supporting businesses that are aligned with your values, you'll feel better about how you spend your money." Blake is talking about being a conscious consumer—that is, someone who thinks about how and what they purchase and use. Conscious consumerism is about making the best possible choices, whether for people or the environment or, in the best-case scenario, both.
Now, if you're like me, you're likely not the one in your family actually spending the money and making the decisions about what items you're going to buy and where you're going to buy them. But that doesn't mean you can't help make those choices and influence those decisions. A big part of taking action is doing research and sharing your knowledge so you can influence others. Below are some ideas on how to show your values.
When you buy products that are made and food that is grown locally, there are several positive impacts. By purchasing from local businesses and farmers, you are supporting the local economy, which means the sellers can provide for their families. When we're talking specifically about fruits and vegetables, they are fresher because they don't need to be shipped a long way to get to you. Plus, less transporting is also better for the environment.
The fair trade movement considers everything involved in the product, including how something is made and who is making it. These are really important things to think about, as they bring the human side to a buying decision. Are the people who played a part in making the product being paid fairly? Are their working conditions safe? Is the production of this product safe for the environment? While products that are fair trade are sometimes more expensive, it's worth looking at all of the costs to make them, including the human and environmental costs.
Look out for packaging and second-life items
Look for less packaging, products that are either made from recycled material or material that can be recycled, and also products that will last a long time so they don't need to be replaced (a.k.a. repurchased) whenever possible. Thinking about eco-friendly products also includes reusing things like water bottles and shopping bags. The fewer things we need to throw out, the better. It's worth noting that of the three Rs—reduce, reuse, recycle—the first two are the most important. Recycling is better than sending stuff to the landfill, but it still does take a lot of energy to recycle.
Learn what to look for when pinpointing mission-driven brands to support here.