No, Black Coffee Drinkers Aren't All Psychopaths — Here's What The Research Really Says
mbg Contributor
By Caroline Shannon-Karasik
mbg Contributor
Caroline Shannon-Karasik is a Pittsburgh-based writer, the author of The Gluten-Free Revolution, and a pilates instructor. She has a bachelor's in journalism from Point Park University and received her health coach certification from the Institute for Integrative Nutrition.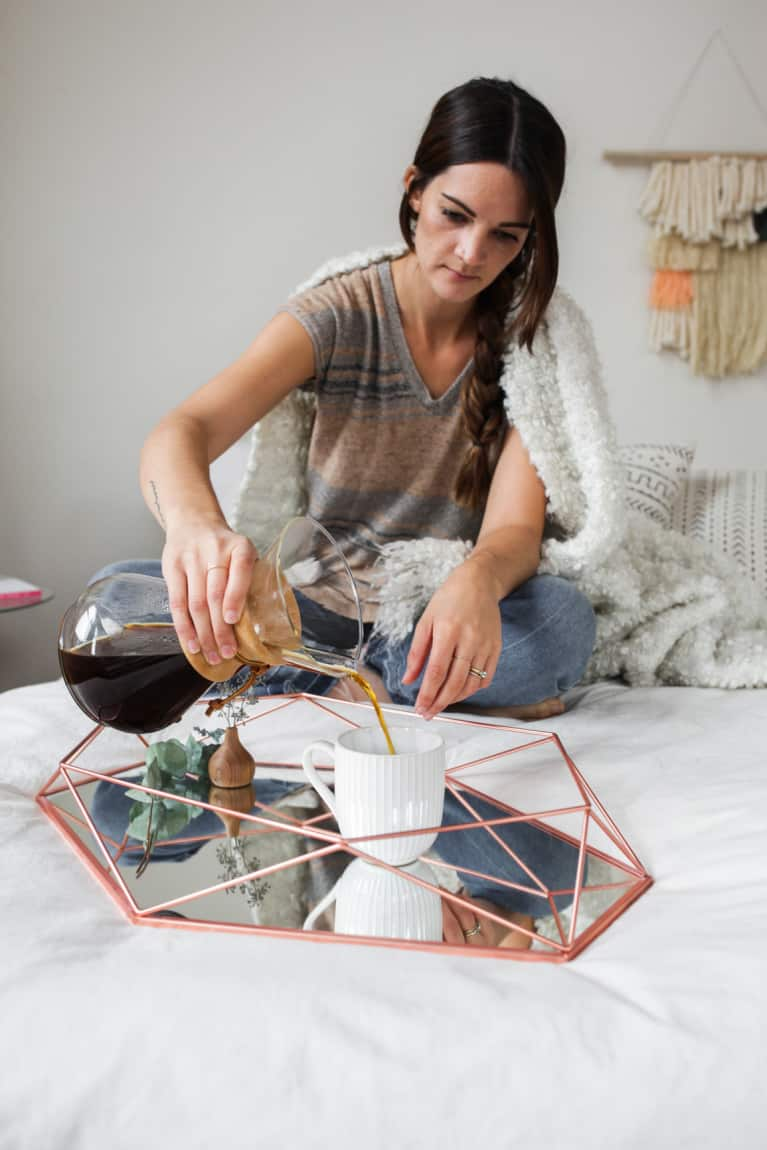 November 6, 2018 — 10:00 AM
I drink my coffee black. While I have certainly experienced some turned-up noses at how I prefer my morning cup, I've never heard this one: People who drink black coffee are actually psychopaths, according to "science."
But since last week, I've seen numerous headlines saying just that. They're all referencing a 2015 study published in the journal Appetite, which found people who consume black coffee (and other bitter foods and drinks) might be more apt to show psychopathic traits. (It looks like the resurgence of the information might have come after a news outlet posted a headline in December about gin and its common beverage pairing, tonic water—another bitter drink implicated in the study.)
For starters, let's dig into what the research actually found: Conducted at the University of Innsbruck in Austria, the study in question surveyed just under 1,000 people about their food tastes. In one part of the study, they were asked how they felt about sweet, sour, salty, and bitter food and drinks. Researchers then checked that information against self-reported data that was aimed at analyzing each person's personality traits, including narcissism, aggression, and psychopathy. In addition to coffee, the study also considered other bitter foods like beer, radishes, tonic water, and celery. It concluded that people who liked those more bitter foods and beverages were more likely to exhibit psychopathic traits.
"The present research has demonstrated that bitter taste preferences are associated with more pronounced malevolent personality traits, especially robustly with everyday sadism," the study authors wrote. "The sample was a large community sample, thereby representing a wide section of the population."
So does everyone who enjoys black coffee—and beer and celery, for that matter—qualify as a psychopath? Not so fast.
"No, enjoying a gin and tonic doesn't mean you're a psychopath," noted Megan Willis, Ph.D., a psychology researcher and lecturer at Australian Catholic University, in a 2016 article for the Conversation. Dr. Willis added that psychopathy is not so easily measured and, instead, is a "personality trait that falls along a continuum."
In psychology, psychopathy is one of three "dark triad" personality types (the other two being narcissism and Machiavellianism). It refers to people who lack empathy and any sort of conscience, which in turn can lead to abnormally selfish, aggressive, or violent behavior. According to Psychology Today, it's considered a spectrum disorder that can only be diagnosed using the 20-item Hare Psychopathy Checklist, which includes traits such as sexual promiscuity and impulsivity.
All this in mind, it explains why Dr. Willis was not too happy about the way the term "psychopath" was being used in the context of a catchy headline and not more heavily regarded.
"The only thing this study found was a weak positive relationship between psychopathy and a general penchant for bitter things," she wrote. "In my view, this link is negligible compared with other, more well-established predictors of psychopathy, such as a person's genes or sex."
So while the research is interesting, it's certainly not a tell-all. And while we're on the subject, let's not forget that black coffee may actually be one of the healthiest ways to drink your joe. As delicious as those added sweeteners and creamers might be, they come with a cost. Psychiatrist and mbg Collective member Ellen Vora, M.D., says sugar is "as addictive as cocaine" and can have the same withdrawal effects (yikes); plus, its artificial sweetening alternatives can actually lead to a bunch of health problems like autoimmune issues, diabetes, and metabolic disorders (double yikes). As for the milk, the cow variety has been known to pack an ick factor—under-known hormones and bacteria that could potentially pose health risks—in addition to just being a high-fat addition to a drink many people consume daily if not multiple times per day.
Black coffee never sounded so good, right?
The recirculation of this study stems from our collective fascination at the idea of possibly blaming everyday beverages for a major mental health condition. Perhaps the most important part of all of this—in addition to reminding us why it's important to skip the sugar—is that all these studies really need to be taken with a grain of salt.