Big Summertime Snacker? An RD Breaks Down How To Indulge Healthily
Registered Dietitian
By Abby Cannon, J.D., R.D., CDN
Registered Dietitian
Abby K. Cannon, JD, RD is an attorney turned dietitian who lives a very low waste lifestyle. She graduated from the University of Pennsylvania with a degree in psychology and received her law degree from Brooklyn Law School cum laude. She graduated from Queens College and became a registered dietitian in 2016.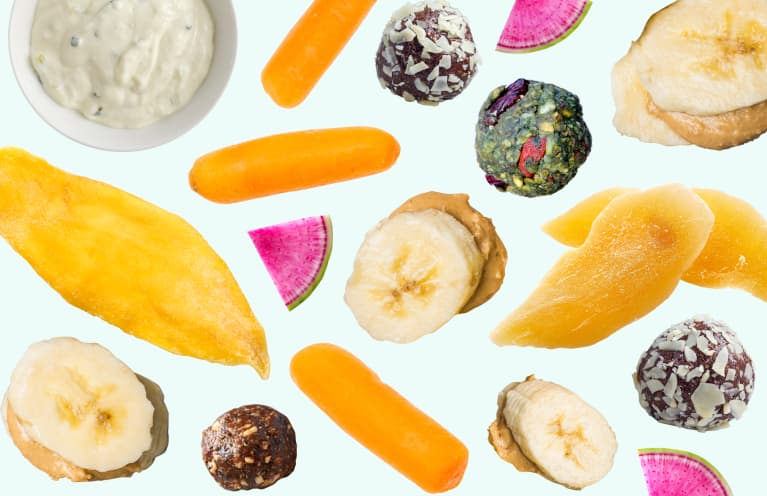 Snacking is the topic my nutrition clients and community ask me about the most. "Is it OK to snack?" "How often should I be snacking?" and "What's a healthy snack?" are all questions I field often—especially during the summer months of longer days and more on-the-go activities.
Snacking is a great opportunity to keep you energized between meals and increase the overall nutrient density of your diet. Whenever we eat anything, snacks included, we need to have the most nutrients per calorie to flood our bodies with what it needs to thrive. A good rule of thumb is to choose options that have a balance of all three macronutrients: carbohydrates, protein, and healthy fats. This combination helps us feel satiated (a dietitian's favorite way to say "satisfied") and provides longer-lasting energy.
Snacks, however, should be snack-size! Eating the equivalent of a fourth meal could ruin your appetite come dinner or lunchtime. I often find that my clients overdo it on snacks and then eat when it's "dinnertime" even though they aren't hungry. This leads them to feel overly full after dinner (which is often confused with feeling bloated!).
A pre-snacking ritual to make sure you're making the best decisions for your body.
To avoid sabotaging your appetite, take a few moments before you snack to think about when your next meal will likely be. If it's close to your snack time, fresh fruits and fresh veggies alone (without a source of protein or healthy fats) are the perfect choice. You'll digest them faster by eating them alone and still have an appetite when it's time for your next meal. When you need a snack to tide you over for a few hours so that you don't enter that meal completely famished, a snack with a balance of carbs, healthy fats, and proteins is ideal.
Now that we know what makes up a healthy snack and what a healthy snacking mindset looks like, here are some of my favorite summertime snacks!
In the summer, I always have a fresh fruit in my bag for emergencies! I think fruits are the most delicious this time of year—juicy, sweet, satisfying, and hydrating. If you have access to a local farmers market or CSA, visit it to get access to the most flavorful options.
It's easy to forget about our favorite food group when snacking, but vegetables alone (or with hummus, guacamole, tzatziki, etc.) serve as the perfect snack. Chop up cucumbers, peppers, carrots, tomatoes, or celery on the weekend and store them in glass jars to make them look enticing. When you want that crunchy snack, these gorgeous fresh veggies will be ready and waiting for you. Sprinkle on some sea salt to make their flavors pop a bit more.
Trail mix can be addictive, and it's SO easy to overdo it sometimes. Make your own version at home by adding your favorite nuts and seeds—almonds, pecans, peanuts, cashews, walnuts, pumpkin, and sunflower seeds—and some dried fruit (without added sugar) for a hint of sweetness. Choose dried pineapple and/or mango for a summery, tropical trail mix. Make five portions over the weekend and store them individually in small glass jars or silicone bags.
If you have a bit of extra time, making homemade energy balls is never a bad idea! You can purchase most of the ingredients from the bulk section of your supermarket; my favorites are these Cashew Peanut Butter Bites, Brownie Bites, and Gingerbread Energy Bites. Make a large batch and pack them up in glass jars or silicone bags to enjoy every day during the week.
5. Frozen banana peanut butter bites
For me, few things beat the combination of peanut butter and banana—and freezing this magical combination is heaven in the heat of summer. This two-ingredient snack contains carbohydrates from the banana and healthy fats and protein from the peanut butter. It's incredibly satisfying and delicious.
To prepare: Dice the banana into ½-inch disks. Spread peanut butter on half the pieces of banana and then top each with another piece of banana to make a little peanut butter sandwich. Freeze in a glass jar or a silicone bag and enjoy!