Q&A With Spiritual Guide Biet Simkin On Meditation, Activism & Non-Attachment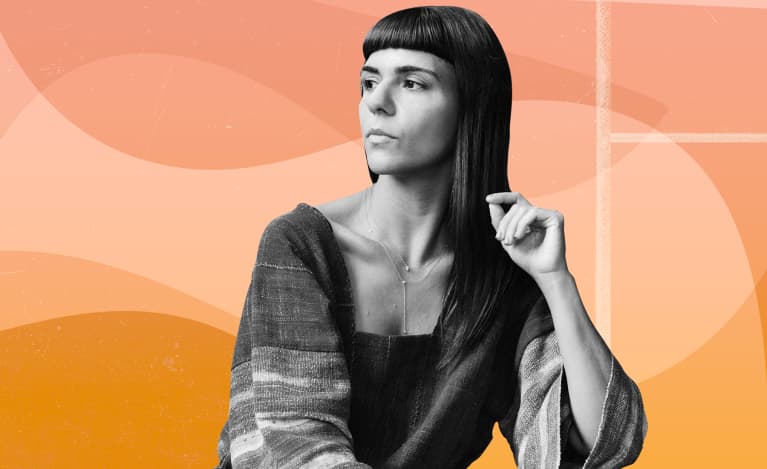 Biet Simkin is a meditation leader, musician, and author who's turned her lifetime study of meditation into something that benefits others, too. If anyone knows how to cultivate a personal practice that helps improve the greater world, it's Biet. We reached out to the mbg Collective member to ask about how we can all take this time as an opportunity for growth, reflection, and ultimately, activism. Along the way, she dropped some powerful lessons on reclaiming self-worth and self-agency in a world that's been turned upside down.
How can people practice non-attachment right now, particularly when it comes to the loss of our normal, everyday lives?
You know, I have the blessing of having learned acceptance through a life of tragedy, loss, and shocks. When COVID-19 hit, I was well acquainted with that aspect. With that said, I feel like this whole thing feels like a prison sentence. To me, those constraints are a gift. Uncomfortable as they may be, it's so important we take this time to ask the question, How can I make this time most useful? How can I transform this time into something awesome? If we sit in meditation, those answers will come!
How can we best harness meditation as a tool for activism and empowerment?
I suppose it's an act of activism to awaken; to transform your suffering into joy, to transform your complaint into action, to transform your hard into soft. The space meditation gives is incredible. It allows for this transformation.
How do you deal with the distractions of home when meditating?
It's fun to return to center. Once you know you can, you always love to. You have to be vigilant with meditation to get to that sweet space.
Many of us are facing an identity crisis right now: How can we strengthen our self-worth during a time when so much of us has been stripped away?
Share your "gross" or shameful stuff with others. It takes away its power. We think people love us when we are perfect. That is not true. People love us cause they love us. Nothing needs to change. In the same way, we can love ourselves now! We don't have to be richer or skinnier or anything else.
How can people best move out of a scarcity mindset and invite abundance into their lives?
Money is energy. It moves toward those who love it and are open to co-creating it. As long as we think with a poverty mindset, we will attract it. With that said, much of what we attract is subconscious, and thus we are not aware of it.
By practicing awareness, we start to notice the thoughts we have throughout the day that try to sabotage our lives. Awakening to those is the first step; slamming them with a club and taking the opposite action is the following step.
What are some of your top tips for navigating spirituality in the modern world?
Accept that most things are bullshit. You gotta go inside yourself to find a compass. You have one, I promise!