A Modern Couple On Why Marriage Is Still Relevant — But Not Something To Congratulate Them On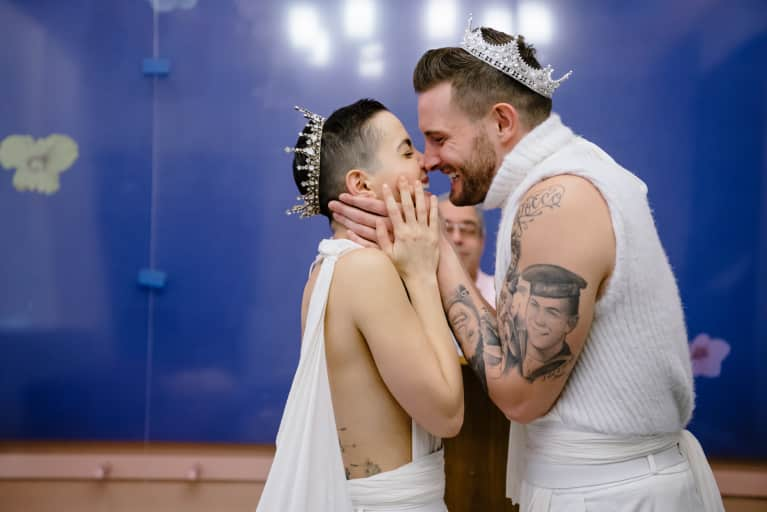 On March 9, 2018, entrepreneur and wellness advocate Bethany C. Meyers married her longtime love, actor and writer Nico Tortorella. The duo tied the knot at City Hall in New York City donning matching white robes complete with regal crowns atop both of their heads. They were married by a judge named Angel, and they both felt the day couldn't have been more perfect.
Their marriage was a nontraditional one, keeping in line with an 11-year partnership marked by shirking labels and taking on the intricacies that come with having a healthy open relationship. A month before they were set to make it official, Meyers stopped by the mbg office and opened up about why she decided to get married in the first place, which patriarchal rituals they would be rejecting, and why people congratulating her rubs her the wrong way.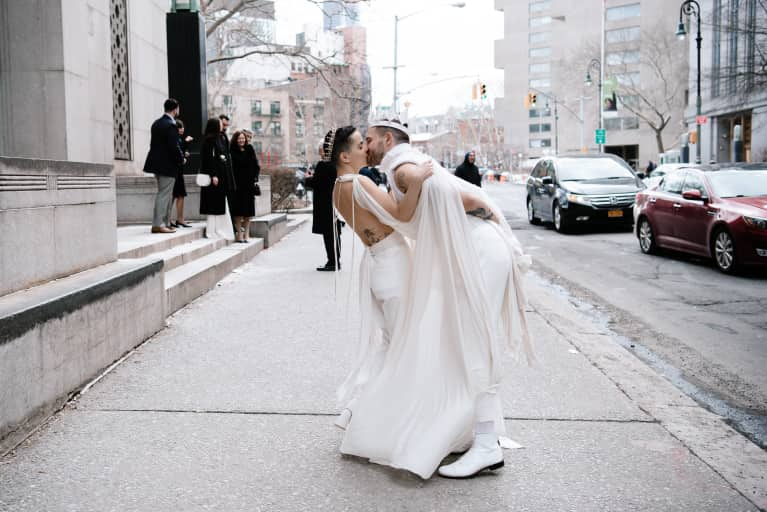 Making the decision to get married.
Where Meyers grew up, in a traditional home, the vision of meeting her prince charming and one day walking down the aisle as a bride was built into many of the conversations she had with family and friends when she was a kid. But as she got older, Meyers realized marriage probably wasn't for her. Although she fell in love with Tortorella in 2007, they were in an open relationship and both identified as sexually fluid. How could marriage possibly fit into their egregiously nontraditional relationship?
But on a trip to Peru earlier this year, they started discussing the possibility of making their partnership legal in a real way. "I decided there's no one else I want to create these pieces of my life with," explains Meyers. "It sets the foundation for how we want to live our lives and sets a tone for other people we bring into our relationship. Plus, if something were to happen to him, I'd want to have the rights you get when you marry someone. When we have kids, we want them to legally belong to both of us. Getting married creates ease in these situations."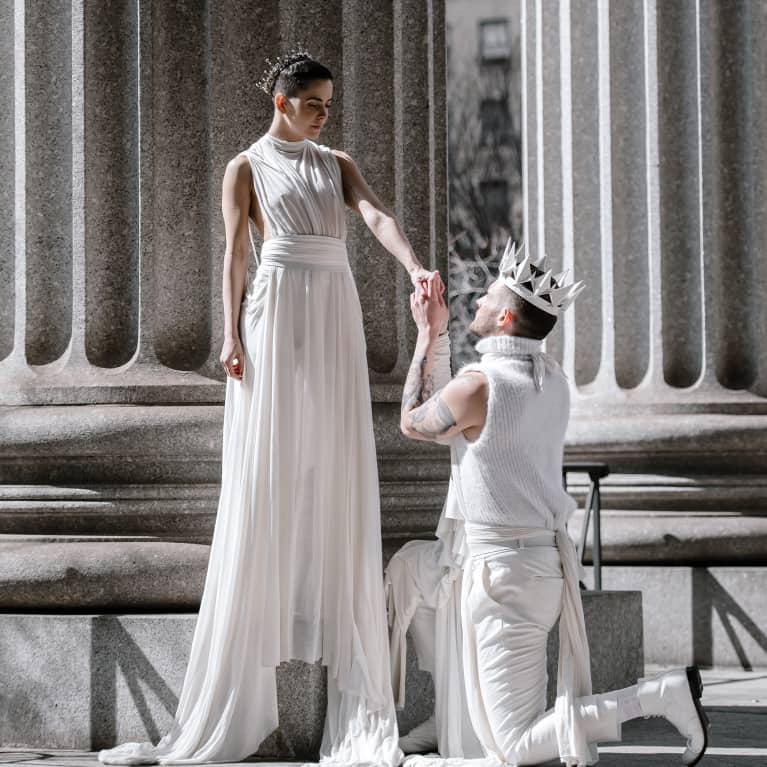 Asking for permission and taking her partner's last name.
While delving into the traditions associated with marriage, Meyers was alarmed by just how patriarchal so much of it was. For example, the woman taking the man's last name. "Why would I lose the name? And when we have kids, I think our kids should have both our last names," she says.
It was also difficult for her to move past the idea that the man is supposed to ask the woman's parents for permission to marry him. "I'm the one who's deciding; no one's asking permission," she explained, adding that it was important to her that they decided on the proposal together. "I'm not saying there's anything wrong with a surprise proposal, but it's very, 'Oh thank you so much, you just asked me to marry you!'"
She also wasn't thrilled with the idea that the bride's parents are supposed to pay for the wedding. "The bride paying for it is totally based on dowries from the past," she explained. "At the end of the day, the wedding itself is for everyone else. But for me, getting married should be about the two of us. I told Nico that I want to get ready in our fun, crazy outfits together and then go to the courthouse and have that be it."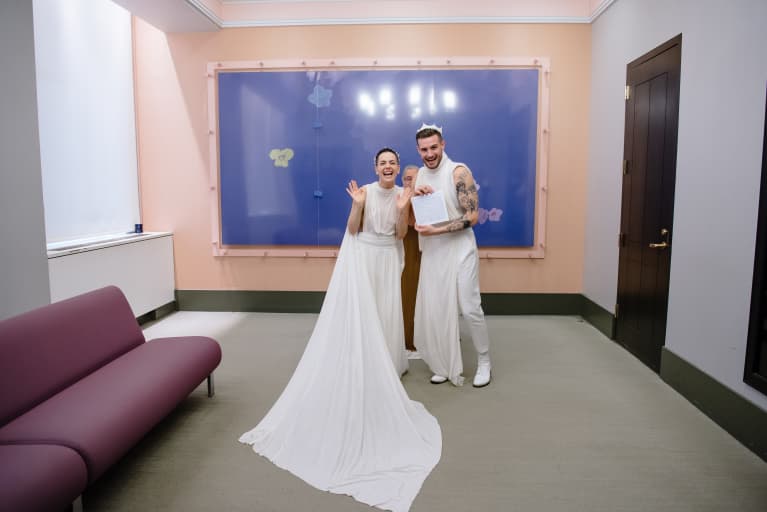 Why the "congratulations"?
Meyers has quite the resume. Formerly the director of education at SLT, Meyers is the founder of the ultra-popular be.come project, a workout that's all about moving with intention and bringing more joy to your life through exercise. Yet she found that most of the "congratulations" she's received have surrounded her decision to get married.
"I don't mind a congratulations for living openly, expressing myself, and solidifying a partnership with Nico," she says. "I just don't think the congratulations should be solely because you got married. Starting my own business? Now that deserves a congratulations. Because in my marriage to Nico, nothing is really changing; it's just creating a more stable family and base. That's why I chose to get married."
Inspired by Meyers' choices around marriage? Read her best tips on how to feel more confident.
And do you want to turn your passion for wellbeing into a fulfilling career? Become a Certified Health Coach! Learn more here.