Recycling E-Waste: How To Dispose Of Old Cell Phones, Laptops, & More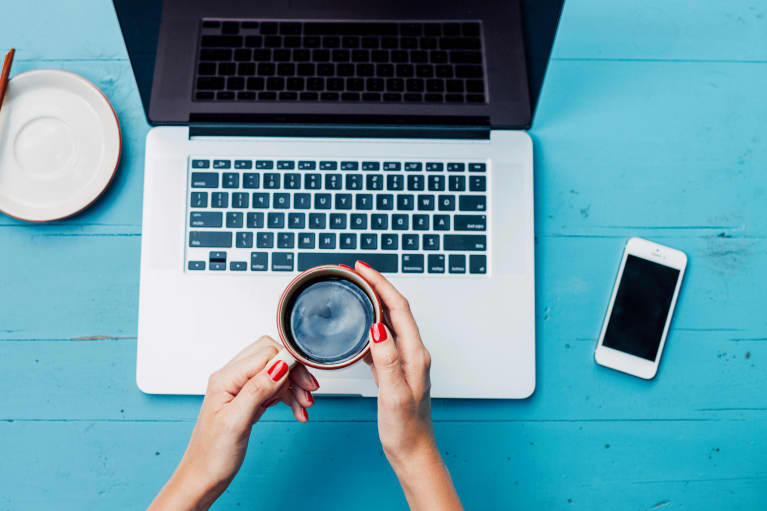 Chances are, you have at least one junk drawer filled with old batteries, used phones, and random cords. In an increasingly tech-driven age, there's more electronic waste in the world than ever before. But what can we do with all of it?
"There aren't that many great solutions to deal with e-waste," explains Gabe Middleton, the co-founder and CEO of Human I-T, a tech collection and redistribution company. Because of the lack of options, many people feel hopeless and end up just throwing their old devices out. "Many statistics show that the majority of technology ends up in the trash—it doesn't even make it to the recycling."
Why you should never toss old electronics.
Trashing e-waste is detrimental to the environment since it leaves harmful ingredients like mercury, lead, cadmium, flame retardants, and lithium to rot in landfill where it leeches into soil (and can even make its way into nearby water sources).
Recycling e-waste is a better alternative, and one that can be potentially lucrative. According to the Environmental Protection Agency, one ton of circuit boards can contain 40 to 800 times the amount of gold and 30 to 40 times the amount of copper mined from one ton of ore in the United States. But it's really difficult to responsibly break down tech, and not all recyclers follow best practices. When companies cut corners and export recycling to countries that don't have infrastructure in place to properly break it down, the results can be disastrous. Sometimes it's illegally dumped on land or at sea; others it's burned down for its parts, which release a slew of toxins into the air.
For these reasons, Middleton says finding ways to reuse and repurpose old electronics should be the first step. "We've all heard the phrase 'reduce, reuse, recycle.' I would love folks to understand that we need to focus on the 'reuse' part a little more."
His California-based company collects e-waste—mostly from large companies like Microsoft and Google—and wipes its data, repairs it, and gives it to someone who needs it.
"There are still over 80 million people in this country who don't have access to a computer in their home. And at the same time we're throwing away hundreds of thousands of technological devices in the trash every single day," he laments of the digital divide. "In the last five years, our company has diverted over 2 million pounds of technology from landfill, which speaks to how much is out there."
By redistributing tech, Human I-T is also reducing the amount of new technology that needs to be created, therefore cutting down on emissions from production.
So what's the best way to get rid of e-waste?
If you live in the Southern California area or have a lot of technology to get rid of, check out Human I-T's intake form to see if they'd collect your e-waste for free. You can also ship your waste to their team to be repurposed for a small fee. Human I-T collects every type of device, in every condition, except household appliances.
And Middleton isn't the only one looking to clean up the e-waste industry. He recommends doing a quick Google search to see if there are any other companies in your area looking to collect and repurpose tech.
If you can't find any way to reuse your e-waste, you can recycle it as a last resort—but be sure to make sure your recycler is R2 (Responsible Recycling) certified. This seal means that the recycler is taking steps to safely break down technology locally or shipping it off to be responsibly recycled abroad. This database lists the 600 R2-certified recyclers around the world. If you don't see one in your area, you can also ship approved e-waste to TerraCycle—a global leader in responsibly disposing of difficult-to-recycle products.
When it comes time for a new device, consider buying one used (Human I-T also has a page on eBay where they sell tech that's in good shape) or from a company that creates modular technology that can more easily be broken down and repaired.
"There's a lack of innovation on the recycling side, and it's perpetuated by how these manufacturers are making devices in the first place. They're not designed to last or be repaired," explains Middleton. He lists HP, Dell, and Google as companies that are championing modular design that's built to last.
While it takes a few more minutes (and maybe a few more dollars) to dispose of your e-waste responsibly, the impacts are well worth it.
Recycling can be confusing! But these trash facts make it way easier.